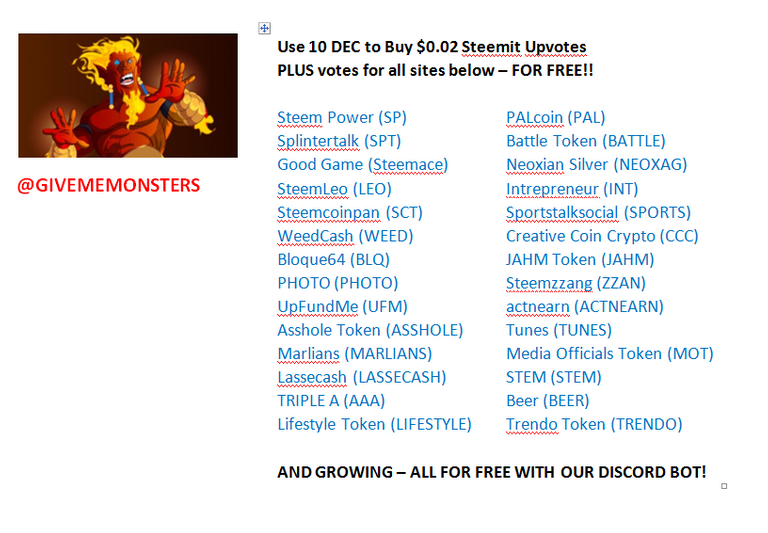 About Givememonsters
This is an automatic upvoting service conducted through the Steem-engine exchange, currently offering up to $0.02 upvotes on ANY Steemit post, containing ANY tags, in exchange for 10 Dark Energy Crystals (DEC) that you accumulate from playing or from burning cards.
Currently a 10 DEC submissions gets you a $0.02 upvote on Steemit PLUS upvotes for any of the new platforms connected to Steem-Engine tokens for which we hold staked positions in all for FREE as an added benefit of using our service.
The ROI on this service is substantial and worth a quick look if you haven't tried this yet.
Our voting bot is currently at 88% voting power and holding strong. We added another 500SP to the bot this week bringing our total up to 3,436. Our 100% upvote fetches $0.04 which we will look to utilize at some point in the future through contests or giveaways but for right now we are only selling up to $0.02 upvotes to keep our voting power strong.
Please visit the link below for comprehensive instructions on how to use this impressive, new upvoting service. Our rates are the best around right now helping you achieving nice returns on the DEC that you send in!
https://steemit.com/upvote/@givememonsters/get-on-demand-upvotes-with-new-dec-upvote-bot-up-to-usd0-04-upvotes-high-roi-plus-pal-spt-and-battle-upvotes-for-free-with-our
If you need further assistance, you can drop by our dedicated new Discord Channel and talk to us in real-time there.
Thank you!