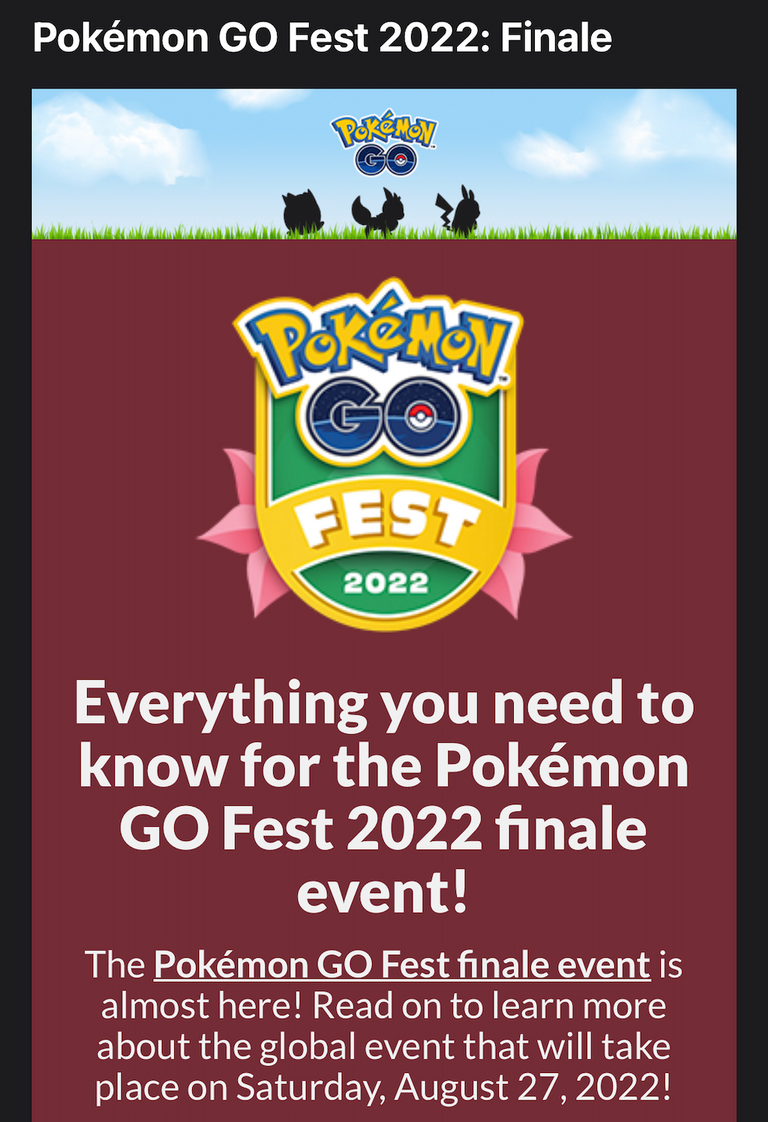 While I have been following the monthly Community Day events for Pokemon Go, all the additional content and events they continue to deploy has not been on my radar due to some conflicts and my overall priorities being challenged given everything around me. However, I found interesting that this weekend there will be a GO Fest Finale event of some sorts. However, it will seem like another event I miss given some plans I already had with the family.
I have really enjoyed Pokemon Go but it got to a point that my time and attention, which I consider as valuable as my investments, was better spent somewhere I can accrue value. I could only wish the thousands of Pokemon caught since the game launched were NFTs I could own and trade. However, these centralized platforms and games will never given up that control. Therefore, I have really only remained close to the game for entertainment purposes while trying to get some activity done outdoors.
There is still a vibrant community so I will still share the details for this weekend's event for the benefit of those trainers still out there looking to complete their Pokédex! Below is the exclusive content that will be available this weekend as part of the Pokemon Go Fest Finale (straight from the announcement):
• Three short Special Research stories will be available in addition to the Special Research story available to all Trainers. Learn more here.
• For the first time in Pokémon GO, you'll be able to encounter Shiny Unown N & Unown X—if you're lucky!
• Spin Photo Discs at Gyms to earn up to nine total free Daily Raid Passes. These can be used only for in-person raids.
• Four unique habitats will be featured during this event. Each will feature a different set of Pokémon and will last for two hours.
• From 10:00 a.m. to 6:00 p.m. local time, various Ultra Beasts will appear in raids. Buzzwole, Pheromosa, and Xurkitree will be making their global debut after first appearing at our in-person events!
• Earn an extra 5,000 XP when you win an in-person Raid Battle!
• Incense activated during the event will last for two hours. In addition to the normal Pokémon that appear, some less-common Pokémon can appear while Incense is active during each rotating habitat.
• Earn 3× XP for spinning Photo Discs at PokéStops and Gyms. Combine this bonus with a Lucky Egg for an even bigger XP boost!
• 1/2 Egg Hatch Distance when Eggs are placed into Incubators during the event period.
• Starting at 10:00 a.m. local time, all Trainers who have caught Sky Forme Shaymin will be able to change it between its Land and Sky Formes! This also includes Trainers who attended one of our in-person Pokémon GO Fest events this year in Berlin, Seattle, and/or Sapporo.
Another reason I will not participate is that these events continue to be offered at a price. I recall that I did one last year and was underwhelmed with the value relative to the ticket price paid. That is what also doesn't really bring me in. However, reviewing the list of content being provided, I can see why and how hardcore Pokemon Go players will be out catching them all!

Discord: @newageinv#3174
Chat with me on Telegram: @NewAgeInv
Follow me on Twitter: @NAICrypto
The following are Affiliate or Referral links to communities and services that I am a part of and use often. Signing up through them would reward me for my effort in attracting users to them:
Start your collection of Splinterlands today at my referral link
Expand your blogging and engagement and earn in more cryptocurrencies with Publish0x! Sign up here!
My go to exchanges are Bittrex and [Coinbase] (coinbase.com/join/corp_gi?src=ios-link); get bonuses for signing up!
The future of the internet is here with Unstoppable Domains! Sign up for your own crypto domain and see mine in construction at newageinv.crypto!
Always open to donations!
ETH: newageinv.eth
BTC/LTC/MATIC: newageinv.crypto
DISCLAIMER: The information discussed here is intended to enable the community to know my opinions and discuss them. It is not intended as and does not constitute investment advice or legal or tax advice or an offer to sell any asset to any person or a solicitation of any person of any offer to purchase any asset. The information here should not be construed as any endorsement, recommendation or sponsorship of any company or asset by me. There are inherent risks in relying on, using or retrieving any information found here, and I urge you to make sure you understand these risks before relying on, using or retrieving any information here. You should evaluate the information made available here, and you should seek the advice of professionals, as appropriate, to evaluate any opinion, advice, product, service or other information; I do not guarantee the suitability or potential value of any particular investment or information source. I may invest or otherwise hold an interest in these assets that may be discussed here.