Well it has been a long time that we wrote a post! So it is time for a new post to update our members about the support the SBCbot could give them!
Due to the rise in tokens, we will also give you an insight in the airdrop the account got!
Steem
First let's start with the main steem account!


As you can see we are growing month by month!
Our main income is from curating. The SBC account earns around 15 steem per month with curating. Not a lot but also not bad at all. Thanks to the delegations an 100% from the sbc account is worth $0.05.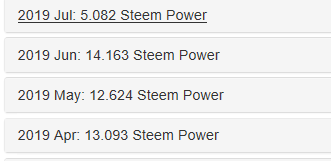 We should be writing more posts to get the account growing faster and with the sportstalk token this could/should be the case! But more about that later.
tokens
Due to the fact that the SBC was still active with curating content of our whitelisted members the account also got some tokens from the airdrops.


PALNET
At the moment we do have staked 178 PAL. So if you post which is upvoted by the SBC account also has the palnet tag included you also will earn some extra PAL.
SPORTS
Maybe the most important token for our members. The www.sportstalksocial.com tribe did bring some extra dimension for the sports lovers on the steem blockchain. We can honestly say that the impact they made is much bigger than we had.
We never have seen so many sports related post in our feeds. Which is just great!
At the moment the SBC account has 83 SPORTS staked. To bad we were overlooked during the airdrop. So we will have to start here from scratch. But there is more power behind the account on www.sportstalksocial.com they one can see.
@fullcoverbetting decided to delegate 2K SPORTS to the SBC account, so that they upvotes could have a bigger impact. And with the 50/50 split between authors and curators, the account should be able to grow a little bit faster!
Others
We also got an airdrop from LEO, GEEK and Good Game Tokens. We have staked them all so that we can also grow in these tribes!
Upvotes
Remember that you are only allowed once per day to use the SBC tag. Preferably on sports related content!
Cheers,
The SBC crew