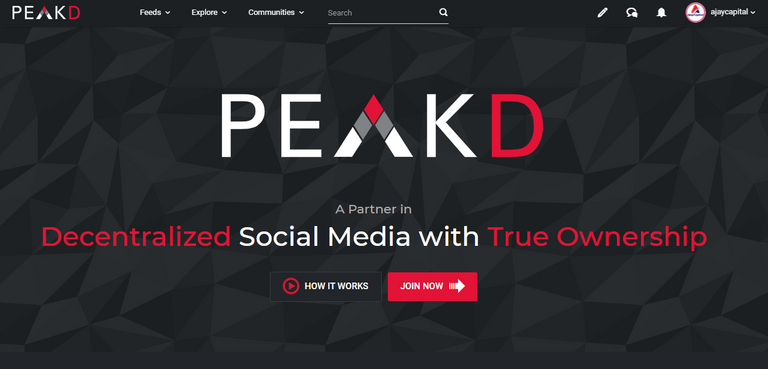 Everybody knows hive is a social media based blockchain and there are so many frontends to excess hive blockchain. You can use them to post, comment, upvote to engage with other users. Today Im going to talk about one of the best hive blockchain frontend which is very easy to use and very attractive. PeakD (https://peakd.com) formally Steempeak is awesome place to hive on.
PeakD is full with awesome features and have every necessary tool to track your account growth and keep an eye on your activates. we can do so many account operations by using this frontend. Today Im going to discuss some of the main features of the Peakd frontend lets start without wasting any time.
HOW TO LOGIN INTO PEAKD?
Login is very simple on Peakd platform you can simply use hive keychain or hive signer to login your hive account. These two methods are highly secure and and easy to use. Visit the official website https://peakd.com and complete the account operation.
After the successful login you can see the Peakd home page which look like as above picture.
There are lots of feature on the homepage which can be used to navigate the website and explore the ocean of hive blockchain.
Above features are used to explore the different types of content on the hive blockchain. We can filter content according our to choice which can be helpful to find quality content.
By clicking on profile you will see a list of main features to access your accounts.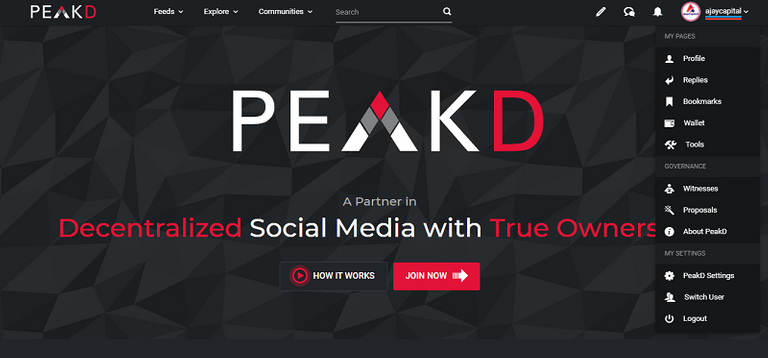 Profile - To check your post comment and reblog click on the profile and explore your account.

Replies - To check people response to your blog post you can use this button.

Wallet - This can be use to access your finds on the hive blockchain. Here you can send, receive and trade funds.

Tools - This button can be used to track accounts oprations.

Witnesses - This Butten is used to go to the block producer page

Proposal - To go on Proposal page to vote hive DAO to fund project

These are some important features of peakd website We will discuss more about these feature in upcoming posts*
ALL THE IMAGES ARE TAKEN FROM PEAKD WEBSITE.
SOURCE - https://peakd.com
@ajaycapital