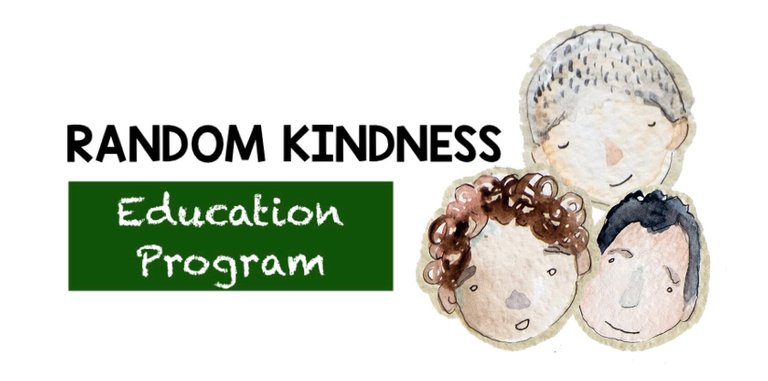 ---
Benjamin Franklin once said, that "An investment in knowledge pays the best interest".
Random Kindness Education Program aims to assist underprivileged children or youth in their financial needs to be able to continue their education. This is a type of need-based scholarship that qualifies students to get a monthly grant based on their economic status.
This project is a collaboration of people who wanted to create a lasting impact in the society. We wanted a sustainable way of helping others that could make their lives better. The primary goal is to assist scholars, not only financially, but in every aspect of their lives, until they graduate college. We hope to become more of a foster parent to them rather than being just a mere benefactor.
WHY ARE WE DOING THIS
Honestly, this is a tough question to answer. I could think of a bunch of specific things, but it all goes down to one single major reason and that is because we care.
Charity comes in many forms. We engaged in a lot of gift giving activities in the past, but we came to some realization lately to rethink on how we could impart good deeds that would result to a timeless and significant influence to the community.
As the old verse goes, "Give a man a fish, and you feed him for a day. Teach a man how to fish, and you feed him for a lifetime."
While giving food fills an empty stomach (and it makes us feel good about ourselves), yet it only saves people from few hours of hunger, and then they're hungry again. It becomes a cycle, and creates dependency. We do more harm, than good, despite the purity of our intention.
For months, I've been thinking and thinking on how we can sustainably support the less fortunate, and finally we came up with this idea - education.
HOW WE STARTED
It all started here in Steemit, because this community is full of kind-hearted human beings. We belong to the same circle talking about cryptos, trading and how we can thrive in this platform. As we talk almost everyday, we slowly get to know each other more, and then we started discussing wider topics, from funny things that happened on that day, to random political rants, to our personal struggles. We became each other's confidant. A form of therapy, where we get to vent out our frustrations about poverty and justice system. Most conversations are just too random, from shallow laughs, to epic dramas (sometimes, it happens simultaneously. Haha).
And then that's it, we became the greatest fan of each other's projects. We exchange ideas, we voice out our aspirations, and we support one another in any way we can.
Last year, I did a fund raising campaign on some activities and it received support from these generous people here in our community. The donations was kept in this account and I powered it up so it could still be of use for future projects.
Currently, this @randomkindness account has a more than 500 Steem Power, and its all because of the people who believed in this cause (about 400 Steems are generous donation from @otom). With this, I am hopeful and positive that this will be enough to get started.
Here's a link on a short video presentation I recorded during the gift giving last December, one of the activities I did with @mermaidvampire. Apologies for the styro food pack. =(

WHO IS THE BENEFICIARY OF THE PROJECT
Since the project is just in early stage and we only have a small fund at the moment, we are starting with one student.
Our first beneficiary for this program is a 14 year old girl named Angeline.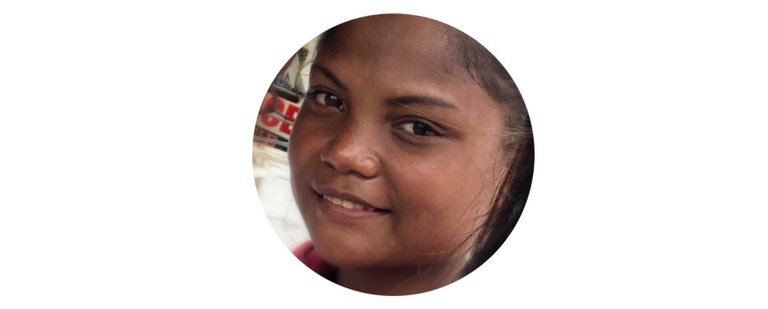 She is an incoming Grade 7 this school year. She is part of the Mamanwa tribe, a group of indigenous people living in Barangay Kagbana Burauen, Leyte. Their village is not yet accessible with any kind of transportation. From the town proper of Burauen, you need to hire a motorcycle going to Brgy. Mahagnao which is about 100 Php ($2). Then from there, its a 3 hour walk, wherein you need to pass through several rivers and a lot of uphill paths. Its more of trailing than walking.
Their means of livelihood is on farming. However, because of their location, selling their farm products is more difficult. They need to walk for hours just to get to the next village or town so they can hopefully find people who will buy their goods. The average income would probably range from 150Php to 300Php ($3-$6), but that is if they have products to sell, and that's not on a daily basis.
With this kind of living situation, they only spend the things they earn, to help them and their family get through the day. There are about 50 Mamanwas in their tribe and no one graduated college yet. Education is a luxury to them.
For your reference, here's a link of a documentary I found on Youtube by UNTV News and Rescue. Its about the Mamanwa Tribe living in Basey, Samar.
FUNDING GOAL
Currently, the target is to raise 20 dollars every month, and it will be granted to the chosen beneficiary for their allowance. $20 is about 50 Steems at the current exchange rate, and its an attainable funding goal.
This may not be enough to cover everything, but it will somehow lessen the financial worries of the family in sending Angeline to school.
STATUS OF THE PROJECT
On May 9, 2019, Angeline and her older sister Girly, went to my workplace to see me. They expressed their interest to accept the offer of helping Angeline go back to school. I was happy, and we discussed on how we would go about it.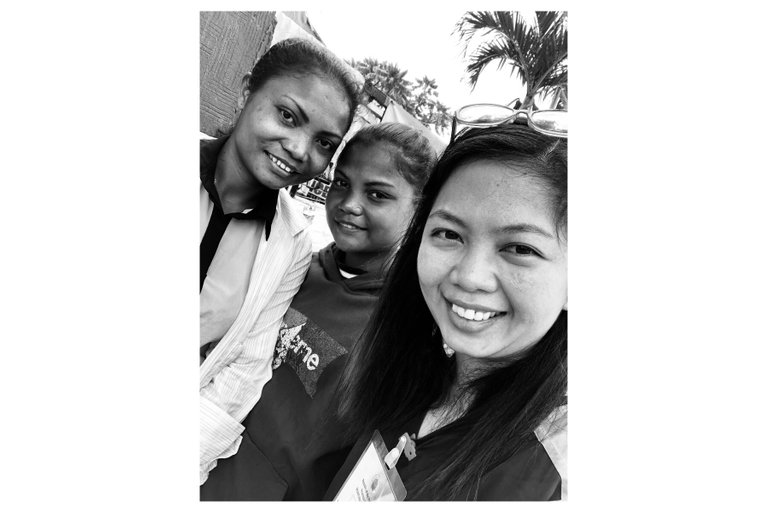 On that same day, after we talked and confirming that they will be getting some assistance, they went to Burauen Comprehensive National Highschool to process Angeline's enrollment.
On May 16, 2019, Girly came back to give an update that Angeline has been enrolled, and they also found a room where they will be renting. We went to the house to check it.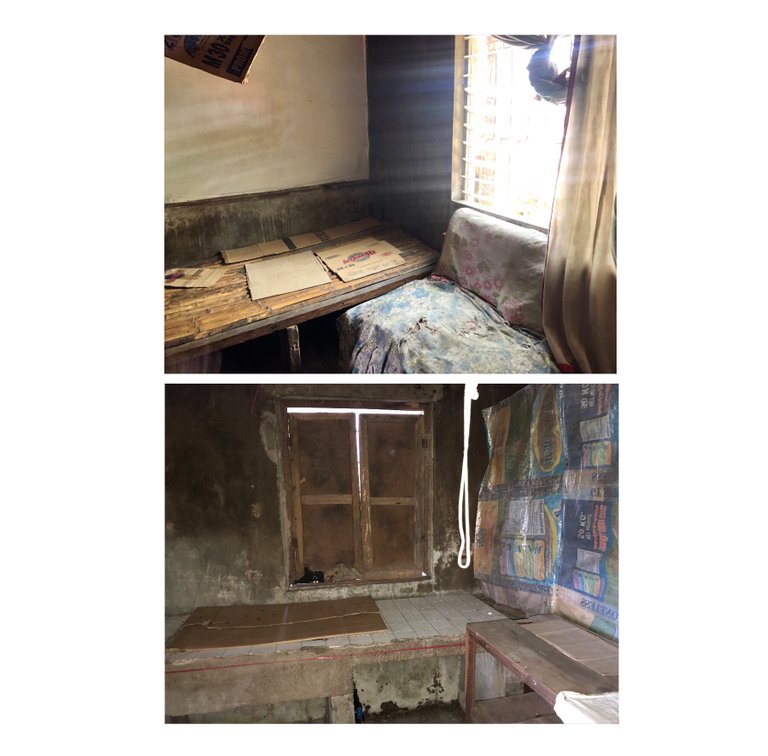 The owner agreed to have it rented at ₱600 ($12) per month including water and electricity. I think, this is the most affordable rate we could find within the town so we grabbed it.
On May 23, 2019, I received a text message from Girly asking if it is possible that his other younger brother can also go to school. She went to the boarding house and the owner asks another additional ₱100 ($2) if there will be 3 people who will be living in that room. That will be a total of ₱700 ($14). I think, its still a fair deal.
I told them, I can cover the room rent. But I couldn't promise if her brother could get a monthly grant. Considering the price of Steem right now, I don't think it will be easy to raise $40 monthly, since we will only be depending on the support of my fellow Planktons. But I told her that I can pledge for the school supplies and uniform of his brother as well.
Yesterday, May 28, 2019, I went to the boarding house to pay for the rent because classes will be starting in June 3 already. This weekend, I will be buying the school supplies for them. Then, next week I will be buying the cloth for the uniform. Freshmen are still allowed to go to school in civilian clothes for few weeks.
HOW YOU CAN SUPPORT THIS PROJECT
While its easy to ask for monetary donations, I wouldn't go that way. All of us work really hard so we could earn and live a comfortable life. We sacrifice long hours of sleep for longer working hours so we could earn more for ourselves and family. We try to learn a lot of skills, we prefer budget meals over some fancy ones, we deprive our selves from those branded shoes, and most of all we absorb the toxic work environment and suck everything up, because we need a job.
Those are your hard earned money and I don't want to take that away from you just like that. I will not be asking for any wallet transfer, instead, I am only soliciting for your support.
I will be posting in this account about updates, or any random kindness stories and if you believe that this project matters, you can upvote or resteem any posts, because all payouts will be utilized as Angeline's monthly grant. Again, we discourage spending anything. Your upvote, no matter how small, could go a long a way. Your resteem can help reach as many people as possible, thereby finding possible collaborators who loves helping others as well.
You may also contact me should you wish you to donate used clothing, books or anything that could still be of use by our beneficiary. I can cover the shipping cost.
Also, we are planning to sell personalized shirts, mugs, keychains and other stuff soon. If you want to collaborate, you can message me anytime.
---
MY ACCOUNTS
For verification purposes, I will be listing here my other accounts.
STEEMIT
My personal account where I blog mostly about my day and random things is @meetmysuperego. I have also a @randomtravels account which contains blogs about my travels, hence the name.
FACEBOOK
I am Aimz Cagara on Facebook with a YOLO display photo. You might find another Aimz Cagara with a white DP, that's my old account. I'm not using it anymore but I'm keeping it active because it stores photos of my younger days. Haha.
INSTAGRAM
My username is @meetmysuperego in IG. Its a gallery of food and travel photos.
YOUTUBE
I also recently created a Youtube account which also Aimz Cagara. I don't know if this link to my profile will work https://www.youtube.com/channel/UCXgOl6jMl925JkjqxMXNMPA.
TWITTER
Not so active in Twitter, but I have one also @randomtravelsph.
---
BACKERS
The major backers of the projects of @randomkindness are:
@mermaidvampire | @otom | @bluesapphire06 | @benedict08 | @cadawg | @olivia08 | @filnette | @mellofello |
The following people also supported my previous fund raising campaign through a charity lottery game:
@ravisarikonda | @youngblogger24 | @whitehatartist | @allerie00 | @dizzyapple | @itisokaye | @avhyaceulip |
I want to show my gratitude as well to these people who are visiting my personal account from time to time and upvotes my posts.
@vallesleoruther | @happyfree | @atongis | @zephalexia | @we-are-lucky | @we-are-steemians |
---
I want you all to know that because of you I'm able to grow my account and got motivated to do more meaningful projects.
Your donations, upvotes, resteems, promotions, and kind words are the reason why we were able to finally launch the Random Kindness Education Program.
I hope you are all feeling good about yourself right now because you are a part of this, and you will always be a part of any @randomkindness project in the future.
This is a wonderful beginning, and I owe it to all of you.
I am forever grateful.