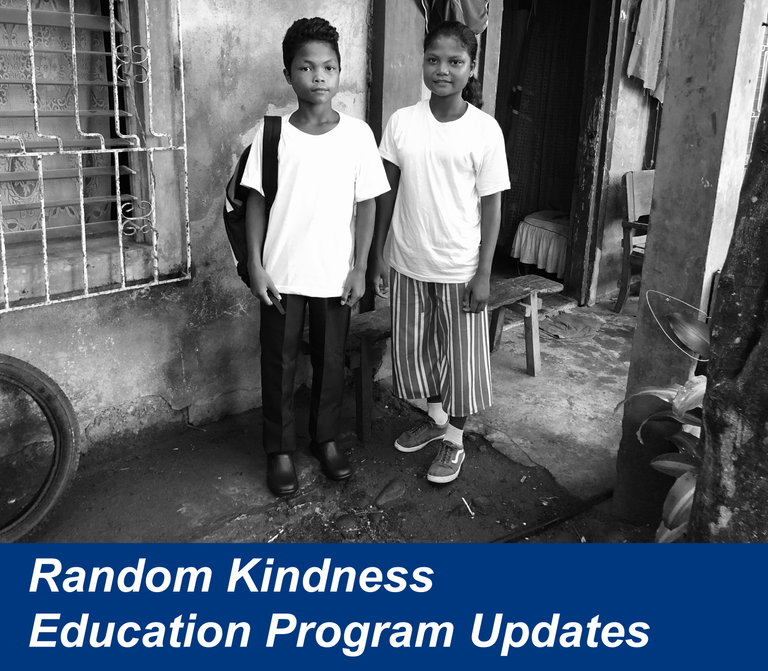 ---
Lovely day beautiful humans!
Before the updates, let me first apologize if I haven't posted for about 2 weeks. I had a super tight schedule for the past few days, work and all that stuff. I just came back from Cebu for a family trip. My mom promised to visit the Simala church after her prayers was granted when she visited it last May. Its some sort of Filipino culture. Anyways, I'll probably make a separate post about it next time. For now, I'll focus more on some updates about the Random Kindness Education Program.
---
June 16, 2019
Sunday was Angeline's free day for a meet up, so we could look for their school uniform in the local public market.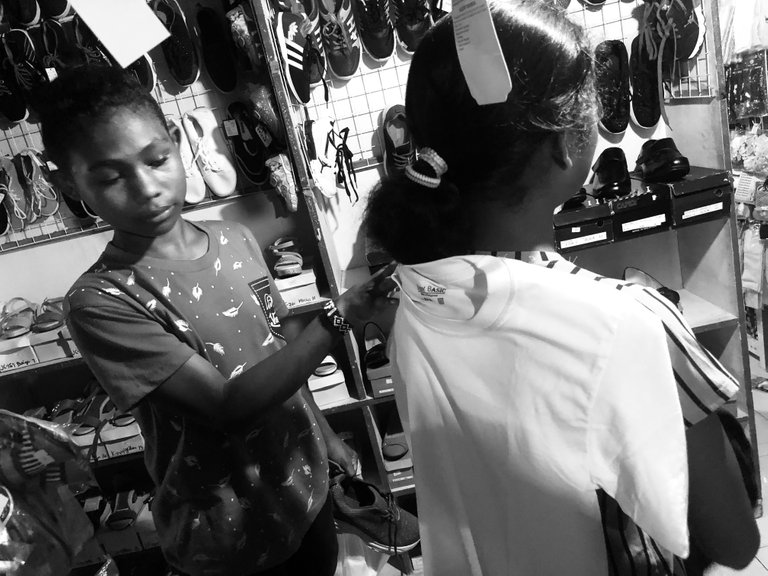 In this photo, Raffy, Angeline's cousin, is helping us choose a white T-shirt for Milky because he couldn't go with us that time.
I decided to buy Milky a whole set of uniform because he really don't have anything he could use. He was going to school in slippers, and almost the same clothes everyday.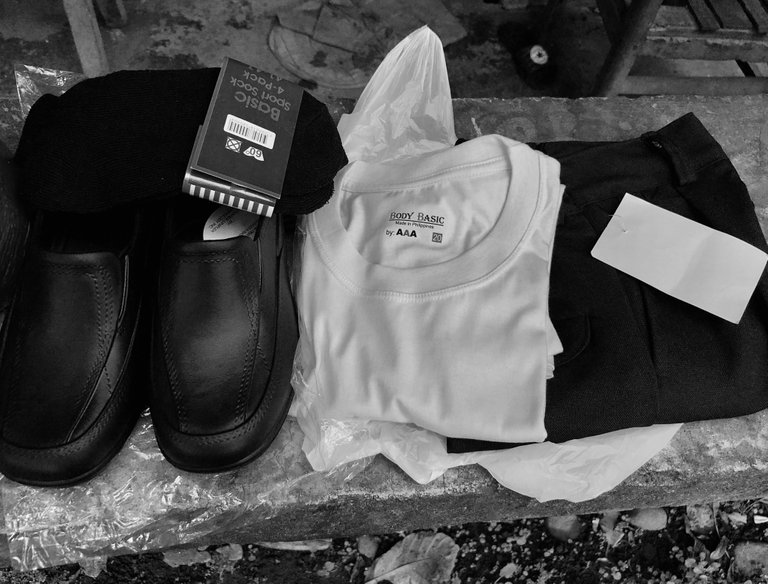 I got him 1 slacks (₱240.00 / $4.8), 1 white shirt (₱100.00 / $2), 1 pair of black shoes (₱170.00 / $3.4) and 1 pair of black socks (₱40.00 / $0.80) for a total of ₱550.00 or $11.

Last June 8, 2019, I received a financial support from @benedict08 via Coins.ph, and this was utilized to pay for Milky's new set of uniform. Thank you very much for your generosity. 🙏🏻
I needed to visit them the next day around 6:30AM just before they leave for school, so I could take a photo of him wearing his new uniform. Here he is looking like a real highschool student: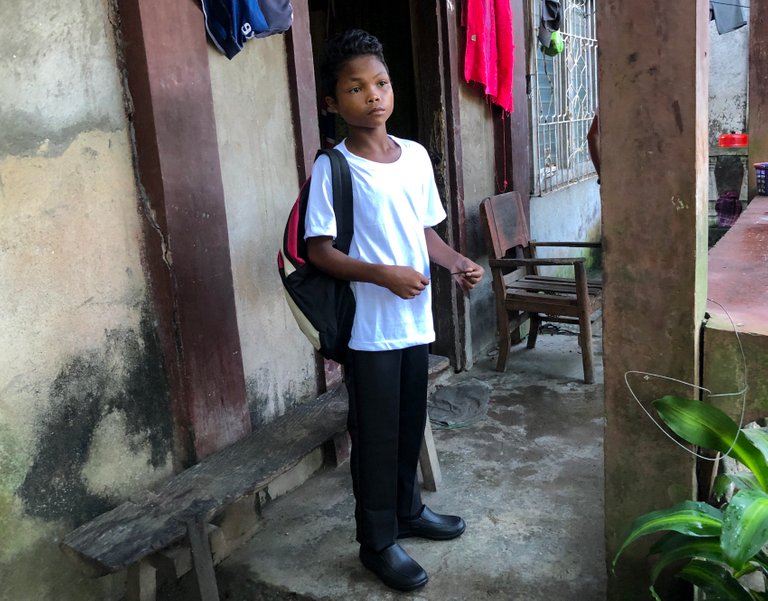 Thank you so much @benedict08 for the uniform, and @bluesapphire06 for Milky's backpack. =)
On that same day (June 16), instead of giving them the full $10 monthly grant, I bought them 2 gatang of rice (about 12 cups) which costs ₱190.00 / $3.8 and gave them ₱100 / $2. The rest of their allowance will be given tomorrow.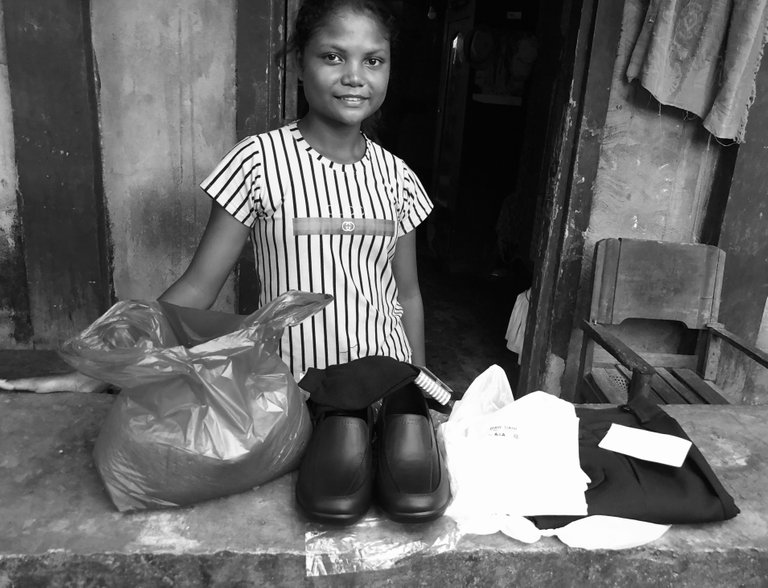 I'm using this strategy so we can avoid mismanagement of their finances and utilize it only to buy necessary things. I needed to remind myself that they are kids, and would still need a lot of guidance. This whole thing is really wierd for me honestly. I have no experience with this kind of stuff at all, and I seriously had to talk to some adults in the workplace, asked some tips on how to handle two highschool kids.
By the way, here are the receipts from the local store for transparency: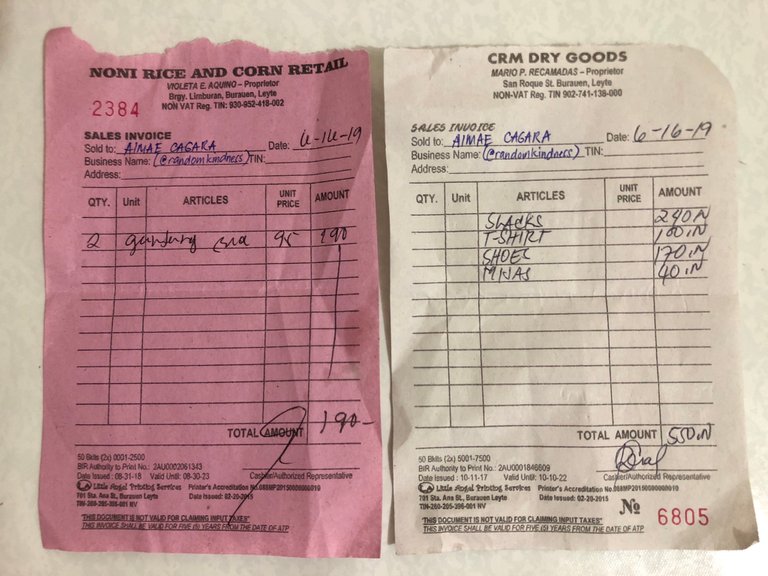 As for Angeline, we couldn't find a ready-made uniform for her because it was already sold out. The lady told us that the tailor will be at the market tomorrow (June 23, 2019). She told us that one set (blouse & skirt) would cost about ₱650.00 / $13 and would take around 3 days to finish. The freshmen are required to wear school uniforms by July, so Angeline will probably have her uniform by then.
I'm still looking for previous students who has old uniforms that are still in good condition which we can buy for a much lower price so that they will have spare uniforms.
---
COLLABORATORS
16 days after I posted the introduction of Random Kindness Education Program, I have received overwhelming support from the community, way beyond what I expected.
Here are the collaborators of the project, and have extended their blessings to Angeline and Milky from June 1, 2019 to June 22, 2019:
Total Steem Received: 156
Total SBD Received: 57
Total Philippine Peso Received: ₱500.00
---
PROJECT EXPENSES TRACKING REPORT
Period covered: Start to June 22, 2019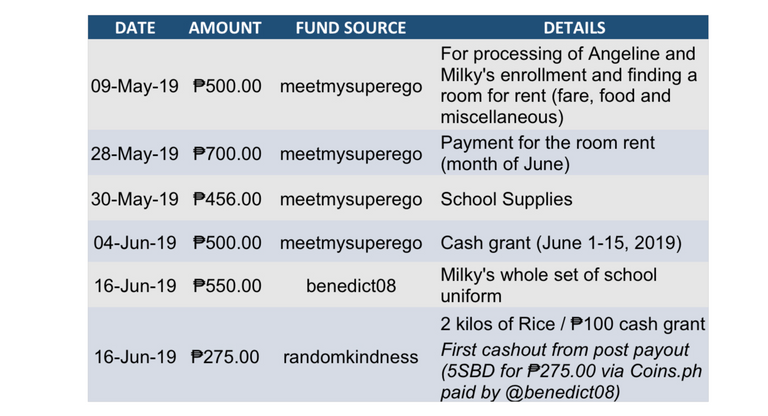 Total Expenses: ₱2,981.00 ($59.62)
---
First cash out from this account was last June 8, 2019 with the reference number 2019-0001. Transferred 5 SBD to @benedict08 and received a payment of ₱275.00 via Coins.ph, that's ₱55.00 ($1.1) per SBD which is way higher than the market price that day. Thank you so much @benedict08 and @mermaidvampire who is the middleman of this transaction. God bless you both. =)
Screenshots below for reference:


---
Currently, @randomkindness account has:
156.020 Steem
(Received from collaborators)
544.068 Steem Power
(400SP is delegated to @mermaidvampire to generate Steem/SBD for the project)
68.005 Steem Dollars
(57 SBD from collaborators & 11 SBD from post payout)
---
Love Notes =D
Thank you for patiently waiting for this report, and again I sincerely apologize for the lack of update for the past 2 weeks. I think, I have covered everything that I wanted to share to you guys.
If you have specific questions please don't hesitate to reach me through any of my social media accounts. Also, I would love some suggestions and tips on how I can manage this project better.
Thank you very much to those who promoted and shared a part of their earnings to this program. I sincerely appreciate all of your gestures and kind words. Because of you, we have enough funds that will cover Angeline and Milky's $20 monthly grant for the next 5 months or so. I still couldn't believe that we were able to raise such a big amount in such a short time. I thought finances will be the biggest challenge, this is really surprising.
I am grateful to have found people like you in this community. My heart is truly overflowing with so much love and faith in humanity right now because of you guys. Thank you so so much for believing in this project. 🙏🏻
Each day that Angeline and Milky attends their class means they will acquire new knowledge and learnings, and that I guess, is our greatest reward. All I pray is that, these kids will be able to withstand the challenges that would come their way. Its never gonna be easy. Part of me is also worried that they might be bullied at school, or get discouraged because life is too difficult and they need to make sacrifices, but one colleague told me as I was expressing my concerns is that these kids needs our prayers. Let us pray that they will conquer anything, and surpass whatever giants that they might come across. All I wish is to see them graduating, that's all.
Its still a long way, and we would encounter many bumps before reaching our destination. May I always be reminded that they are just kids, and they will be stubborn at times, insensitive, arrogant, and all these common behavioral problems. But like all teenagers, they also need someone who will be patient and who will never ever give up on them. Its gonna be a tough ride. And I'm seriously a bit challenged right now because this is way more difficult than I expected.
If there's anything I've learned from the past weeks is that, parents are truly real life super heroes who has unlimited patience, who forgives and accepts despite the occassional tantrums, and the countless times we messed up. I think, I appreciate them now more than ever. So yeah, cheers to all parents out there, you have the most difficult job in the whole universe.
Its 10:24PM guys, I gotta go to sleep now because I will be on duty tomorrow. Thank you for your time, continue spreading positive vibes, stay kind and keep making a difference. =)
---
PS.
This is a photo of Milky and Angeline taken outside their boarding house last June 17, 2019. It was around 6:30AM before they head to school. I wanted to take this photo so I could show it to all of you guys. These two kids are no longer out-of-school youths, and are offically highschool students. I hope you are proud of them too. =)