Hello Guys!
---
There was a photo with White Boat - now, the time has come to the Yellow one...
I was waiting in place for the sunset light over 4 hours...
Finally it came - last maybe 5, maybe 10 minutes... sunset horizon was covered by dense clouds.
The light found the gap and finally lighten up the world a bit.
The last rays of setting sun hit the yellow boat on the shore creating amazing contrast.
Photo taken by my Canon EOS RP with Canon EF 16-35mm f4.0 lens with NiSi polarizing filter and ND1000 filter.
30 seconds of exposure to flatten the water surface.
Place: Hjerkinnsdammen lake, Dovrefjell-Sunndalsfjella National Park. Norway, July 2022.
Hope You will enjoy the view and the mood of that moment.
---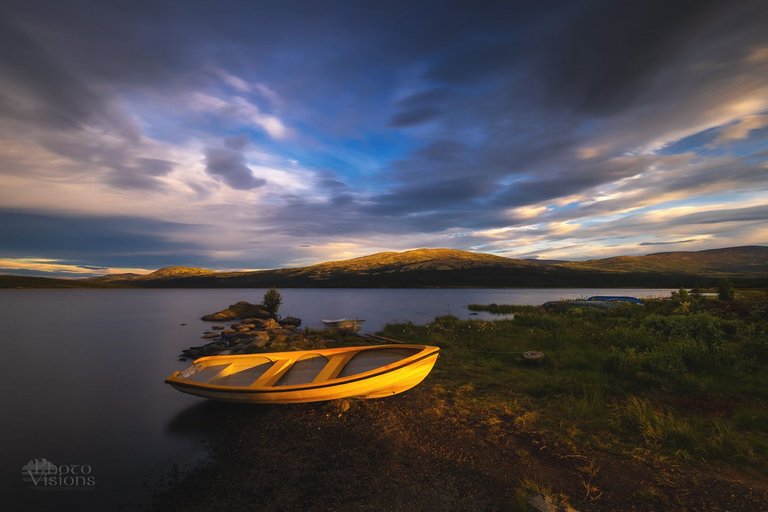 ---
---
---
---
Places to visit:
My YouTube channel: https://www.youtube.com/channel/UCW6Bp19byFzuxhFQwf8WjNQ
My web site: https://www.asphotovisions.com/
My insta: https://www.instagram.com/photo_visions/
My FB fanpage: https://www.facebook.com/AdrianSzatewiczPhotovisions/
My 35Photo: https://35photo.pro/adrianszatewicz
My 500px site: https://500px.com/photovisions_by_adrianszatewicz
---
Remember! Upvoting, Sharing and Following are the best way to show the authors that You like their work!