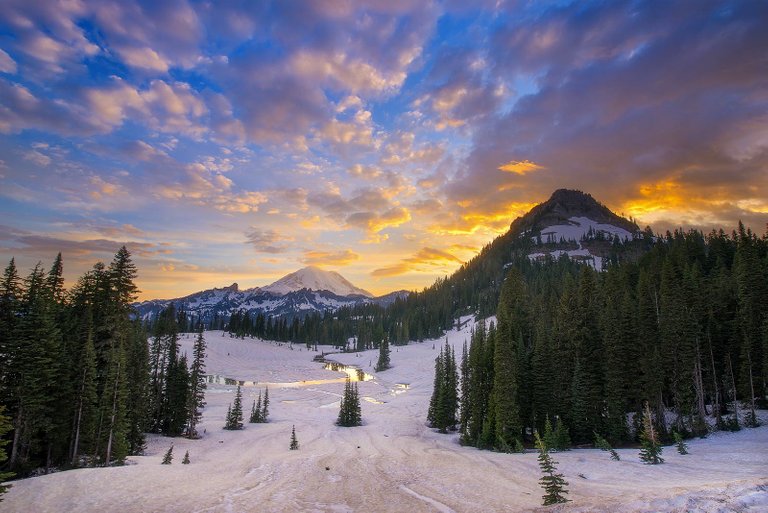 Tipsoo Lake in June
Tipsoo Lake
Tipsoo Lake is not a particularly large lake. In fact, to me, it's more like a pond. It's tiny and it doesn't even form into a big enough body of water to be called a lake until very late into the summer. As you can see from the summer shot above, I took one photo in mid-June and the one below in late October. No matter the season, a random visit to Tipsoo Lake is always spectacular. I find myself driving the 2-hour drive after work during the long days of summer just so I can catch a magnificent sunset.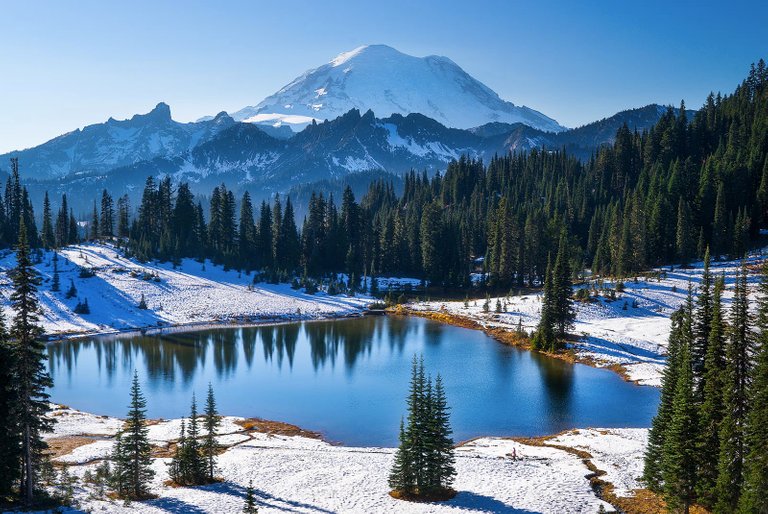 Tipsoo Lake in October
What makes Tipsoo Lake lake popular is the backdrop that it has relative to Mount Rainier. When the snow melts it provides that perfect quintessential postcard photo from Rainier National Park. It is also very accessible by car via the Chinook Pass and does not require an exhausting hike to get to. As such, Tipsoo Lake is one of the most photographed landscapes in the United States of America.

FAMOUS FOR
Photographers could easily spend hours waiting for the perfect shot of Mt. Rainier as it reflects on the lake. The Naches Peak Loop nearby offers amazing flowers, mountain tarns and epic views of Mt. Rainier. During season its wildflowers also rival those found at the Paradise meadows, and once the snow melts, provide spectacular landscapes. The Chinook Pass is also one of the best areas in the state of Washington for viewing autumn colors.
LOCATION
Tipsoo Lake sits at an elevation of 5,298 feet above sea level in the Northern Cascade Range just under the summit of Chinook Pass. It's about 86 miles from Seattle in Pierce County, Washington.
ROAD CONDITIONS
The Chinook Pass to Tipsoo Lake is accessible during the summer months and usually closed during winter.
HIKING TRAILS
If you're up for it, hiking the short loop trail around the lake is a great way to take in the views. If you're up for a little bit more of a challenge and awesome views, you can do a moderate trek up to Dewey Lake or Sheep Lake as both straddle a portion of the famed Pacific Crest Trail.
DO YOU WANT TO CHECK OUT TIPSOO LAKE?
---
Posted from my blog with SteemPress : Tipsoo Lake
---