Rawson Lake trail is such a beautiful hike, we did it twice. Once when there was less green and more snow, that's right, snow in the second week of July! Then again last weekend, or six weeks after in mid August. Both times the scenery was spectacular and the hike was all but perfect. It's around a 7 km hike there and back with just over 300m of vertical making it a relatively easy trip. Highly recommended if you ever visit the Rockies.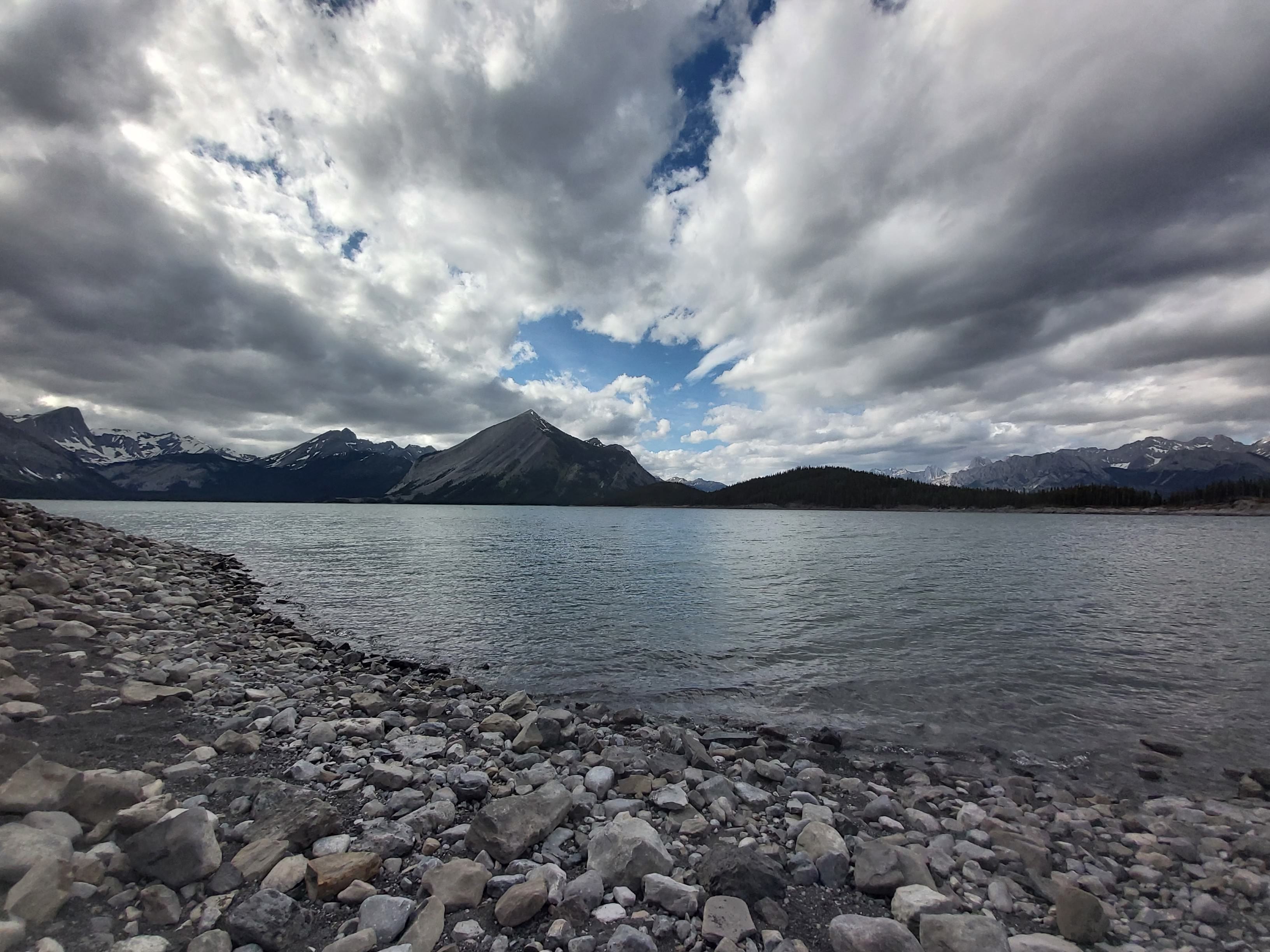 The hike starts in the parking lot near the Upper Kananaskis lake pictured above. You can find Rawson Lake in Peter Lougheed Park on the Alberta Parks website. https://www.albertaparks.ca/parks/kananaskis/kananaskis-country/advisories-public-safety/trail-reports/peter-lougheed/rawson-lake/
Warning: Surprise encounter with Grizzly Bear - bear spray deployed - We didn't see a bear but I hope people are only spraying aggressive bears and not surprising then spraying the bears. It's their forest and you're a visitor.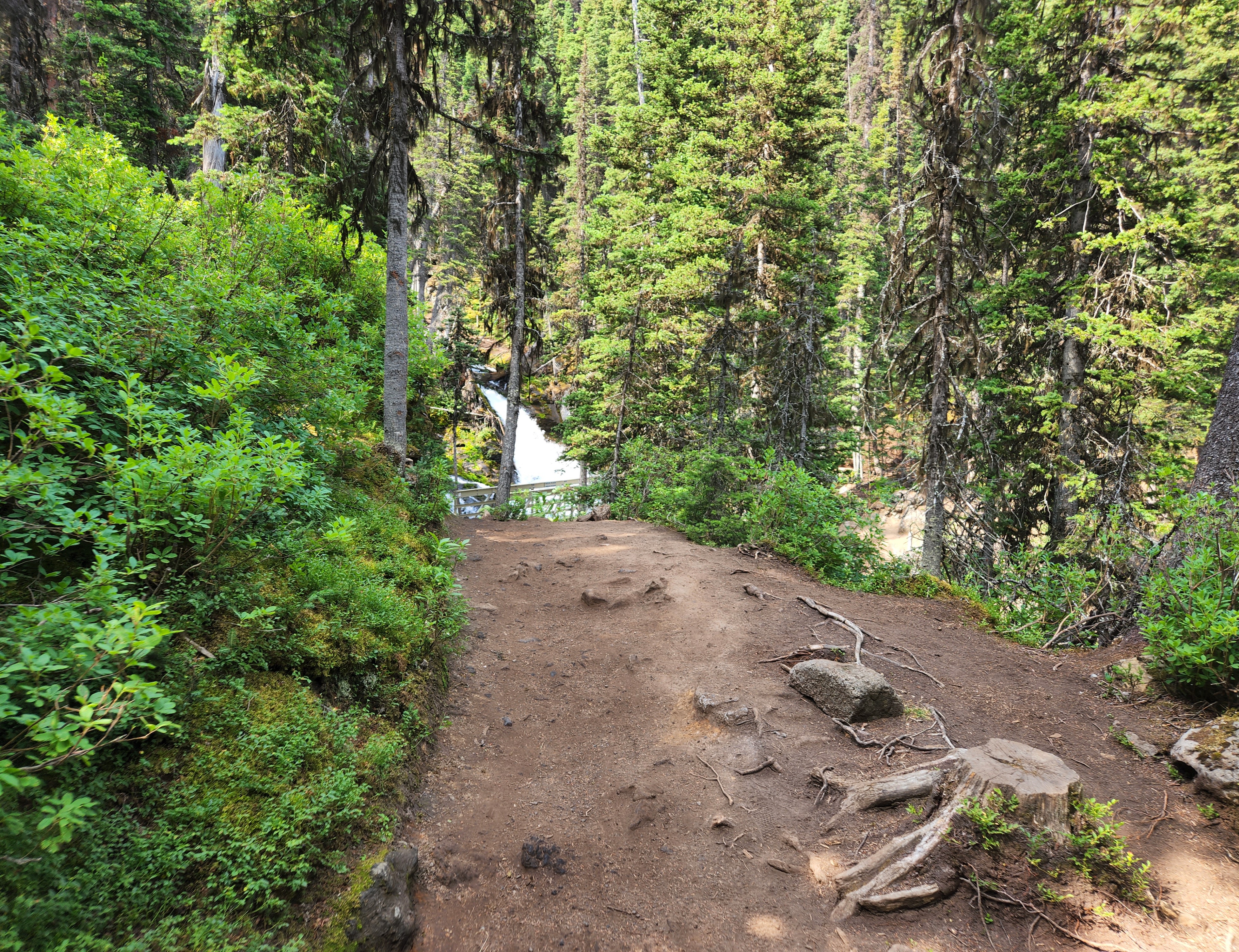 The Trail is relatively easy along the lake. It is wide and there are little streams flowing down the mountains across the trail. It's about a 1 km easy walk from the parking lot to the waterfall, almost anyone can make this part of the trip.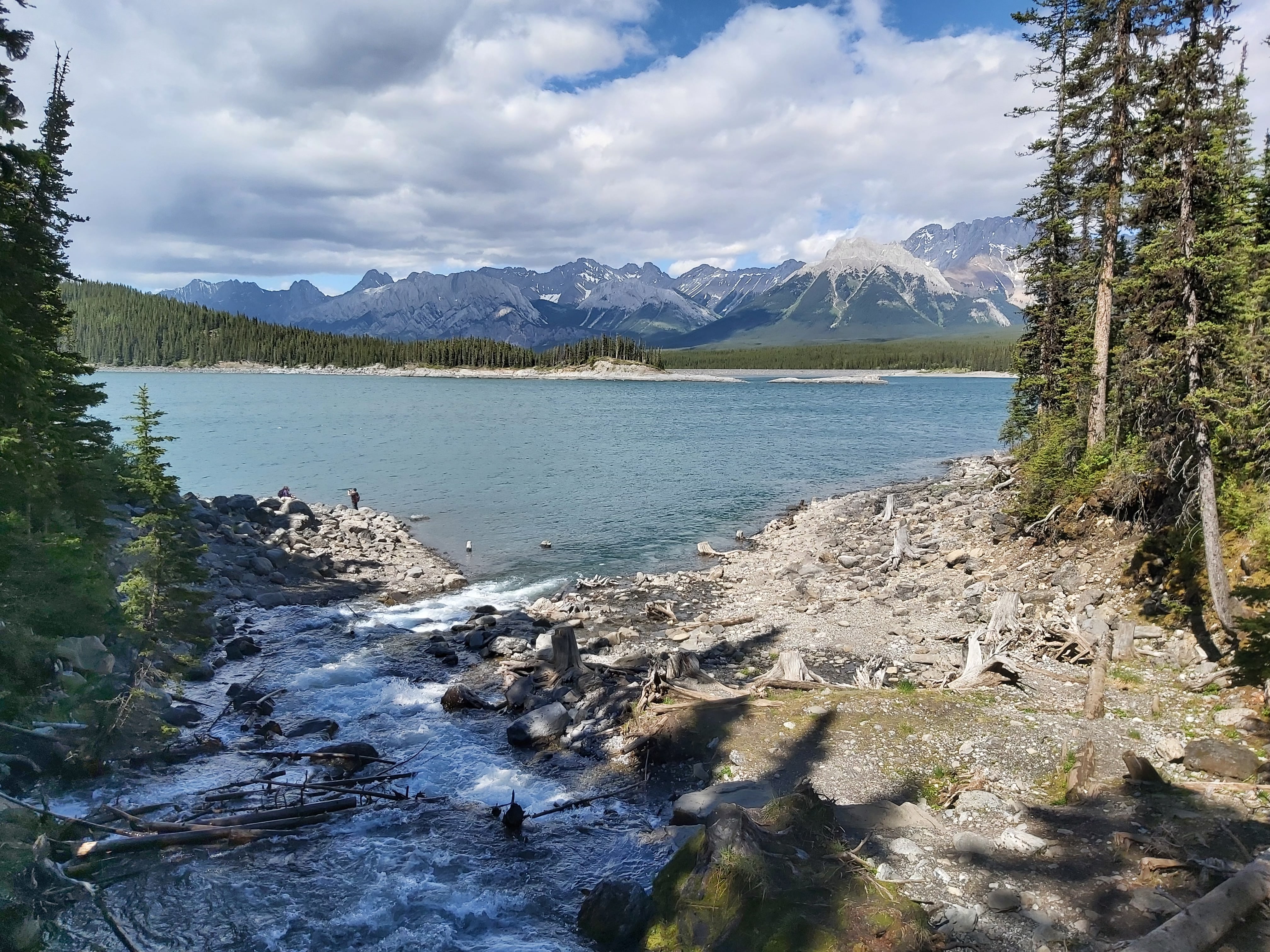 This is where a stream enters the Upper Kananaskis lake in July. You can still see snow up on the mountains.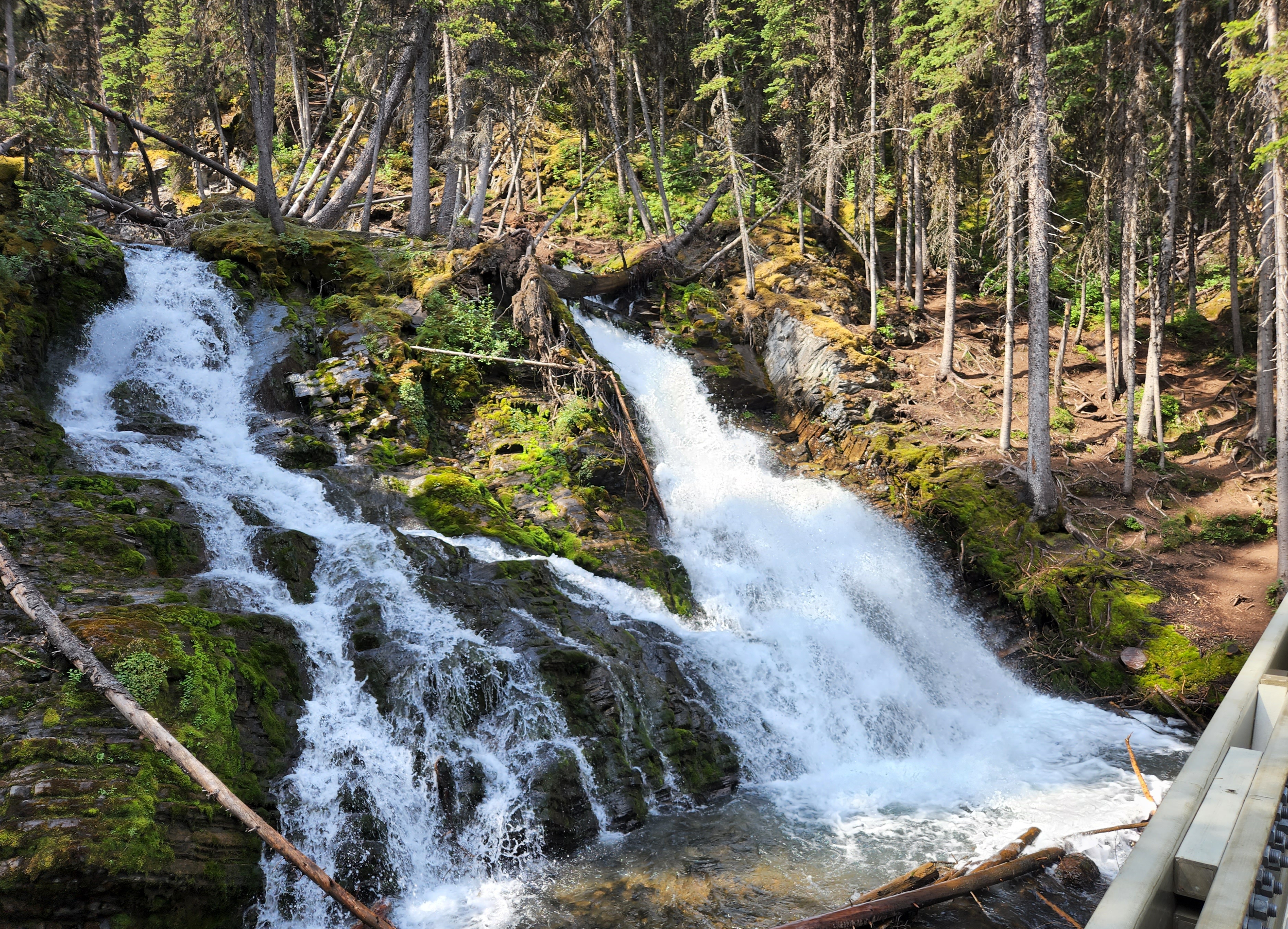 Here is the waterfall, it's worth the 2 km simple hike there and back and the fishing below where the stream enters the lake is probably excellent.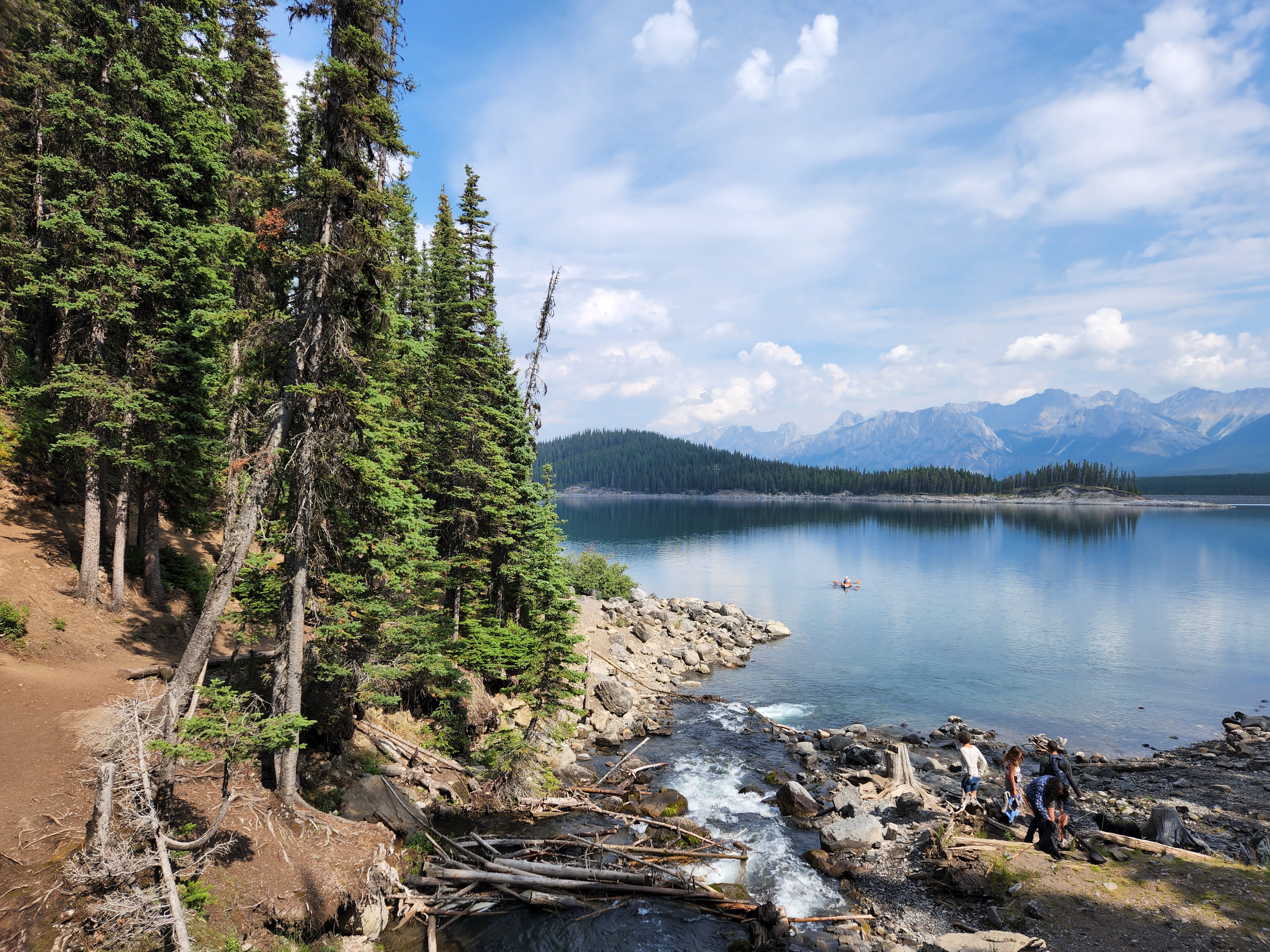 It's much warmer mid August and there were many people in small watercraft enjoying the park.
Just past the waterfall, you see the Rawson Lake Trail going up the mountains to the left. It's 5.2 km round trip from here and starts with a somewhat strenuous uphill hike. No scrambling is required, or poles, it's great for exercise and to prepare yourself for more challenging adventures.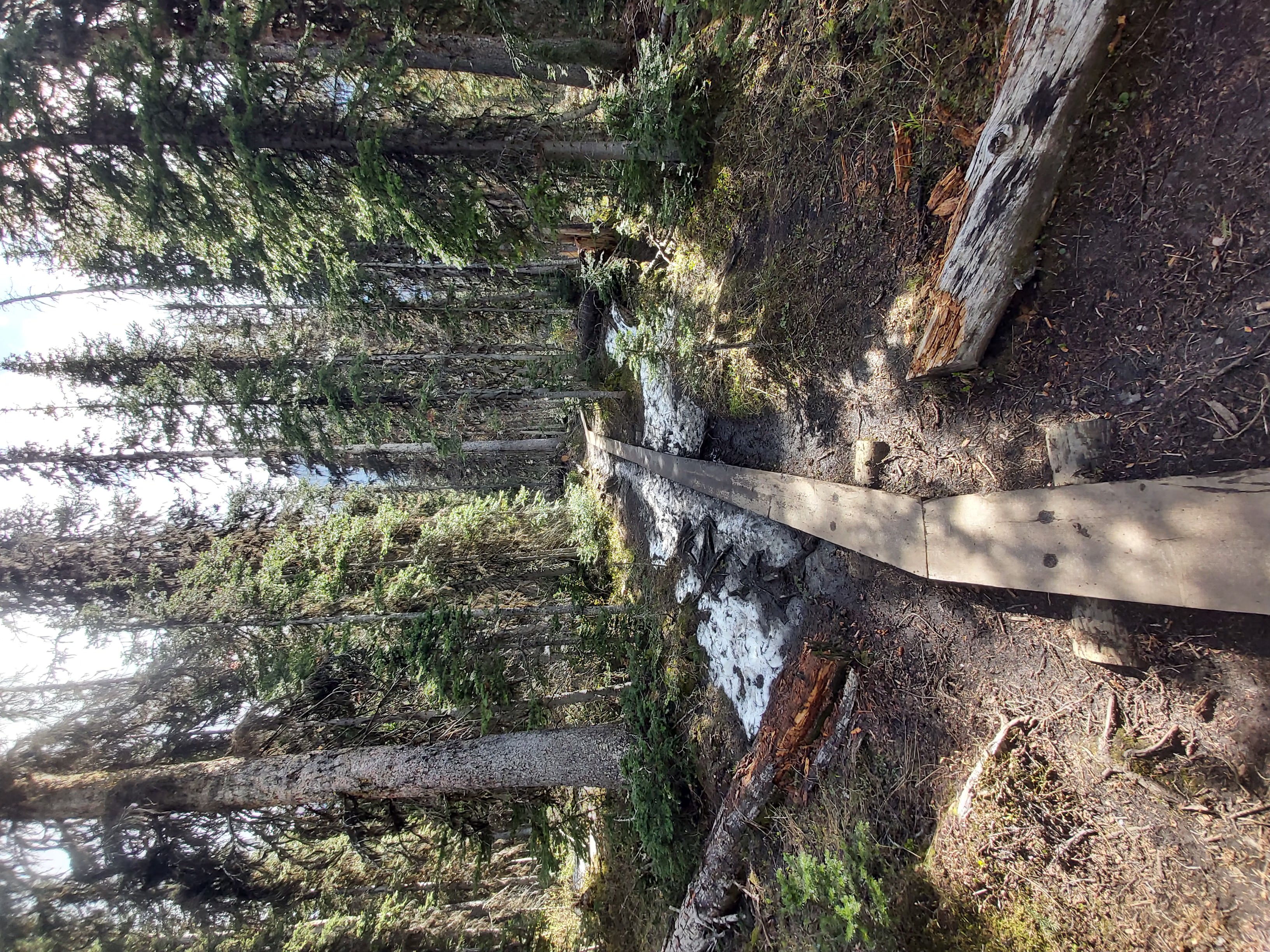 The trail can get busy, but on this day we went later in the day. You can see they put logs over the area where snow remains into mid July. The path would be ridiculously muddy and people would be walking all over the woods to avoid it. They call this an interpretive hike, meaning there are some signs explaining things, it's well-marked and maintained.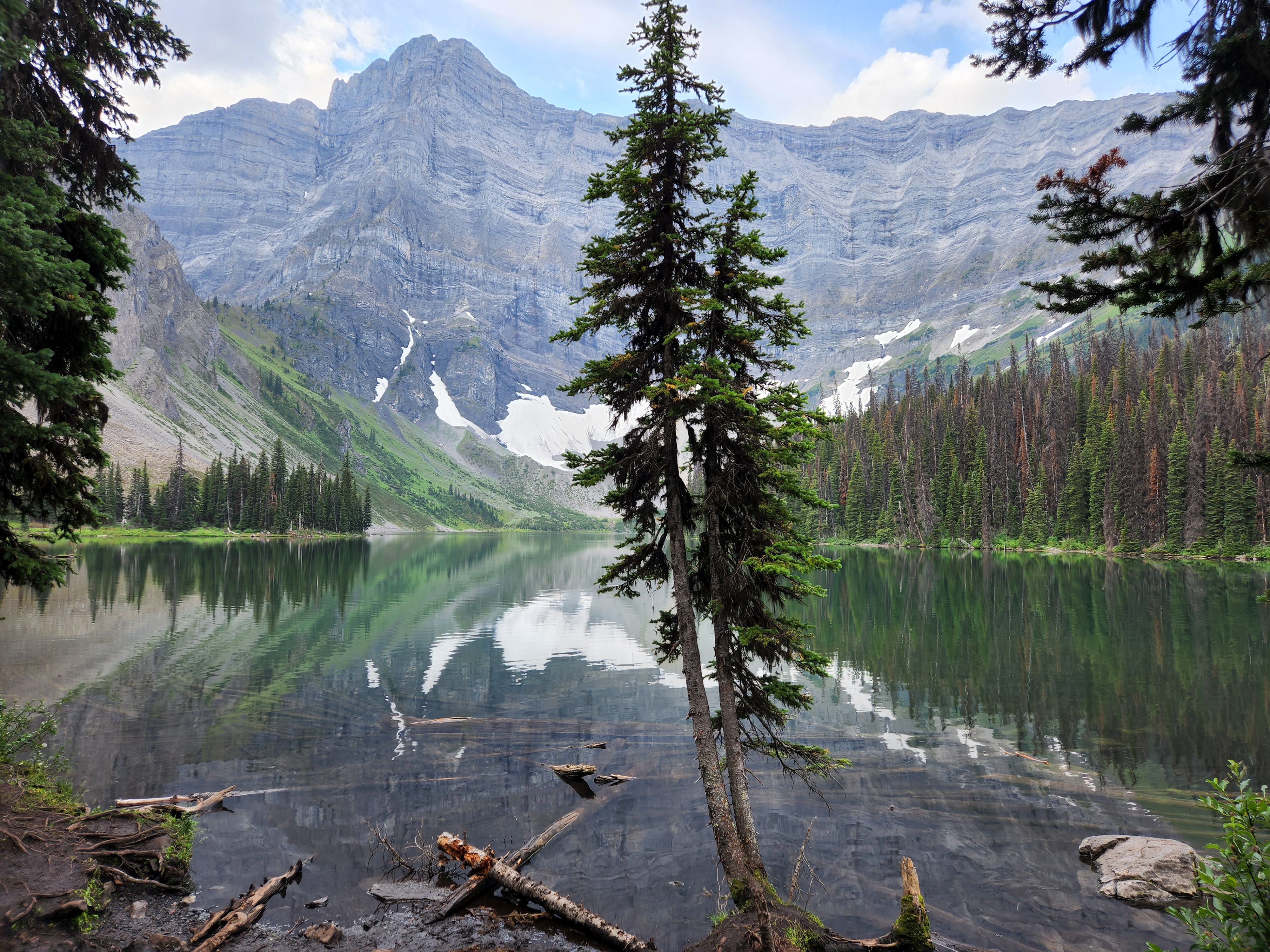 After ascending 300 m you eventually get to Rawson Lake, it's an alpine lake situated about 2000 m above sea level. There are trails all around it, but officially the trail ends on the left side towards the back. I wouldn't attempt to go around this lake until July as there would be extreme avalanche danger.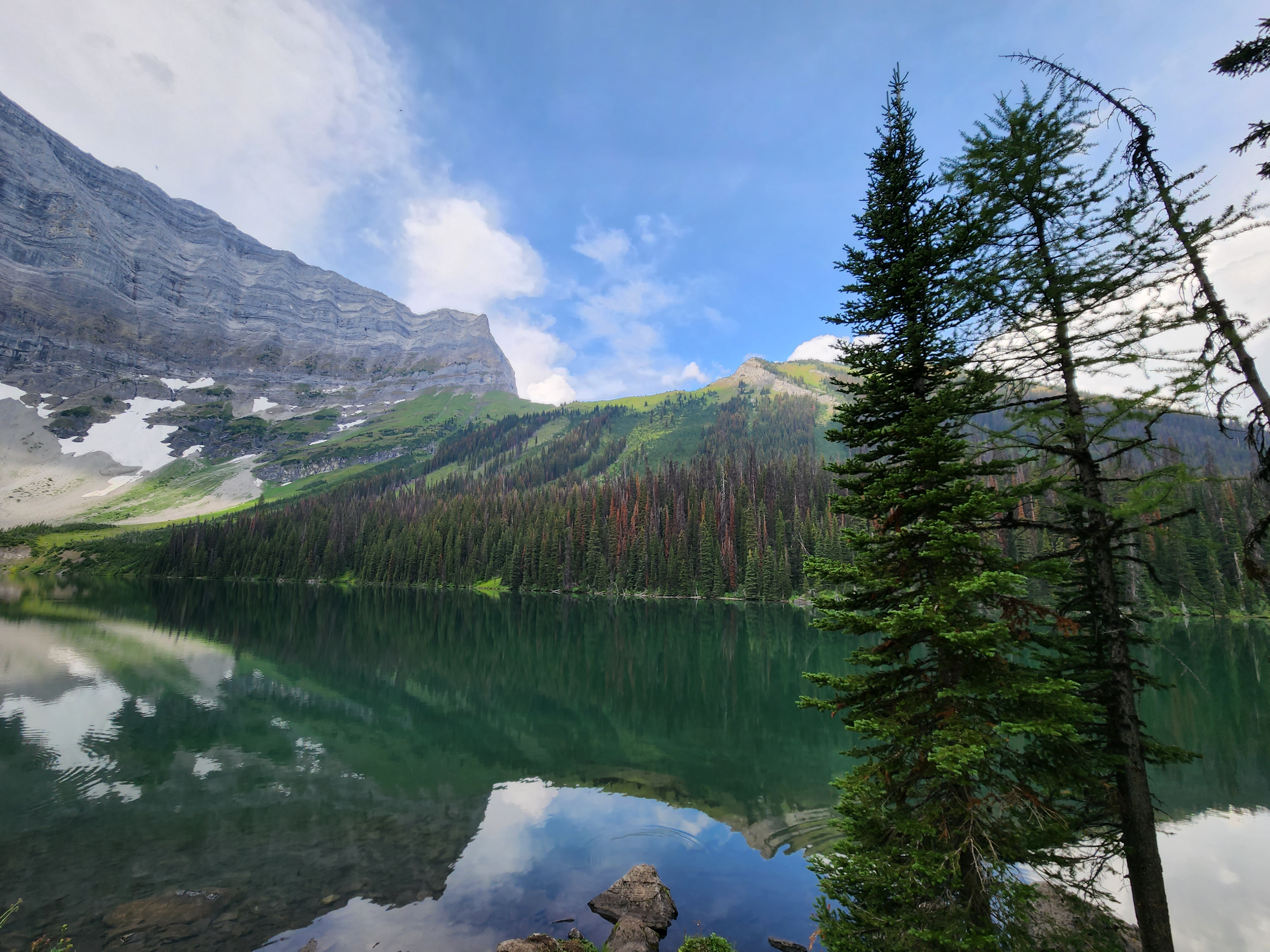 There's a hike up and along the ridge across the lake called the Sarrail Ridge Trail, it adds a few hundred more meters and offers excellent views. We haven't done it as it is much more advanced.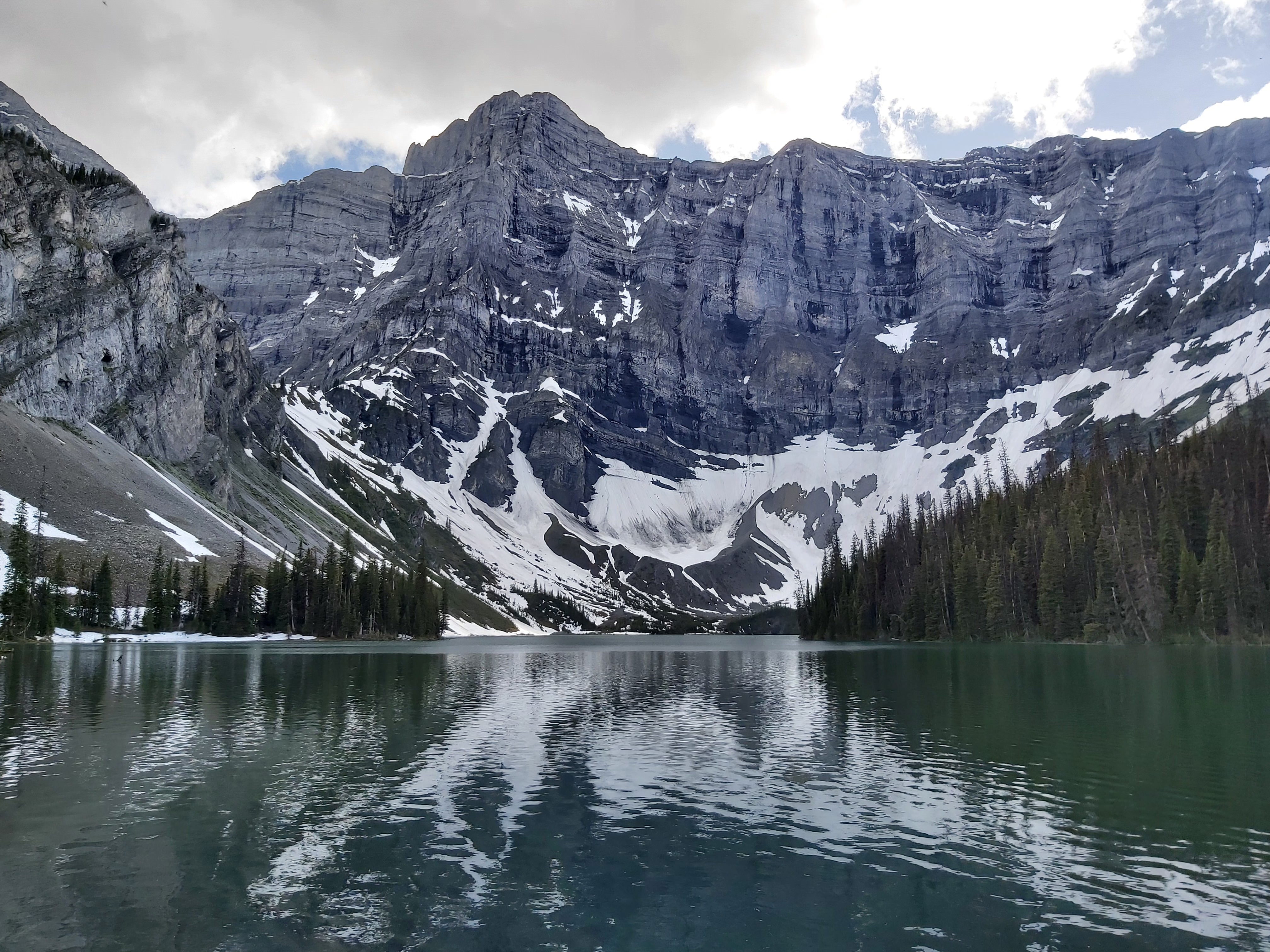 You can see Mount Sarrail, Mount Foch is to the right, they are about 3175 meter peeks, or just over 10000 feet. On this side we are in Alberta, go to the other side of those mountains and you are in British Columbia.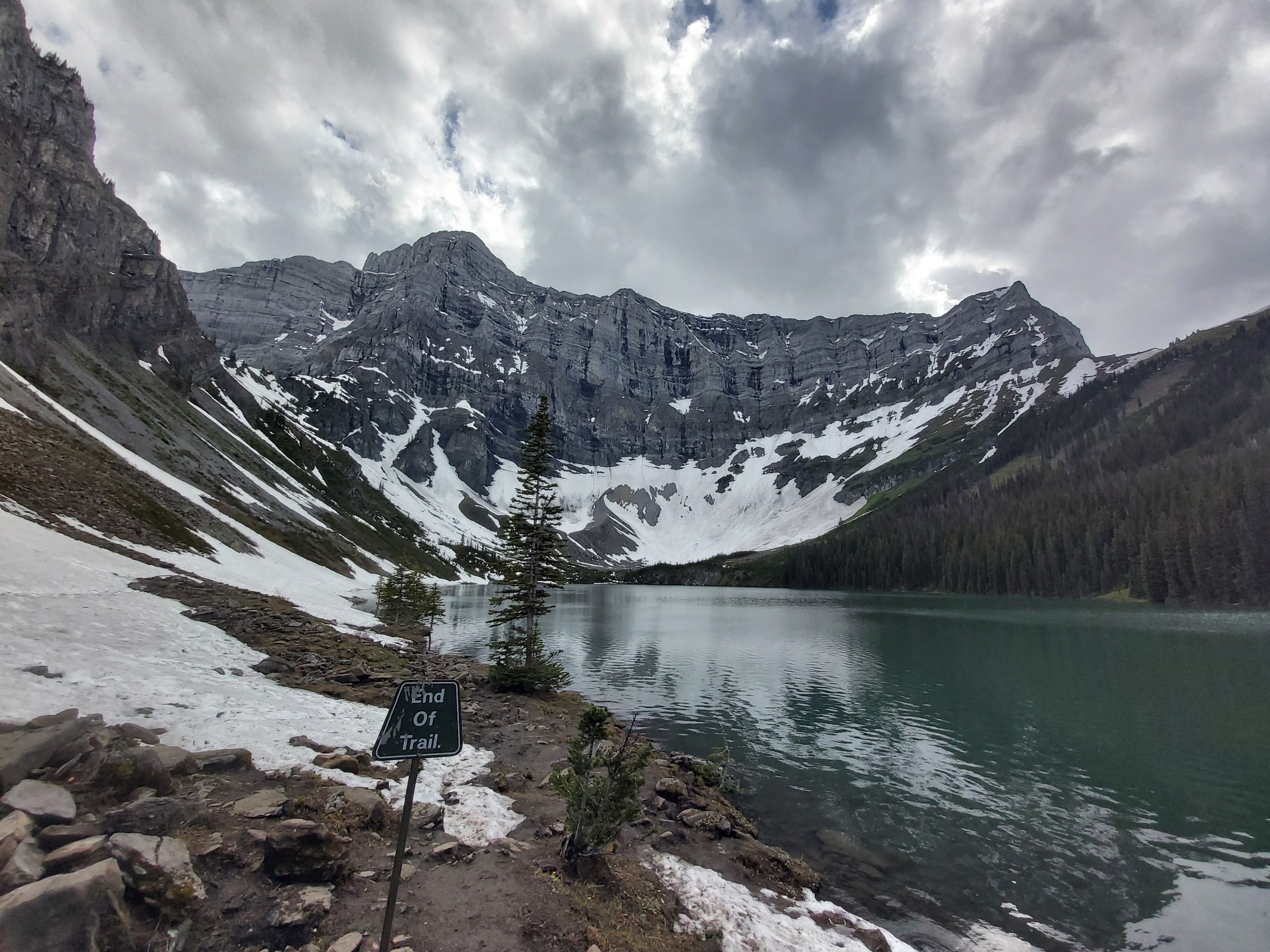 We don't bother going past the end of the trail as you are walking on Scrag in avalanche country. In August, it was much safer, there were dozens of people here and many Pikas. If you are every visiting the Canadian Rockies and feel like Banff or Lake Louise are too crowded, do check out Peter Lougheed Park and Rawson lake. There were many families hiking up here and people of all abilities. You won't regret it!