Money often costs too much - Ralph Waldo Emerson
This is the 8th episode of the "Memories from the Bank Vault" series (at the end you can find links to previous episodes).
After visiting Kyrgyzstan during the last post of this series, today we go to another former Soviet Union Republic: we travel to Tajikistan or The Republic of Tajikistan as it is officially called.
It is another landlocked country in Central Asia, filled with mountains. Its borders are with Kyrgyzstan, China, Afghanistan, and Uzbekistan. These modern borders were drawn when this country was part of Uzbekistan as an autonomous republic before becoming a republic of the Soviet Union in 1929.
On 9th of September 1991, Tajikistan became independent as a result of the Soviet Union disintegration. Between 1992 and 1997 a civil war was fought. It is now a Presidential Republic divided into four provinces and the population is approximately 8.7 million people.
Tajikistan, like other former Soviet Union Republics, used the Soviet/Russian rouble for a few years after becoming independent. During July 1993, a new series of Russian ruble was issued and the old one ceased to be used in Russia. In January 1994, also in Tajikistan, the old ruble series stopped being legal tender while in May 1995 Tajikistan issued the Tajikistani Ruble (1 Tajikistani Ruble was worth 100 Russian Rubles).
Tajikistan - 1 Ruble Banknote - Obverse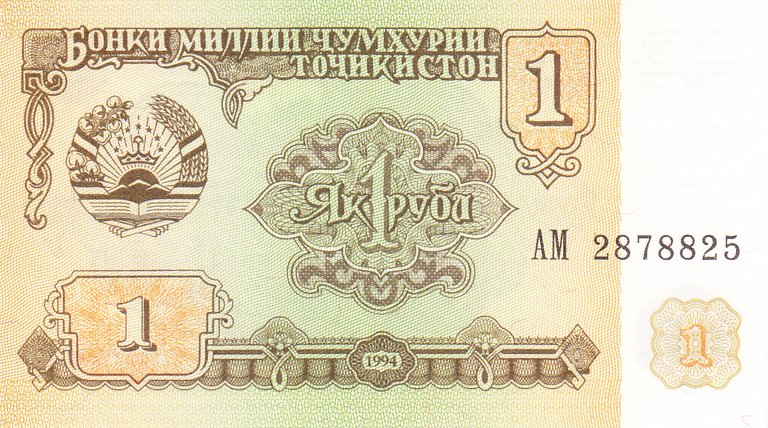 Of the former Soviet Union Republics, Tajikistan was the last one to issue its own currency. Even Transnistria, an unrecognized state, issued its Ruble before Tajikistan.
Tajikistan - 1 Ruble Banknote - Reverse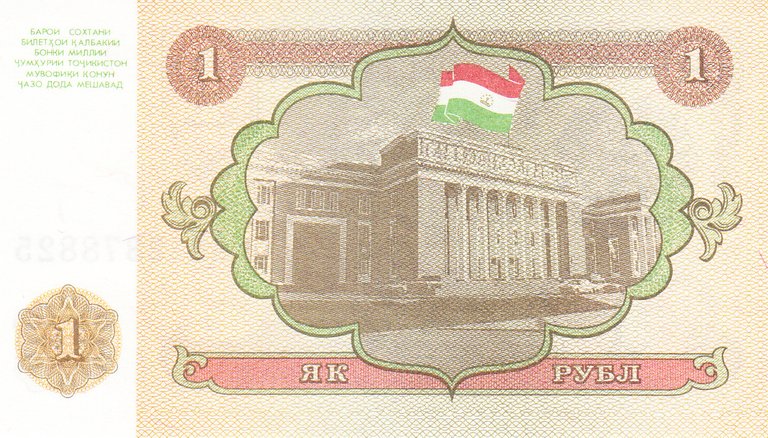 In 1999, a very strong inflation determined the end for the Tajikistani Ruble and in 2000 the Somoni were introduced (1 Somoni was worth 1000 Rubles).
Tajikistan - source: Wikipedia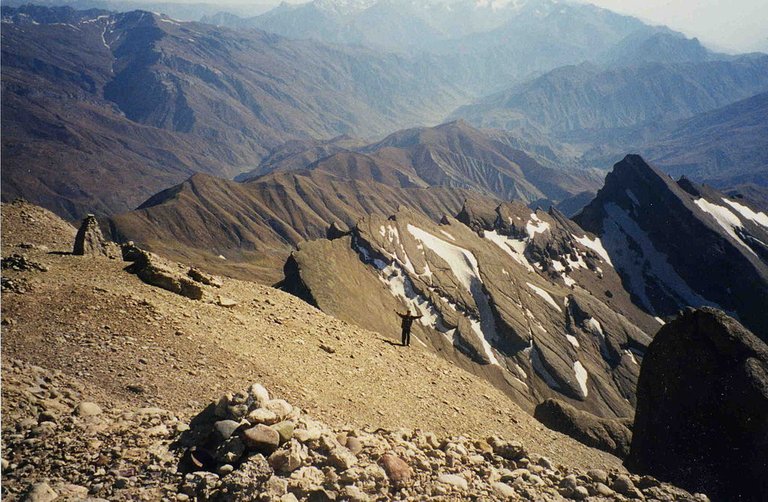 The ISO 4217 code for the Tajikistani Ruble is TJR and it was divided in 100 Tanga but no coins or banknotes were ever issued denominated in Tanga.
Tajikistani Rubles had denominations of 1, 5, 10, 20, 50, 100, 200, 500, 1000, 5000 and 10000 Rubles.
This 1 Ruble banknote is in Brown main color and dimensions are 102 mm x 55 mm. On the obverse, we find coat of arms and patterns. On the reverse, we find the flag of Tajikistan over the Supreme Assembly (Majlisi Olii).
The watermark is a multi-star pattern and the note was printed in 1994 and issued in 1995.
previous posts of this series:
all banknotes' pics in this post are author's pics