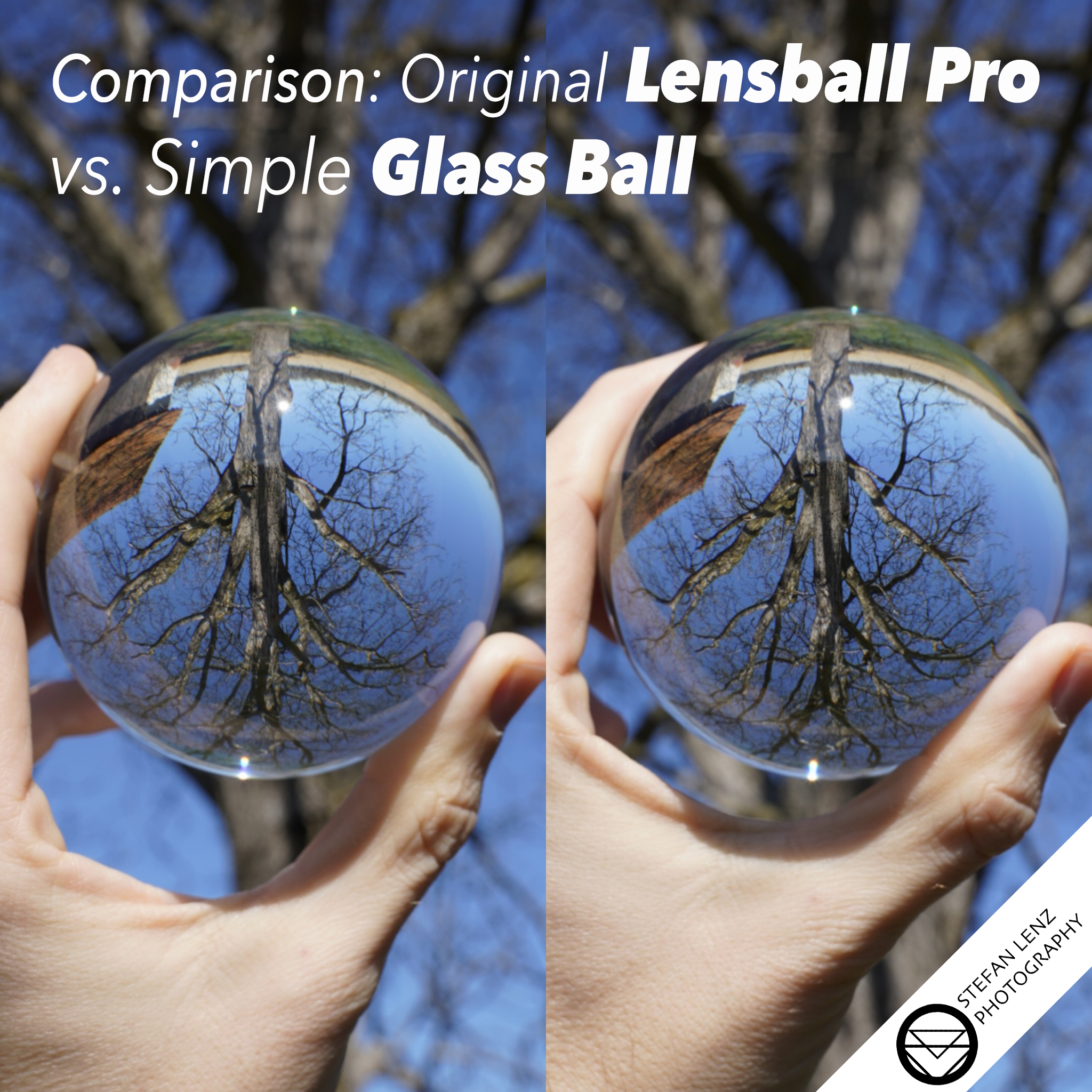 Hey guys! This article is about my area of expertise, crystal ball photography again. Because of the great interest in this unique form of photography during the last two years, meanwhile there are countless vendors who sell their glass balls at various prices. For only $15 you can get crystal balls, that are suitable for photography according to the sellers. If you want to get the ultimate high-end product, the original Lensball Pro, you have to spend about $40. But is the surcharge even worth it and what are the advantages of the market leader? I would like to help you answering these questions for yourselves in this comparison between a Lensball Pro and a simple, low-priced crystal ball.
Hallo Leute! Es geht in diesem Artikel mal wieder um mein Spezialgebiet, die Glaskugel-Fotografie. Durch das große Interesse an dieser einzigartigen Form der Fotografie in den letzten beiden Jahren, gibt es mittlerweile unzählige Anbieter, die Ihre Glaskugeln zu den unterschiedlichsten Preisen verkaufen. Bereits ab ca. 15€ bekommt man mittlerweile Glaskugeln, die laut den jeweiligen Verkäufern für die Fotografie geeignet sind. Wer das absolute High-End-Produkt, den originalen Lensball Pro sein Eigen nennen möchte, muss hingegen ca. 40€ ausgeben. Doch lohnt sich der Aufpreis überhaupt und wo liegen die Vorteile des Marktführers? Dieser Frage möchte ich in diesem Vergleich zwischen einem Lensball Pro und einer einfachen, günstigen Glaskugel auf den Grund gehen.
Ordering Process and Price/Bestellprozess und Preis
Ordering a glass ball is relatively easy. Online retailers like Amazon deliver quickly and reliably. This is true for the Lensball, which you can alternatively order via the official website, as well as for all other crystal balls. I bought my simple glass ball via Amazon for $17. For the Lensball Pro there are special offers again and again. Usually you can order it for about $40. So the point for the price clearly goes to the simple crystal ball.
Eine Glaskugel zu bestellen ist relativ einfach. Online-Händler wie Amazon liefern schnell und zuverlässig. Das gilt sowohl für den Lensball, den man alternativ auch über die offizielle Website bestellen kann, als auch für alle anderen Glaskugeln. Meine einfache Glaskugel kaufte ich über Amazon um 17€. Beim Lensball Pro gibt es immer wieder Angebote. In der Regel könnt ihr ihn für knapp 40€ bestellen. Der Punkt für den Preis geht also ganz klar an die einfache Glaskugel.
Packaging and Design/Verpackung und Design
The Lensball Pro comes in a white square-shaped box that immediately reminded me of an Apple product with its minimalistic design. Unpacking it is really fun and you immediately get the feeling of holding a very high-quality product in your hands. The black box, in which my simple glass ball was delivered, on the other hand, made a rather cheap impression, the lid was not closed tightly and when I opened it, I noticed a bad smell. As far as packaging and design is concerned, the Lensball is therefore the clear winner.
Der Lensball Pro kommt in einer weißen, quadratischen Box, die mich mit ihrem minimalistischen Design sofort an ein Apple-Produkt erinnerte. Das Auspacken macht hier wirklich Spaß und man hat sofort das Gefühl, ein sehr hochwertiges Produkt in den Händen zu halten. Die schwarze Box, in der meine einfache Glaskugel geliefert wurde, machte hingegen einen eher minderwertigen Eindruck, der Deckel lässt sich nicht fest verschließen und beim Öffnen kam mir ein übler Geruch entgegen. Was Verpackung und Design angeht, ist der Lensball Pro somit der eindeutige Sieger.
Content and Accessories/Inhalt und Zubehör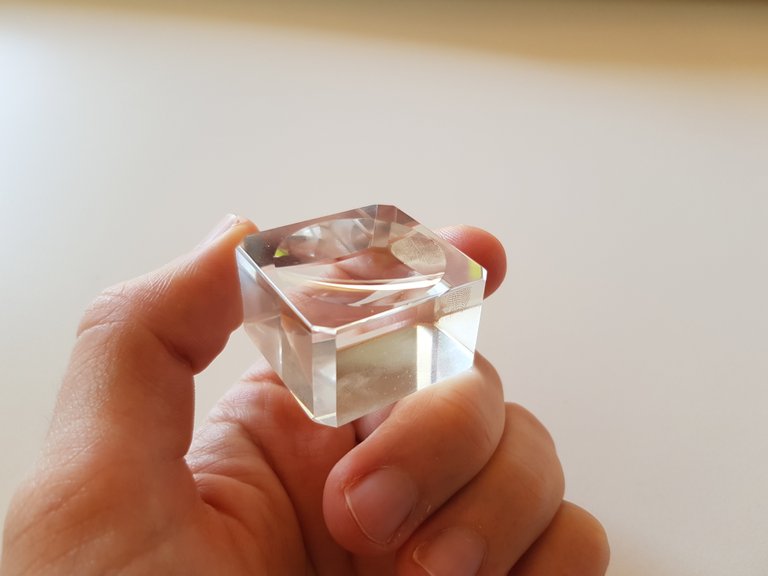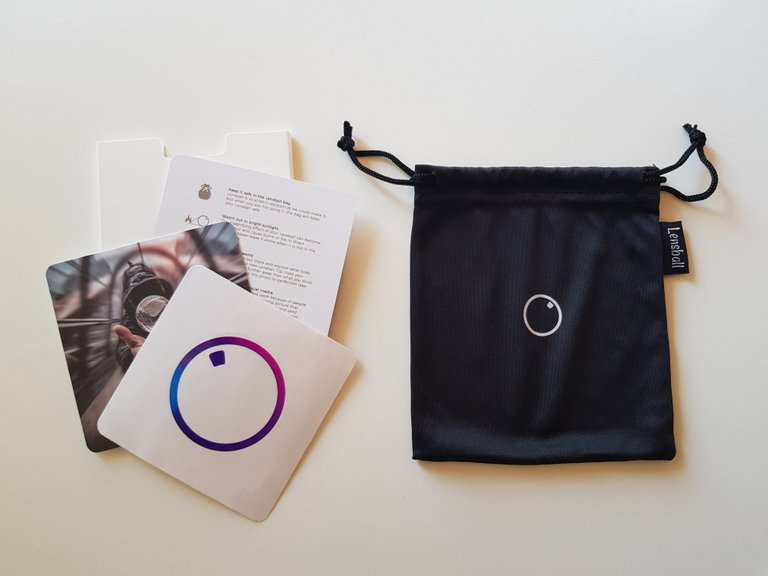 In the box of my simple crystal ball, apart from the ball itself, there was only a small glass stand, which is totally useless in my opinion, as it looks very bad on photos. There are much more elegant methods to hold a crystal ball in position. Fortunately, Lensball does not supply such a stand. Instead, you get a practical cloth bag as an accessory to protect your Lensball Pro from scratches when travelling. Also included are some information cards and a sticker with the Lensball logo. So the Lensball Pro is the clear winner in this category too.
In der Box meiner einfachen Glaskugel befand sich neben der Kugel selbst, nur ein kleiner Ständer aus Glas, der meiner Meinung nach total überflüssig ist, da er auf Fotos wie ein Fremdkörper wirkt. Da gibt es wesentlich elegantere Methoden, um eine Glaskugel in Position zu halten. Bei Lensball verzichtet man zum Glück darauf, einen derartigen Ständer mitzuliefern. Stattdessen bekommt man einen praktischen Stoffbeutel als Zubehör, mit dem man seinen Lensball Pro auf Reisen vor Kratzern schützen kann. Außerdem dabei sind ein paar Info-Kärtchen und ein Sticker mit dem Lensball-Logo. Somit ist der Lensball Pro auch in dieser Kategorie der klare Gewinner.
Glass Quality/Glasqualität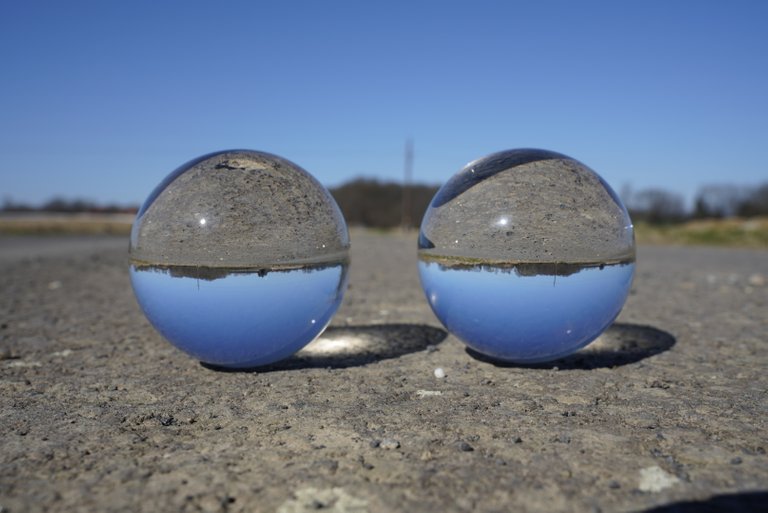 I was particularly curious about this point. At first sight I did not recognize any significant differences in quality. Both balls have a diameter of 80mm and are free of inclusions or scratches. On closer inspection it seemed to me that the Lensball Pro was a tiny bit clearer and more contrasty, but it's barely noticable, especially on photos. I took some comparative shots for you. On the left side you see the simple crystal ball and on the right side the Lensball Pro. I deliberately left the photos unedited. Just make yourselves your own impressions. For me there is a draw in this category. So both balls get one point.
Auf diesen Punkt war ich ganz besonders gespannt. Auf den ersten Blick erkannte ich keine wesentlichen Unterschiede was die Qualität angeht. Beide Kugeln haben 80mm Durchmesser und sind frei von Einschlüssen oder Kratzern. Bei genauem Hinsehen kam es mir so vor, als wenn die Abbildung im Lensball Pro eine winzig kleine Spur klarer und kontrastreicher wäre. Ob es nur Einbildung war? Ich habe ein paar Vergleichsfotos für euch gemacht. Auf der linken Seite seht ihr jeweils die einfache Glaskugel und auf der rechten Seite den Lensball Pro. Ich habe die Fotos bewusst unbearbeitet gelassen. Macht euch einfach selbst ein Bild. Für mich gibt es in diesem Bereich ein Unentschieden. Es bekommen beide Kugeln einen Punkt.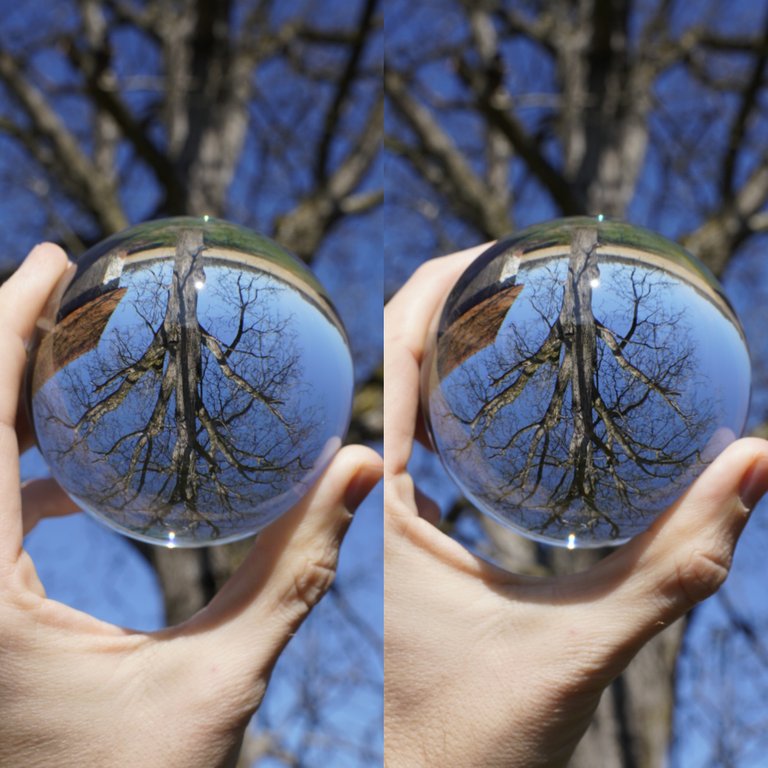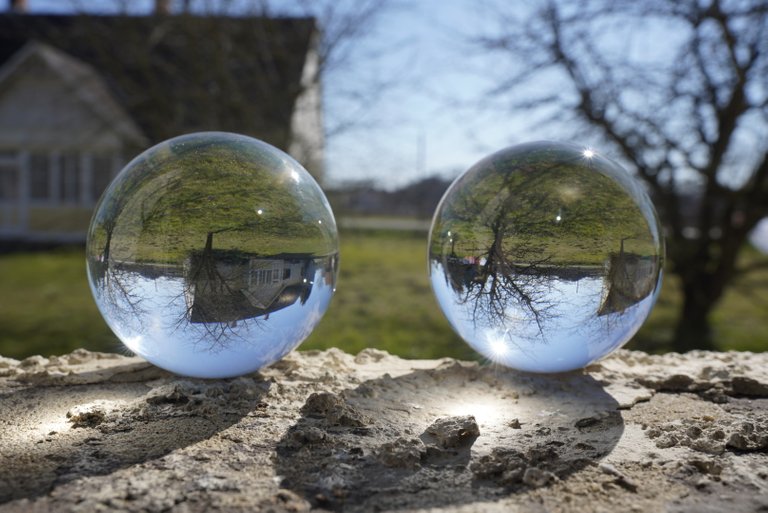 Conclusion/Fazit
With 3 to 2 points the Lensball Pro is the close winner in this comparison. While the glass quality seems to be very similar, the Lensball is miles ahead of the simple crystal ball in terms of packaging, design and included accessories. Whether these advantages are worth the much higher price you should decide for yourselves.
If you are interested in buying the original Lensball Pro, you can find it here:
click here (promo link)
On my Instagram account you can also find my Lensball Pro Unboxing video in the Story Highlights.
Mit 3 zu 2 Punkten ist der Lensball Pro der knappe Sieger in diesem Vergleich. Während die Glasqualität sehr ähnlich zu sein scheint, ist der Lensball in Sachen Verpackung, Design und Zubehör der einfachen Glaskugel meilenweit voraus. Ob euch diese Vorteile den deutlich höheren Preis wert sind, sollet ihr für euch selbst entscheiden.
Hier könnt ihr einen Blick auf meine einfache Glaskugel werfen, die ich auf Amazon gekauft habe:
Hier klicken (Werbelink)
Wenn ihr euch für den originalen Lensball Pro interessiert, findet ihr ihn hier:
Hier klicken (Werbelink)
Auf meinem Instagram-Account findet ihr in den Story-Highlights auch mein Lensball Pro Unboxing-Video.
By the way.../Übrigens...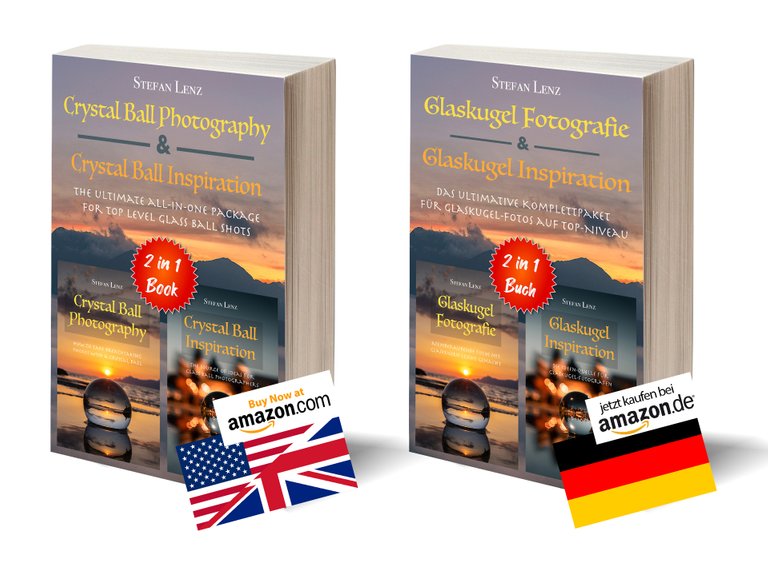 My two books on the subject of "crystal ball photography" are now also available as a 2 in 1 book at a special price. If you want to do avoid mistakes right from the start, or if you are looking for new inspirations, you can have a look here:
Click here (Promo link)
Meine beiden Bücher zum Thema "Glaskugel-Fotografie" gibt es nun auch als 2-1-Buch zum Vorteilspreis. Wenn ihr von Anfang an alles richtig machen wollt oder auf der Suche nach neuen Inspirationen seid, könnt ihr hier mal einen Blick darauf werfen:
Hier klicken (Werbelink)
See you!/Bis bald!
Stefan