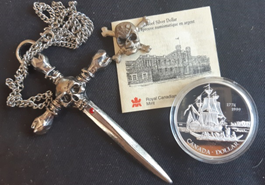 1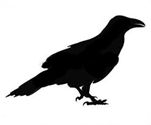 P
Numista: 1999 1 Dollar Juan Perez Expedition
I had the wonderful experience of a free cruise offered by a Home Care patient of mine almost 10 years ago. A dream he wanted to do before he passed away. He was a frail 60 year old quadriplegic that needed 24 hour respiratory ventilation. It was a challenge to be with him 24 hours a day for the two weeks on a paid cruise to and back from Alaska. And the trip was worth it as he even paid for my sister and my two very young boys to come along too so I wouldn't miss my children.
I was blessed of the untouched beauty of the rugged British Colombian and Alaskan coastline's majestic mountains, enormous glaciers as chunks shear off with thunderous cracks, Pods of Killer Whales swimming past the ship, and even visit the retro Klondike styled towns of Skagway, Ketchikan and Juneau filled with old adventures made new.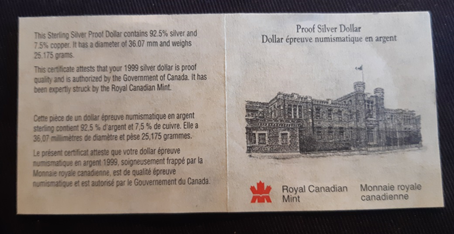 1
Certificate of Authenticity
Juan José Pérez Hernández the Explorer must have taken in the same natural wonders of the Coastline that I have had the experience of seeing. Perez was also a Naval officer perhaps a junior one at the time. So in 1774 he was selected by the Spanish Viceroy of New Spain Antonio María Bucareli y Ursúa to head an expedition to gather intelligence on the expansion of Russian and British claims in the far north, to reassert Spanish claims over the Pacific Northwest and also to gather information and establish relations with Native settlements encountered.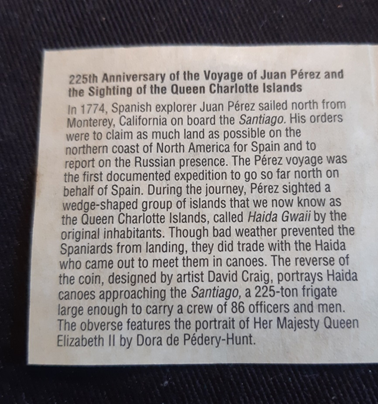 1
The Queen Charlotte Islands but have since been renamed Haida Gwaii
Given command of the Frigate Santiago Perez set sail from San Blas Mexico and sailed north along the coast far as 60 degrees, but actually reaching as far as 55 degrees 30 seconds North, discovering the Queen Charlotte Islands or Islands we now call as Haida Gwaii. And on route back south trading with the Nootka Natives of present day Vancouver Island and there leaving evidence found by the British Captain James Cook four years later.
1
Reverse The Santiago 1774 – 1999 by David Craig
The 1774 expedition wasn't easy on Captain Perez or the crew as diseases including scurvy, starvation, and poor weather conditions had in part hampered his mission's objectives on behalf of Spain. Though Captain Perez had not established any acts of Possession, and neither sufficiently documenting details of exploration, the Spanish Viceroy had to be satisfied that Spain still had rights through discovery. A second expedition was made in the following year of 1775 with Perez this time demoted to second officer aboard the Santiago. Suffering again from poor diet and disease, Juan Perez perished on the return trip back to San Blas.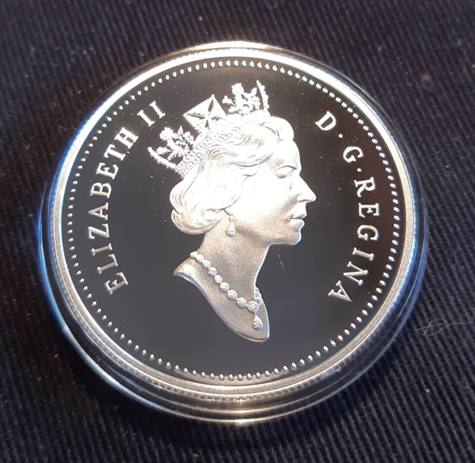 1
Obverse 3rd Portrait of Elizabeth Regina by Dora de Pédery-Hunt
Proof Quality
Sterling silver 0.925
25.175 g
Reeded edge
KM# 356
Mintage of 126,435 in Proof, 67,655 in BU
I met a local historian who came across personal accounts of some of the English and Spanish rank and file sailors dated about the time of one of the Anglo-Spanish wars 1796 – 1808 and he recalls, there were many wars between England and Spain official and unofficial.
There was a chance encounter off the West Coast of British Columbia of an English ship and a Spanish vessel. Both ships and crews were ravaged by hunger, disease, and very much homesick. Both agreed to meet and exchange maps to prove each other's successful confrontation with the enemy before setting sail back home claiming a successful mission. If you look at any current map of British Columbia and ever wonder why many geographical features still have Spanish names? San Juan Islands, Anacortez, Lopez, Galiano, San de Fuca, Langara, Valdez, Quadra, Sonora, San Josef Bay, Juan De Fuca and the list goes on.
Personally, a very lovely silver coin that is in line with my personal taste, with a fairly high mintage quantity compared with most commemoratives, this coin's numismatic investment potential is rather limited but inexpensive to own.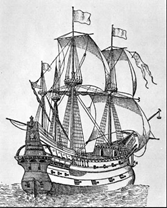 W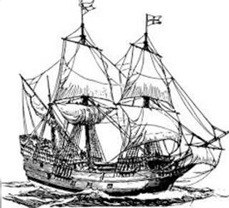 C
1, My own photos/pictures taken with a HuaweiKII-L05 Smartphone
W. Wiki Commons

R Clip art vectors from 123RF

C. Free clipart from Openclipart
Sources:
Wikipedia
Dictionary of Canadian Biography

R
"Et lux in tenebris to serve laboro, sum sicarius" "I work in the shadows to serve the Light, I am an Assassin"