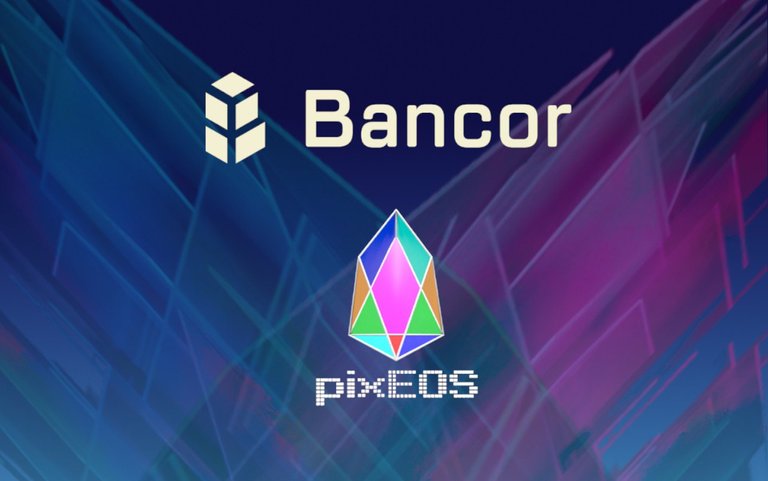 PIXEOS tokens will be available on Bancor.Network May 12th, 2019!
pixEOS, the art, gaming, and smart economy for the creative talent marketplace on the EOS blockchain is pleased to announce an important milestone in platform development by adopting the Bancor Protocol. Through this integration, pixEOS will deliver a wider range of options for everyone to access PIXEOS tokens, thanks to Bancor's decentralized liquidity protocol.
Enabling instant liquidity across a wide array of cryptocurrencies based on continuously calculated conversion prices, Bancor's decentralized liquidity protocol provides a robust infrastructure for on-chain token conversion. With this integration, PIXEOS token holders will acquire the ability to make on-chain non-custodial conversions across 140+ ERC20 & EOS tokens on the Bancor Network, including ETH, EOS, BNB, DAI, IQ & more. Users can utilize Bancor's non-custodial wallet for these conversions, or they can use dozens of third-party EOS and Ethereum wallets supported by Bancor including Scatter, MetaMask, EOS Lynx & more.
The integration with Bancor represents a significant step forward towards our goal of making PIXEOS tokens as accessible as possible to everyone. Bancor's secure protocol offers our token holders and newcomers a means to safely engage in commerce by acquiring or converting PIXEOS tokens. This gives access to an entire new class of individuals who can participate in the pixEOS ecosystem. As more pixEOS gaming and art applications are released in 2019, increased functionality and added value comes to PIXEOS tokens, which already have 3 current use cases (staking rewards, payment token, and game-play).
By leveraging the Bancor integration alongside steady growth and platform development, pixEOS will continue to add value to PIXEOS tokens and to the entire EOS ecosystem.
pixEOS CEO, Fred Nogueira, is excited for the world of possibilities that the Bancor Protocol will bring to PIXEOS token holders. He described a surge in demand that Bancor can address: "Buyers and sellers within the pixEOS and greater EOS community will be able to gain instant liquidity by using the Bancor Network. We are excited about this integration because we've been observing the growing demand for liquidity among PIXEOS token holders."
As the pixEOS ecosystem grows we are rising to meet the demand of our community while building a unique and vibrant project. The adoption of the Bancor protocol represents yet another step in pixEOS' collective journey towards expanding a marketplace that rewards artists, collectors, and gamers across the world.
pixEOS is a community-driven, collaborative art and gaming ecosystem on the EOS blockchain. The EOSIO platform utilizes contract functionality that enables pixEOS to build out its innovative environment in a highly scalable and secure fashion. With a fundamental base in profit sharing, pixEOS strikes a supportive balance by coordinating tokenized economics throughout various facets of the platform, allowing for staking rewards to be tethered to overall platform volume. Users will have access to a wide range of features baked into the platform, including a community digital canvas to create one-of-a-kind art, means to create rare digital art, and a marketplace in which participants can sell their art or commission works from artists and creative media professionals. pixEOS is serious about the long haul and has deep roots within the EOS ecosystem resulting in ongoing, strategic partnerships with projects like dfuse, Token Pocket, Cypherglass, EOSPHERE, Everipedia, KARMA and a growing list of others. These partnerships are providing expertise to help pixEOS build cost-effective, high-performance and scalable dApps like pixEOS Paint. The pixEOS ecosystem has a native token, PIXEOS, which has multiple functionalities: gaming, staking, supporting artists, purchasing creative services, and collecting digital art goods.
Visit the official pixEOS site and read the pixEOS Roadmap. Join us in the pixEOS Telegram group to learn more.
About Bancor Protocol
Bancor is an on-chain liquidity protocol revolutionizing the way people create and share value by enabling constant convertibility between tokens. Conversions via Bancor Protocol are executed against on-chain liquidity pools using automated market makers to price and process transactions without order books or counterparties, allowing for faster, cheaper and more predictable conversions across 9700+ ERC20 and EOS token pairs, including non-custodial conversions between blockchains.
Stay Awesome,
pixEOS Team
pixEOS Official Links
pixEOS Official site: https://www.pixeos.io
pixEOS Game Center: https://gamecenter.pixeos.one/
pixEOS Paint FE Game: https://paintfe.pixeos.art/#/
pixEOS Hub: https://hub.pixeos.one/
pixEOS Avatar Maker: https://avatar.pixeos.art
Social
Twitter: https://twitter.com/eos_pix
Youtube: https://www.youtube.com/c/pixEOS
Trybe: https://trybe.one/members/pixeos/blog/
Whaleshares: https://whaleshares.io/@pixeos
Facebook: https://www.facebook.com/pixeos.io/
Reddit: https://www.reddit.com/r/Pixeos/
Instagram: https://instagram.com/pixeos.io
Giphy: https://giphy.com/channel/pixeos
Steem: https://steemit.com/@pixeos
Telegram
pixEOS Telegram group: https://t.me/PIXEOS
pixEOS announcement channel: https://t.me/pixeosio
pixEOS China group: 中国社区: https://t.me/pixEOSChina
pixEOS Korea group: https://t.me/pixEOSKorea
E-mail: [email protected]