As the most anticipated blockchain project this year, the advantages of Polkadot (The token 's abbreviation is DOT, hereinafter referred to as DOT) in terms of technology and ecology are no need to repeat again in that a large number of articles have conducted in-depth analysis of this.
This article will try to analyze from a new perspective whether DOT has the potential to become a new financing method for the industry, and on this premise, analyze its development and prospects.
At the same time, this article will also point out how we ordinary investors can obtain the benefits of Polkadot and its related ecological projects.
Whether Polkadot Can Become A New Financing Method to Determine the Project Ceiling?
At present, the blockchain project's own business cannot generate cash flow. The circulating market value and token price are completely affected by the inflow and outflow of funds, resulting in business such as lock-up, token burning, and DeFi to stimulate the needs of buying.
Therefore, whether a project can become a new financing method will determine the ceiling value of the project's market value and token price.
For example, the emergence of Ethereum in 2017 led to the rise of ICO, which gave birth to a unique blockchain format that development after financing. For the ICO project based on ERC20, because the early development is based on the Ethereum public chain, its financing is conducted in Ethereum.
CoinMarketCap data shows that the price of ETH was $8.13 on January 1, 2017, and the highest price for the year was $879.12. On December 31, 2017, ETH closed at $726.56, an annual increase of 89.37 times, and the highest increase was 108.13 times.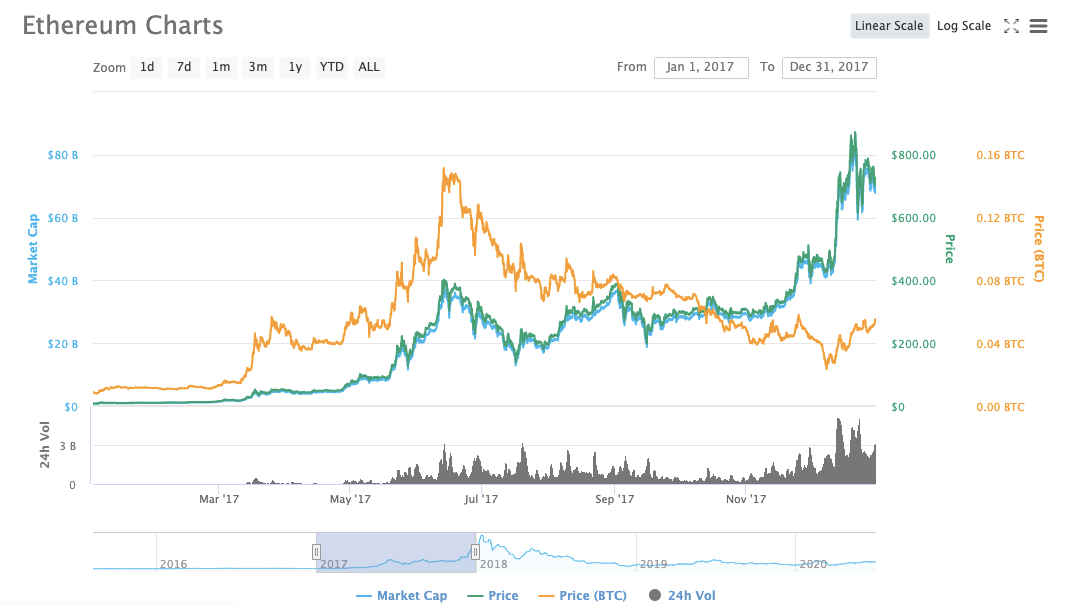 Similarly, the IEO rose in 2019 has made the token of an exchange a new financing method. The platform token represented by BNB all achieved good gains in that year.
Can Polkadot Become A New Financing Method?
Polkadot has the potential to become a new financing method,which mainly from three aspects:
Slots Auction
Web3.0 Foundation Project Incubation
Substrate Parallel Chain Construction
About slot auctions. As we all know Polkadot is a cross-chain project, the main chain is called a relay chain, and the project access to the slots of the relay chain can achieve cross-chain, the structure is similar to an airport.
The relay chain is equivalent to the main building of the airport, and the slot is equivalent to the gate. The flight needs to be connected to the gate to realize passenger connection.
At present, there are four types of parallel chains managed by the Web3 Foundation:
Ethereum-Polkadot, which is the cross-chain of Ethereum and Polkadot.
Bitcoin-Polkadot, the cross-chain of Bitcoin andPolkadot.
Edgeware, a smart contract project on Polkadot.
Critical infrastructure projects, such as DEX or stablecoins.
If other projects want to connect to cross-chain of Polkadot, you need to use DOT to rent slots, and slot rental is time-limited and not unlimited. Therefore, if the project party wants to access the cross-chain of Polkadot, it needs to purchase DOT from the secondary market to lease the slot.
More importantly, the number of Polka Slots is limited. The initial plan increased from 5 to 50, and gradually increased to 200 thereafter.
Besides, the Web3 Foundation behind Polkadot commits large fund to incubate projects. As of now, the Web3 Foundation has incubates more than 100 projects, and all of these projects will have the opportunity to be connected to the Polkadot cross-chain.
On a offline meetup with Gavin Wood, founder of Polkadot about Substrate parallel chain construction, he said it is able to release a new blockchain based on Substrate in 15 minutes at an offline event.
This not only means that Polkadot is powerful, but also that Polkadot will attract many projects that do not focus on technology.
In fact, not all blockchain projects are good at or focus on technology research and development. Instead, most projects actually pay more attention to scene realization or capital operation.
The release of a new blockchain based on Polkadot Substrate can help these projects save a lot of time and personnel costs. Therefore it is naturally attractive to these projects.
Based on the three reasons above, Polkadot has the potential to become a new financing method.
How do ordinary investors obtain Polkadot's cross-chain conceptual income?
First of all, investors who have participated in Polkadot private sale can choose to pledge DOT on the official website https://polkadot.js.org/apps/#/accounts to obtain the POS yield as verification node.
In addition, you can also claim DOT mainnet assets on MXC for trading. On June 29, MXC announced support for Polkadot (DOT) asset mapping. Successful mapping is regarded as receiving Polkadot mainnet assets.
According to the official introduction, users can visit the MXC official website homepage, find "Assets" at the upper right corner, click "My Assets", select "Deposit", choose DOT (Polkadot) and click to get deposit address and copy.In a later stage, MXC POS Pool will also launch DOT's Staking products. Related announcement: https://mxc-exchange.zendesk.com/hc/en-001/articles/360045593011
MXC, Huobi and BTCMAX and other trading platforms have used their own foundations to participate in the private sale of the Polkadot (DOT). Therefore, the DOT/USDT trading pair on MXC is not exactly the IOU token.
Users who did not hold DOT in the early stage can consider holding it according to their own situation.
On the other hand, Poka is expected to open the transfer function in August when it will be officially launched on major exchanges. At present, KSM, EDG, PCX, AKRO and other Polkadot ecological projects have been launched on major exchanges, as shown in the figure below.

(Please note that the transfer function of the DOT is not enabled, and MXC supports DOT main network asset mapping. therefore, It is recommended to trade on MXC.)
It can be seen from the figure that the MXC currently listed most Polkadot ecological projects and is currently the main trading field of the Polkadot projects.
When there is related progress in the construction of the Polkadot network, its ecological projects tend to show a trend of linkage. For example, with the favorable news that MXC support users to claim DOT, PCX, one of the project in Polkadot ecosystem rose 5% in 24 hours and it still stay strong momentum.
In summary, how to continuously attract capital is the determinant of the market value and price of blockchain projects. The concept of a hot market at a certain stage often exists as a financing method, such as ETH,platform token, and so on.
While the slot auction, Web3.0 Foundation project incubation, and the construction based on Substrate parallel chain will help Polkadot to become the next financing method.
Ordinary investors can make arrangement on DOT and its ecological projects in advance, or pledge the DOT to obtain staking yield in ways that participate in the dividend of Polkadot development. As far as the listing projects are concerned, MXC is currently list most Polkadot projects among all exchanges, so it is expected to become the main trading field of Polkadot.