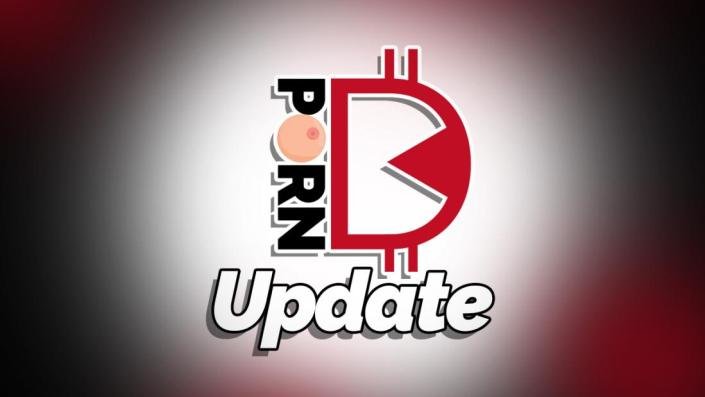 ---
February Dporn Update:
---
Hello, Dporn fanatics. Here is our February update.
First, off with all the news of Tron purchasing SteemIt,Inc, not the Steem blockchain we want to be very clear the Dporn Tribe isn't going anywhere. As it turns out Tron is actually accepted at Pornhub so there could be some mutual benefits down the road.
Tron also owns the decentralized p2p software BitTorrent and will have decentralized streaming served up sometime this year. We have a feeling this will be integrated for Tribes down the line which can help introduce our webcams via this method.
---

---
Future Ecommerce Shop - For Digital Downloads:
---
We've been excited since the announcement from the SteemLeo team here of the new shopping site that accepts Steem/SBD/Leo .
At the moment you could list your digital products at the SteemLeo shop here for those currencies above. At the moment we are talking to @khaleelkazi to at least add PORN tokens as a form of payment in the shop.
Ideally, we will have our stand alone shop which serves a STEEM/SBD/Porn token marketplace. All this presents a unique business use case.
For example, a dporn creator could sell various levels of access to a zip file of "private content"... i.e. pay $10 and get 3 videos from the creator... pay $20 and get 6, etc. etc.
It has a Patreon type element to it. We said in our very first post we wanted to go after the adult sellers marketplace which exists in the fiat market area.
We will have this done this year and more likely the first quarter of this year.
Luckily, Steem Engine is also going to make its own marketplace very soon so we'll be taking advantage of both areas. The future is a decentralized adult ecommerce . Censorship proof, no-middle men taking huge amounts and the ability to sell digital goods is where we see a huge market. You can read about the Steem Engine marketplace here.
The tagline is moving to "Trade Anything." We'll get there and if you guys choose to participate it'll mean that the Steem blockchain is itself the backbone database for distributed marketplaces like a d-amazon, d-uber, d-fiver, d-bay, d-etsy, and many more.
---

---
Micropayments:
---
We agree with @khaleelkazi assessment that micropayments & micropaywalls the future of earning rewards on the steem blockchain? . We want to use this for our streaming webcam ambitions when it comes to unlocking certain aspects.
Keep in mind Steem offers the following which we think still hasn't been fully capitalized on yet.
---
Steem offers:
---
3 second transactions
0 fees
Scalability
Community
Connectivity
---
From the article:
---
Steem has everything already in place to make micro payments easy and hassle-free. If you do a quick google search for micro payments and cryptocurrencies, you'll find a bunch of articles that talk about the future potential of using Bitcoin and other cryptos for micro-payments on content. There are some smallish issues with that though — fees, tx times, scalability, etc.
On Steem, we don't have to worry about any of that. The future is now. Micropayments are already here and any author can take advantage of them.
We look forward to pursuing the micro-payments area heavily this year to create products for sellers and buyers.
---
Dporn Developer & Marketing:
---
We are close to landing a FT developer. Working out the details currently and looking forward to adding many new features to the Dporn tribe as move through 2020.
We also want to have a bigger presence at Adult Expo's and move our marketing efforts into high gear to get Dporn the best exposure it can receive.
---
First Dporn Token Burn:
---
We've burned 200,000 PORN tokens. We'll continue to a heavier burn process through out this year. We will bring more use-cases to burn the Porn token going forward.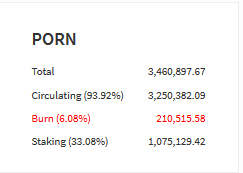 We are still distributing to our Bitshare stakeholders once a month now. This will continued till it is gone.
---
Dporn Branding:
---
We are also moving into a more branded experience where Dporn the brand will start posting its own content to create a faster burn rate and provide a steady income source to the talent that onboard. We'll have a separate post on this coming up very soon.
Some of our biggest changes are coming this year as we push forward to make this the best Adult content hosting blockchain on the planet.
---
You can reach us in many spots below:
---
Website: https://www.dporn.co
To Get Verified: https://www.dpornstudios.com/sign-up
Discord: https://discord.gg/yxT3uVE
Twitter: https://twitter.com/dpornco
To Buy Dporn: https://steem-engine.com/?p=market&t=PORN or
https://dex.steemleo.com/market/PORN
Posted via DPorn.co | Get Rewards For Sex Content