Hi everybody... To those who want to learn to cook, to those who cook to survive and to those who, like me, see cooking as a way of life.
Food has the magical power to make us travel through time. Flavors and aromas make us relive family moments, and remember affections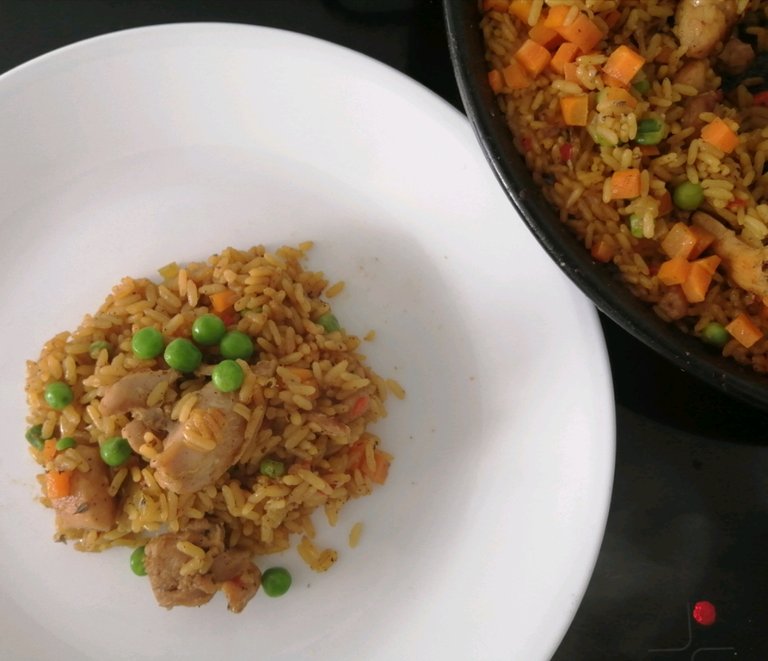 I was fortunate to live my childhood in the countryside and it is inevitable that an endless number of aromas, flavors, ingredients and situations will bring me back to that happy girl. When I smell a fire, it is an instantaneous journey to my childhood, to the cachapas cooked on budare, to the cobs cooked on the coals, to the chicken soup, to the truck-wheel arepas (arepas of more than 20 centimeters in diameter and 2 centimeters thick approximately) and my grandmother and mother are automatically accommodating any request from this little cook (tears of love).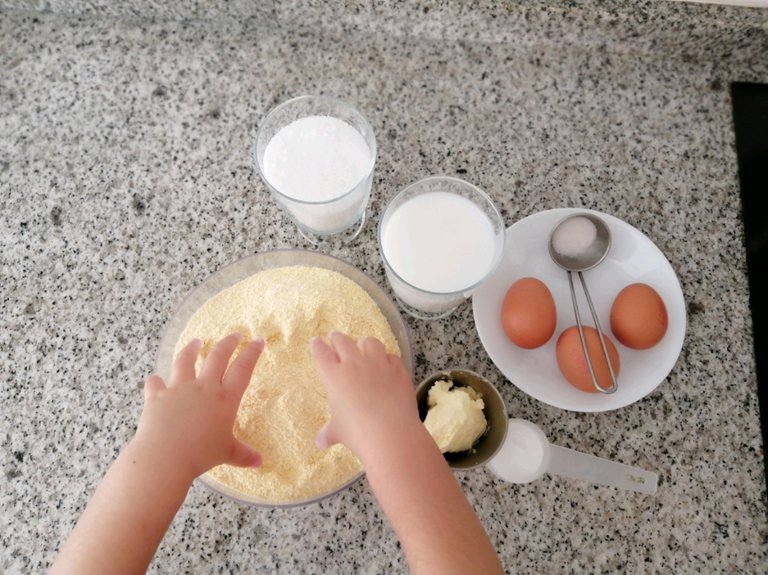 30 years later, I have my little cook with me
There are recipes that by their composition alone undoubtedly taste like home due to one of these variables: for their characteristic ingredients, for popularity, economy, for transcending from one family to another, persisting over time, for routines and their preparation on specific dates and times, and of these of course in Venezuelan gastronomy there are many.
In Easter, tortillas or cakes based on fish and pepitonas (akrshells) are typical, being one of the most popular preparations, the pastel de chucho (devil ray tortilla).
In December, there is no shortage of hallacas, chicken salad, ham bread, baked pork, papaya preserve, black cake and eggnog.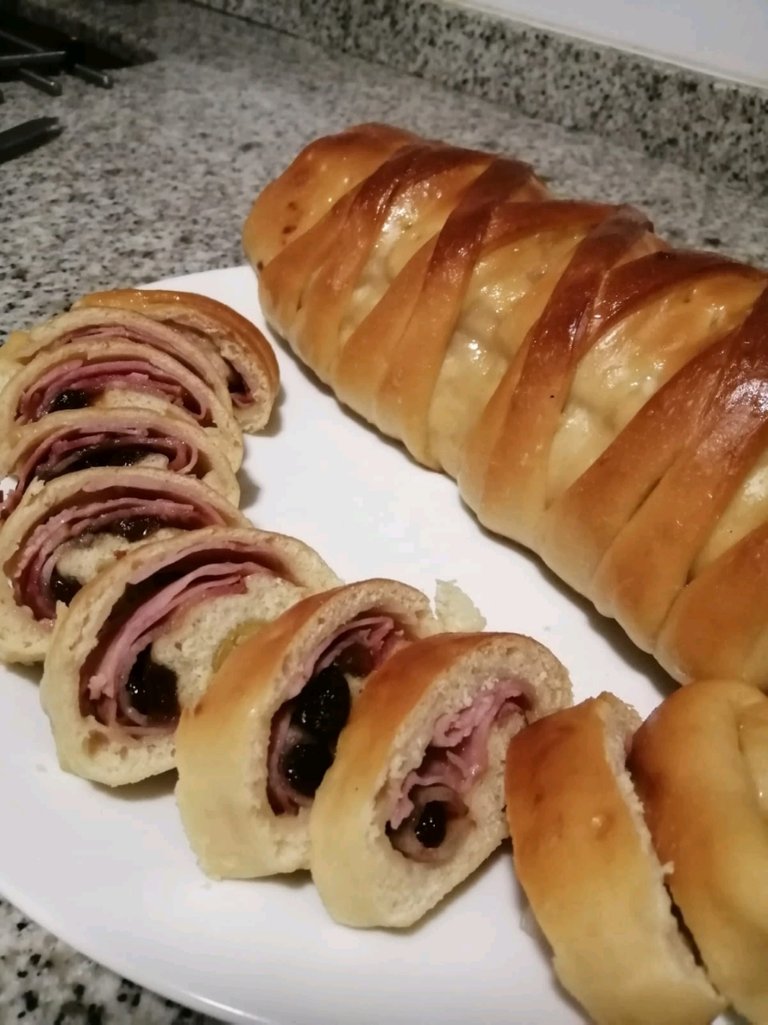 Ham bread
This is how some simple preparations and others more complex ones become the protagonists of the gastronomic history of a country. Each region has its typical dishes as well as those that are eaten on a daily basis in most Venezuelan homes.
Arepa
Bollitos (tamales)
Perico (omelet)
Corn Empanadas
Cachapas
Pabellón criollo
Meat, chicken,and fish soups,
Beef steak with rice and fried riped plantains
Potatoe, carrot and boiled egg salad.
Pasta with ground meat
and today's protagonist, Rice with Chicken.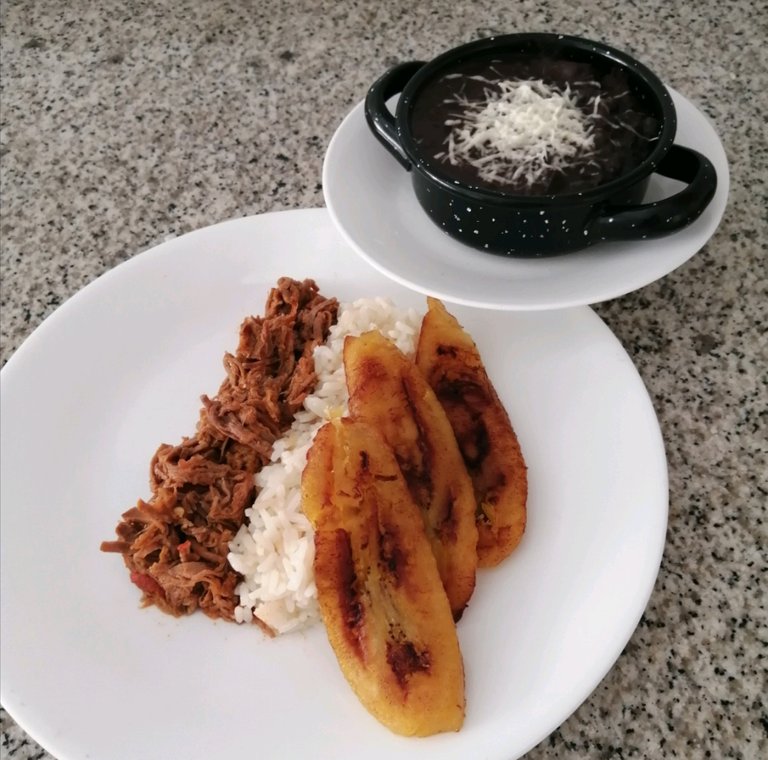 Pabellón criollo
The Venezuelan Arroz con pollo(Chicken with rice) is a simple, cheap and popular dish that has a lot in common with the Valencian paella.
They are preparations of humble origin.
Rice is its main ingredient.
They employ the use of chicken cut into small pieces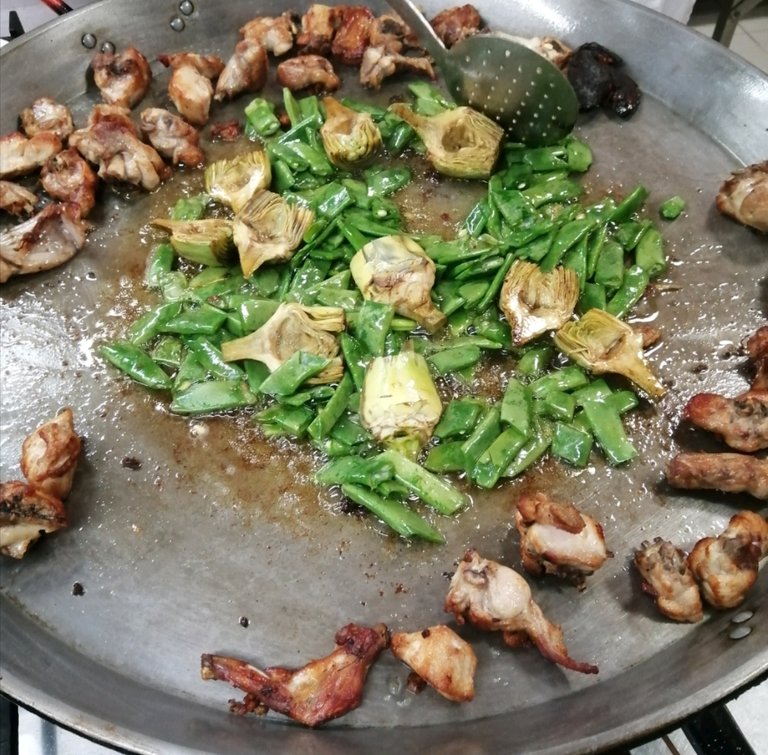 Valencian paella in process
The chicken is browned, the dressings are fried, the rice is added and everything is cooked together.
It is originally cooked with water.
They use oil and vegetables or dressings like onion, garlic, and green peppers.
The rice is usually colored/dyed (usually with arnatto).
Vegetables are added as adornment or complement. In the paella they use Lima beans, artichokes, and white beans.
In our arroz con pollo, usually carrots and peas.
Rice with chicken, like paella, is generally one of the dishes that one would never get tired of eating. It is one of those that you always ask your mother or grandmother for and they are also essential in everyday family gatherings and celebrations.
There is no review on our chicken rice or an exclusive recipe for its preparation. It adjusts to the tastes and needs of each home. Usually, they take advantage of the giblets of the chicken (wings, back, necks). The onion sauce, sweet chili and garlic is a must.
Traditionally it is cooked with water and bouillon cube. The characteristic color is given with onoto (arnatto) or yellow coloring. When it is almost cooked, carrots and peas are usually added. It is usually a unique dish, almost always accompanied with fried ripe plantain slices.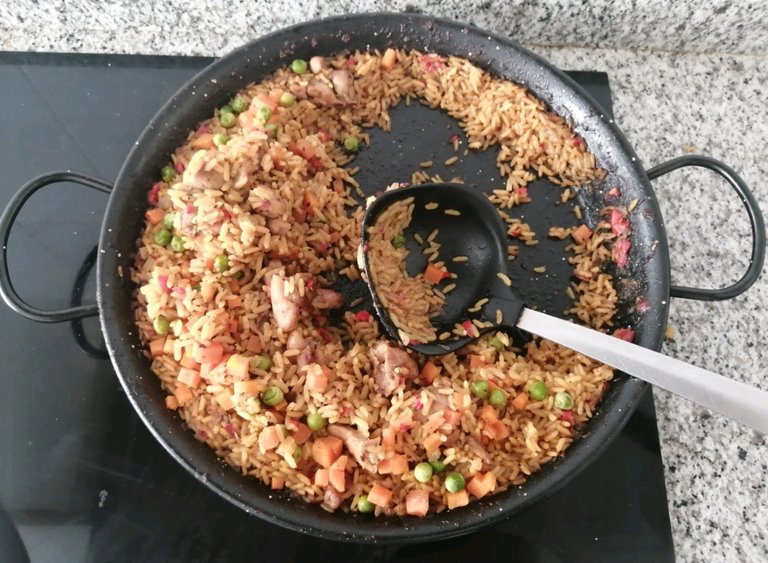 Throughout my culinary experience I have been adjusting the way to make chicken rice according to my needs and requirements. At first I used to do it as traditionally done, which is cutting the bone-in chicken into small pieces.
Then for the sake of presentation and practicality I used to use the whole chicken pieces. Now in my role as accommodating mother and wife I choose to bone the chicken. As in all recipes, the most important thing is to learn the technique and then we will adjust the ingredients and the rest to our needs and tastes.
I share with you my version of Venezuelan chicken rice with great affection so that you feel in one bite all the flavor of home that many of us miss.
Arroz con pollo a la Venezuelan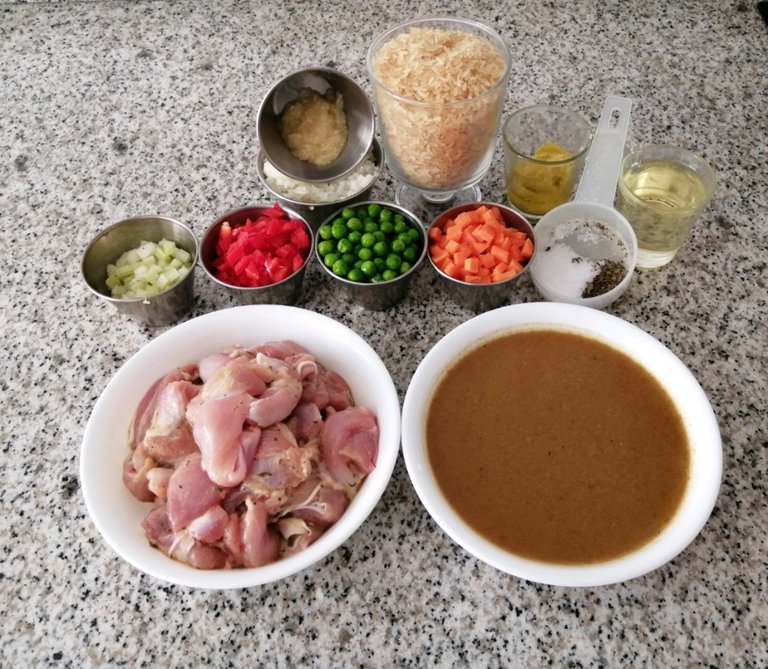 Ingredients:
1 kg of (fat)chicken thighs
2 cups of steamed rice
150 grams of onion
100 grams of red peppers
50 gr of garlic
100 grams of sweet pepper (or sweet pepper paste)
100 grams celery
100 grams peas
100 grams of diced carrot
Salt
Pepper
Oregano
Mustard
Vegetable oil
For he broth:
Thigh bones or 1 kilo of small pieces or chicken giblets.
Carrot peels
100 grams chopped celery
5 minced garlic cloves
Yellow food coloring
6 cups of water
Oilcook
Preparación:
Bone the chicken thighs, cut into pieces.
Season with garlic, oregano, salt, and a little mustard.
Macerate for at least an hour (I do it overnight).
For the chicken broth, heat a little oil in a saucepan.
Brown the chicken bones very well.
Add the dressings.
Stir-fry for a couple of minutes.
Add 6 cups of water and cook over medium-low heat for about 20 minutes.
Add the dye, strain and keep warm.
Cut all the dressings very small.
Crush the garlic.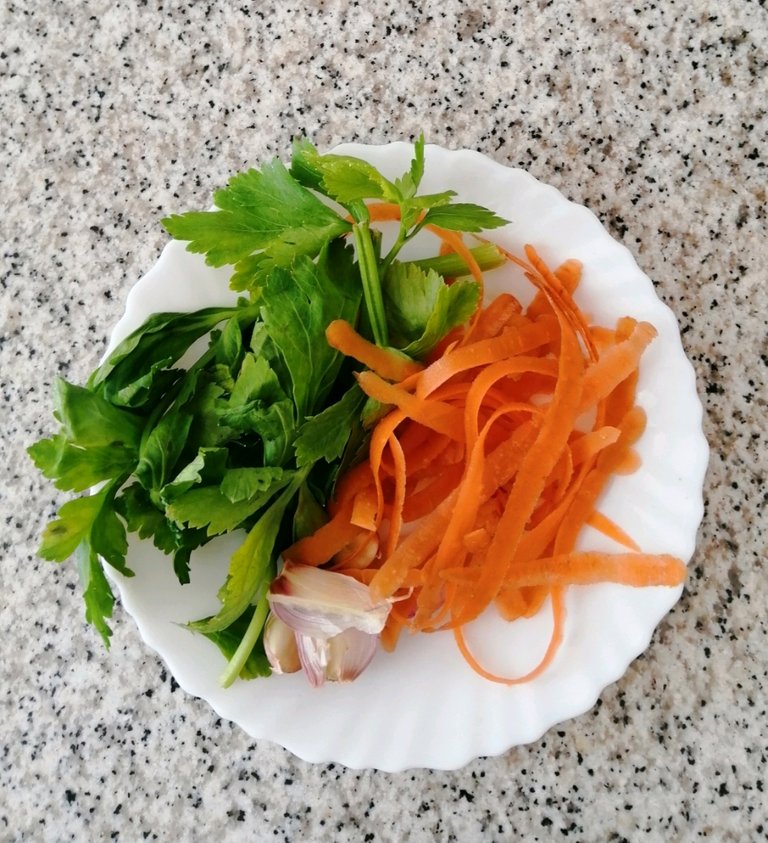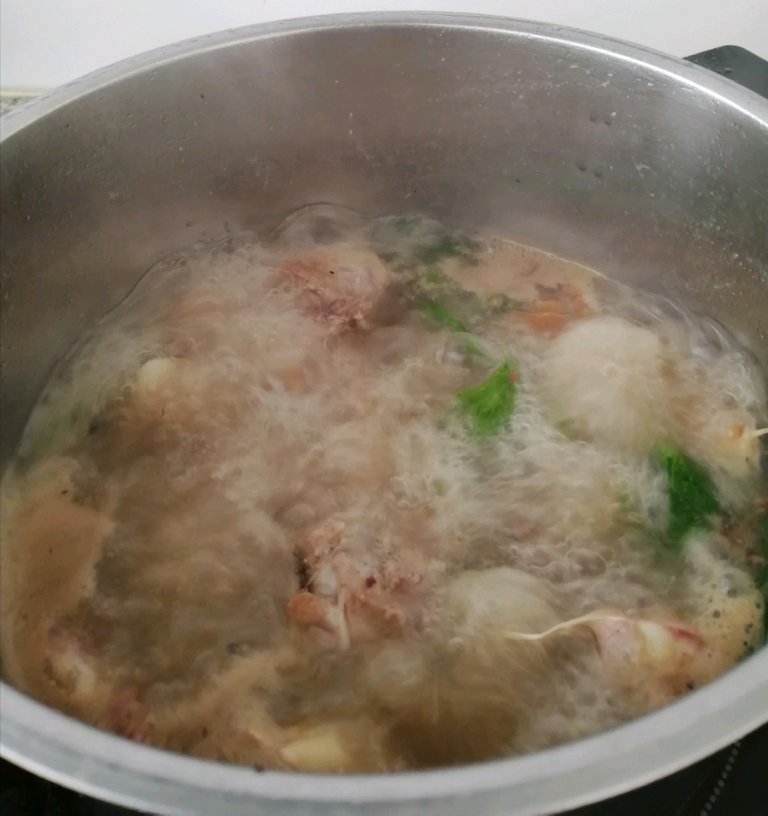 Add a little oil in a cauldron or frying pan, heat very well and brown the chicken in a few batches.
Remove, add a little oil if necessary.
Fry for a couple of minutes in this order: onion, pepper, celery, sweet pepper and garlic.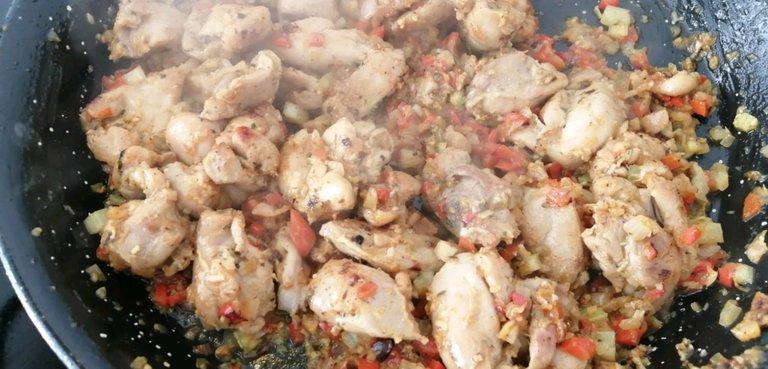 When everything is lightly golden, add the rice.
Cook one more minute and add the hot chicken broth, salt, pepper, oregano. Cook over medium-high heat until the liquid has almost evaporated. Rectify flavors. Add the carrot cubes and the peas. Cover and cook over minimum heat for approximately 12 minutes.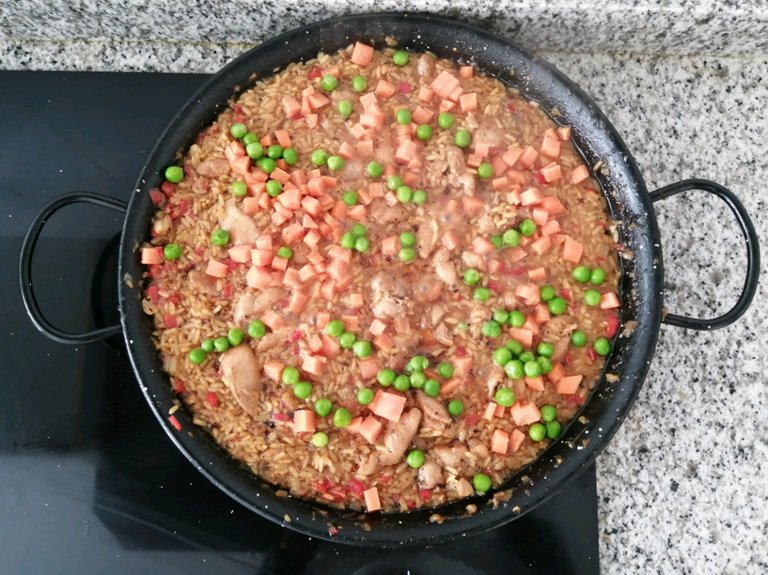 As a result you will have a juicy and fully tasty rice.
Dare yourself to prepare this version and surprise the most demanding tastes.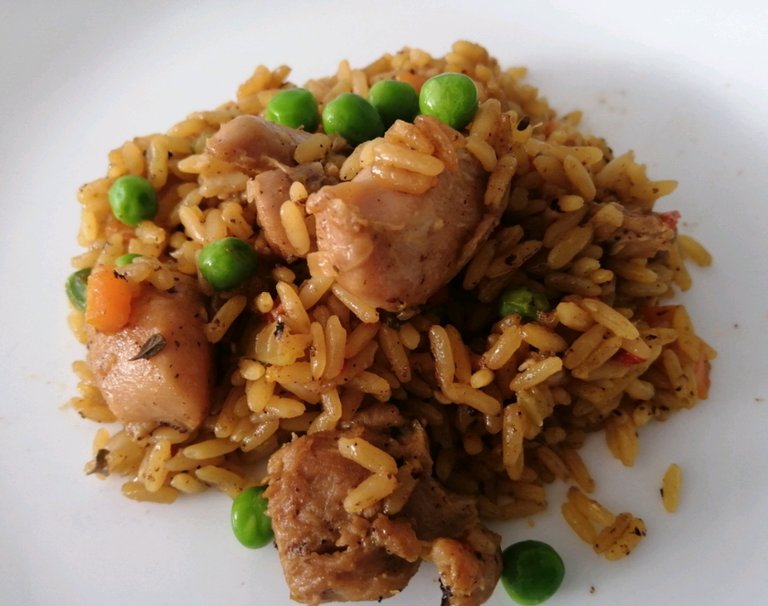 Follow me @ chef_vere https://www.instagram.com/p/B_NqxCzqBT5/?igshid=1t3am3dv5szwd
All images taken with my smartphone.