Here it comes, our first project dififunds is launching soon.
DifiFunds is a 100% decentralized autonomous Presale/launchpad platform for both Ethereum and Binance Chain that emphasize on the safety of investors fund.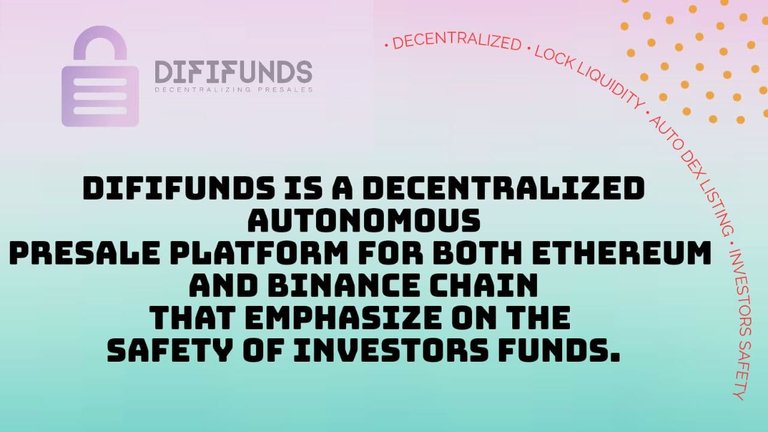 • DECENTRALIZED
We believe in decentralizing everything that can be decentralized, Thus DifiFunds is the Uniswap for pre-sale. Launch a project whenever you are ready, unlike centralized launchpad platform where projects must apply and wait on a queue.
• IDO PARTICIPATION SIMPLIFIED
No Discrimination, No whale games, we believe in fairness. we've simplified presale participation by mitigating the need to hold or stake tokens in order to participate in Presales since it only benefits the whales.
• LOCK AND LIST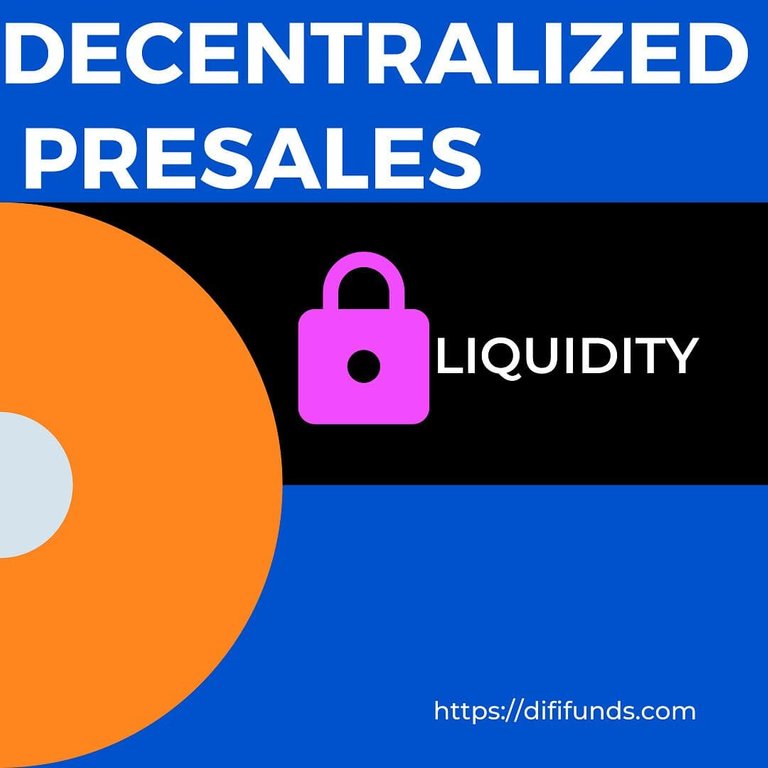 To Greatly Reduce and eliminate Rug Pulls, there is a mandatory listing of token on ( UNISWAP (ERC20) AND JULSWAP (BEP20) DEX) and locking of liquidity ( Unlock time is set by project team) at the end of a successful Presale.
• SECURITY
Projects have the option to add the link to their audit report which will be shown on the pre-sale page. Projects that fails to link to a audit report will have a "Not Yet Audited" sign on their pre-sale page.
• SAFETY, ANON Or NON ANON
Sometimes, decentralization comes with a certain hiccups, to mitigate these we've made it possible for projects to add a link to their Team Members page which will be shown on the pre-sale page. Projects that fails to post a link to their Team page will have a "Anon Team" sign on their pre-sale page, we recommend projects to post a 30 sec to 1 min video of their team explaining what their project is about.
• WHITELIST
Do you want to allow only certain addresses to participate in your token sale? We have you covered.
• CLAIMING & REFUNDS
Investors can claim their Tokens after a successful Presale OR Refund after a failed presale. Refunds can only be claimed when a presale fails to reach Softcap or if the project team cancelled the presale.
Please refer to our "HOW IT WORKS" for further clarification on how to Claim a token or Refund
• PLATFORM FEES
We believe the token usecase of current Presale platforms are flawed. We have came up with an enticing token usecase which will be implemented in our V2, but for now, 1% of raised amount of a successful presale will be charged as platform fees.
• INFLUENCERS
To further encourage the launch of quality and legitimate projects on our platform, we have included a influencer section on the Presale creation page.
35% of the fees collected from a Presale will be given to any influencer with 10,000 to 100,000 followers who refers a project and 50% of the fees will be given to any influencer with 100,001+ followers who referrs a project that successful launched a Presale.
Influencers interested should contact us through telegram.
Website : https://Dififunds.com
Twitter
https://twitter.com/DifiFunds
Telegram channel
https://t.me/deverything
Telegram chat
https://t.me/deverythingG