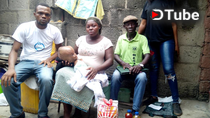 ---
Daniel Adebisi, a cute baby boy that came has a bundle of joy to his family, in may 2017, all of a sudden turned out to be their worst nightmare, after 2 months of Daniels birth the parents discovered something was terribly wrong, as his head was increasing as the day went by.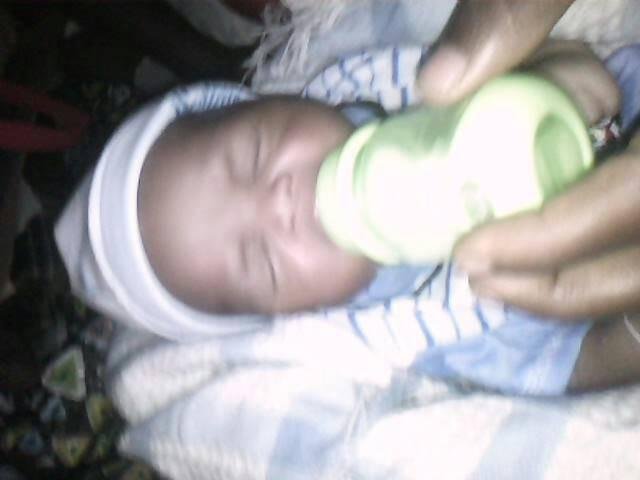 "The sudden transformation threw my wife and I into panic and fear as we have never seen anything like this in our lives"
Daniels father said,
"how can our beautiful child turn into a strange being right before our eyes."
"we took him to the general hospital here in shomolu, the doctor reffered us to the LASUTH(Lagos state university teaching hospital) ,
Letter of transfer


"Getting there my family was instructed to take Daniel for a computer tomography scan, while that was going on, the doctor took us into a hall where, we met 5 different families with the same condition, I felt so relieved, at least now I know we are not alone and I was able to cast away all the thoughts running through my head, but amongst all the babies there my baby's head was extra large"
Daniels father said.
when the scan result came out, it revealed that Daniels malfunction was as a result of maximal hydrocephalus.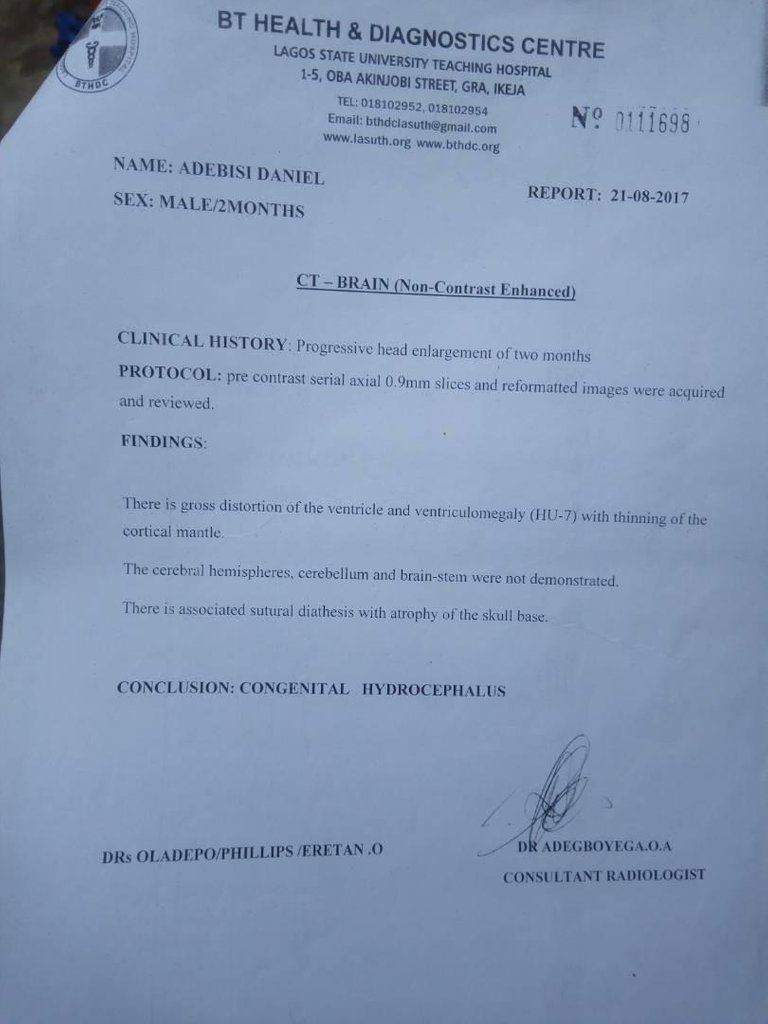 Scan result


Mr Adebisi who is a graduate, he studied statistics and human behavior, due to the situation of the country ended up as a technician who got by as an handy man in the neighborhood and his wife whom her petty trading business crashed after the birth of Daniel.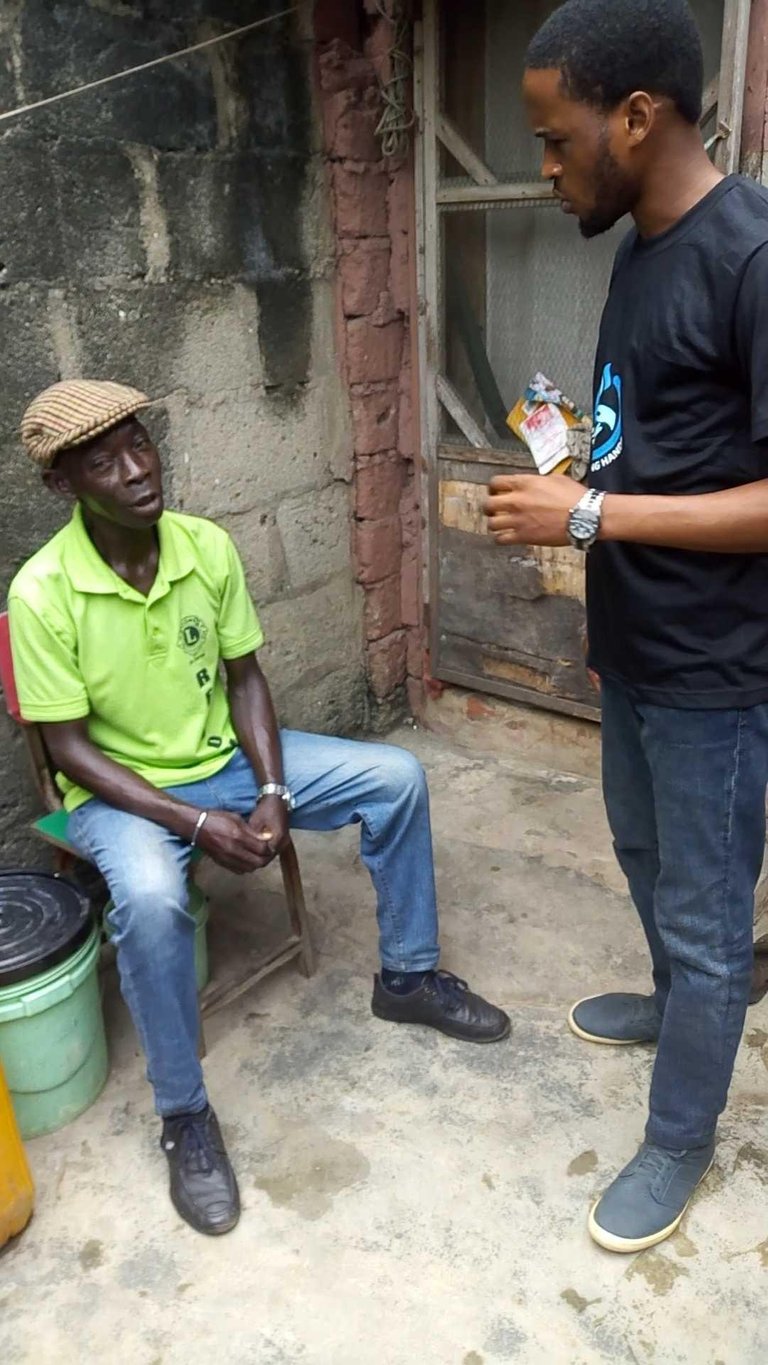 This poor family had to charter a taxi when ever they had to take Daniel to the hospital,
" we can not take him through a public transport to avoid all eyes been cast on us", Mr Adebisi said.
After several visit to the hospital, the doctor started to drain the fluid from the head, we noticed changes after the fluid was drained three times.
photo after the fluid was drained the first time
The second time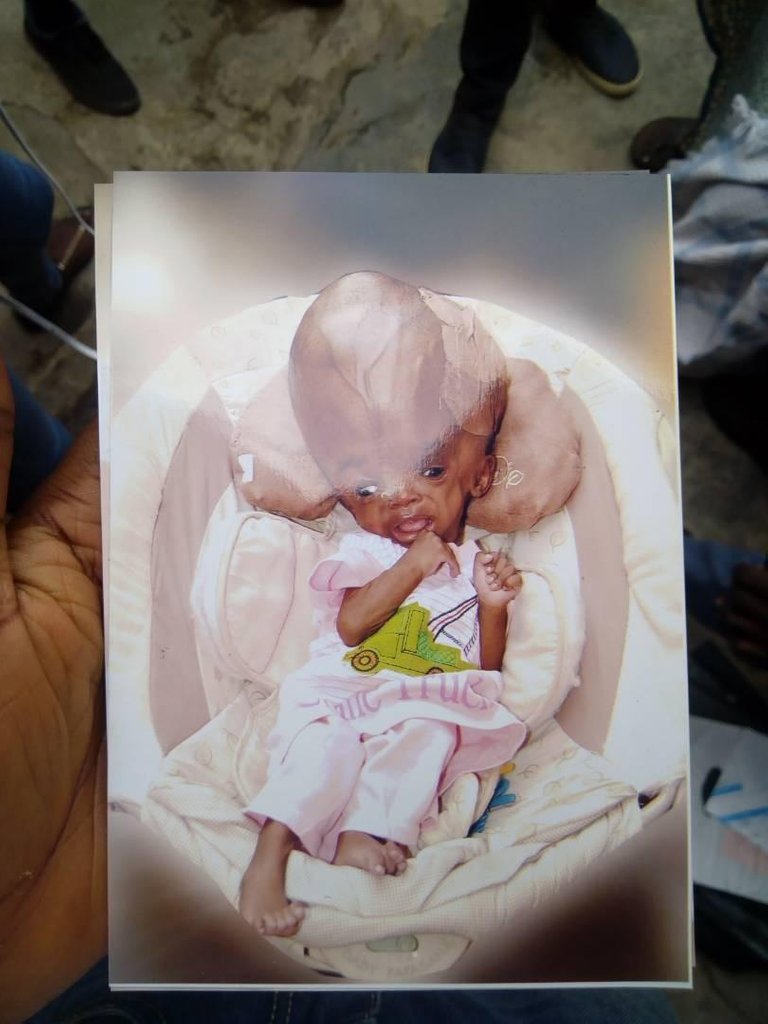 "I have sold all my property and even run into debts, just to make sure my child lives, after all what will I be doing with a television in my house when my 8 months old baby is in pains"
Daniels head has become so heavy that, when ever his head is placed down to lay him to sleep his head develops sores, for this reason, there is not much that can be done to help him, until sores heals in order to avoid further sores that can eventually affect his brain.
screenshot gotten from video on my phone
while the interview was still going on, a young boy of about 6 to 7 years old walked in, on a school uniform, in my mind i was like "could this also be their son" then i immediately cast the thought away from my head because the young boy, was looking very handsome.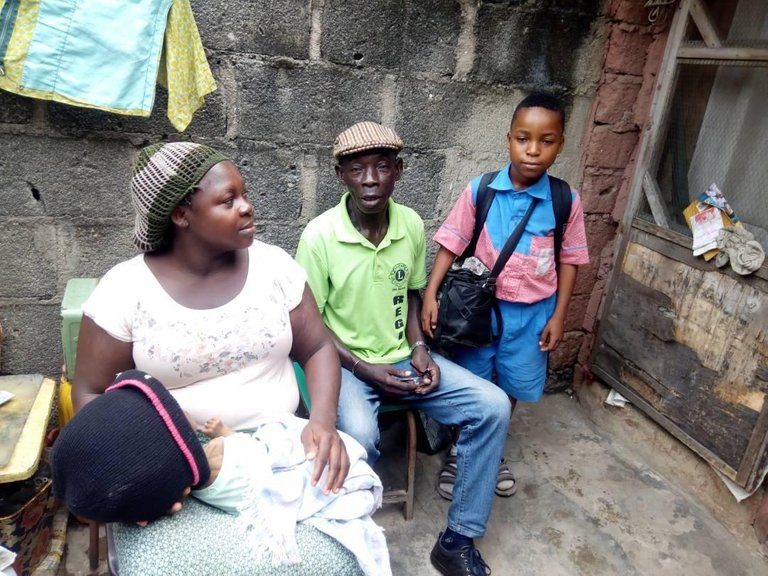 After a while the parents mother mentioned,that, that was her first son, we where all astonished, and we quickly called him up to take a photo of him.
This broke our hearts even more, and obviously Mr and Mrs Adebisi had delays in childbirth because this children are quite young and the couple where quite of age.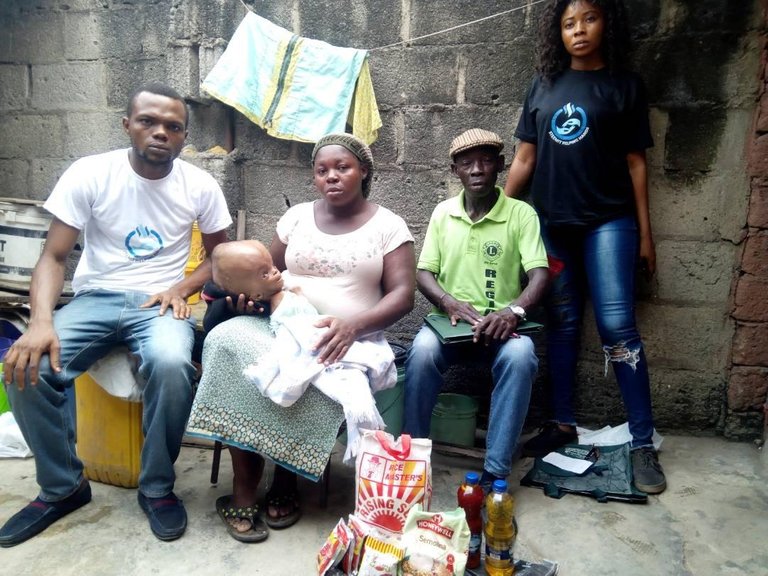 For Daniel to return to the healthy state and bring back the joy his condition has taken away from his family, the family of Mr Jacob Adebisi is seeking for help from the steemit community, according to them, the medical consultant, stated that the cost of Daniels surgery and rehabilitation is 1.2 million naira, which is equivalent to 500SBD.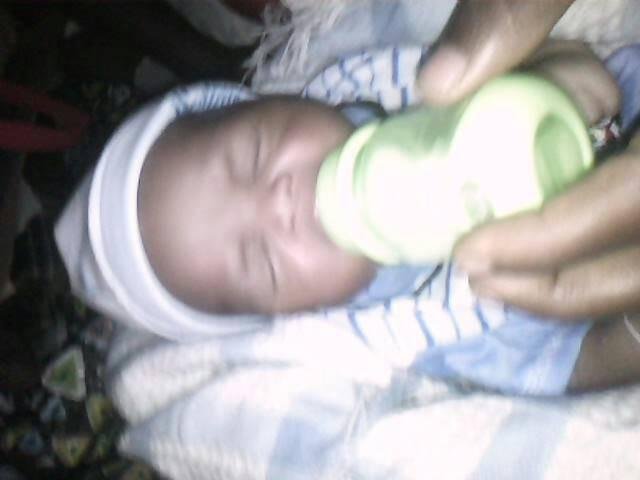 Steemit helping hands team on our way to shomolu, the home of Daniels family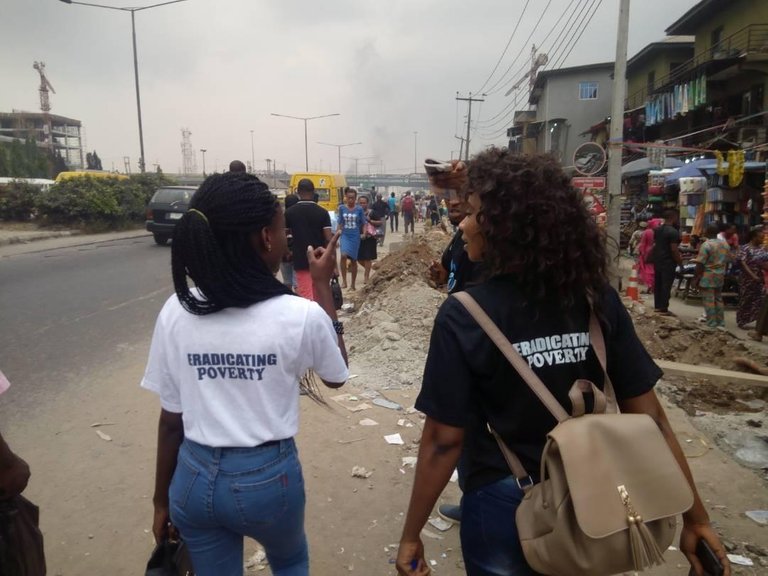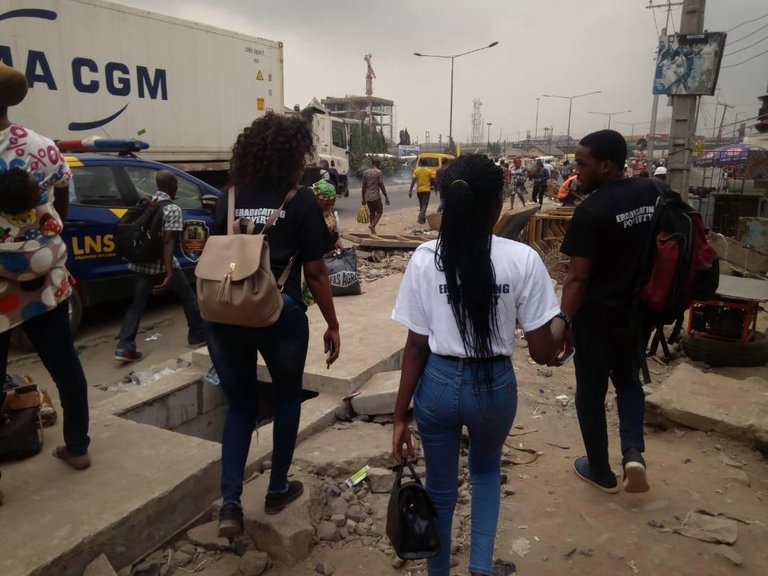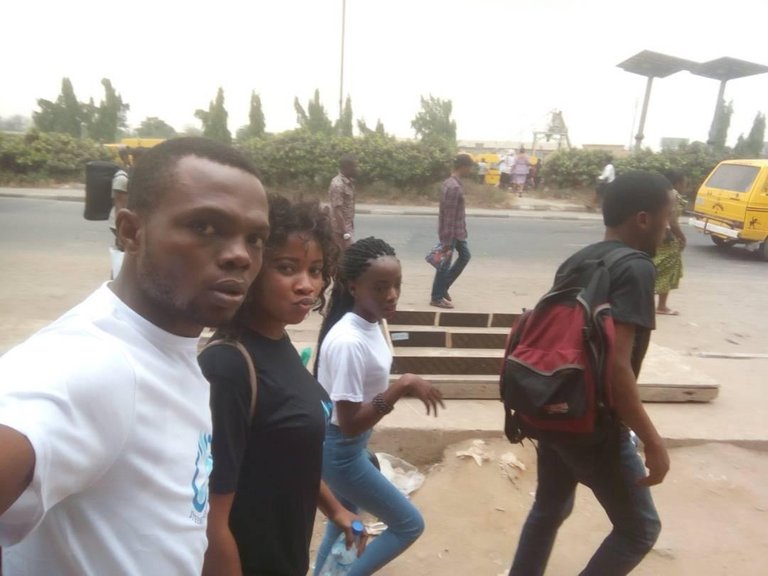 I do not have SBD to donate how can I help this family
Kindly upvote this post , Comment and resteem.
Why should you trust us??
when we do get the required amount for this project from the post @steemhelpinghand will be going to the hospital with this family to make payment, and proof of work will be shared with the community. Liquid payout from this post will be used for that course.
The non-liquid payout(steempower) will be used to create more awareness for the project, support other charity projects on steemit, also used to keep all new members @steemhelpinghand bring into the community.
What is @steemhelpinghand ??? See our introductory post here
live interview was held with the family watch the video below.
---
▶️ DTube
▶️ IPFS