This original-content post is certified plagiarism-free* by the Proof of Blind team (see below for what that means).
Clickbait aside, it has recently come to my Dawggy notice that a certain mythical Hyumi called Secret Santa is doing the rounds on this blockchain. Of course this guy is different from Santa KLAUS who looks and acts like a Bond villan and seems to want to steal gifts and reset them or something. Just mentioning it coz some Hyumis seem a little confused by this and I wanted to clear it up before we move on!
Anyhow, this post is to announce that the Secret One has a special gift for a lil' Puppy Dawg called Crypto.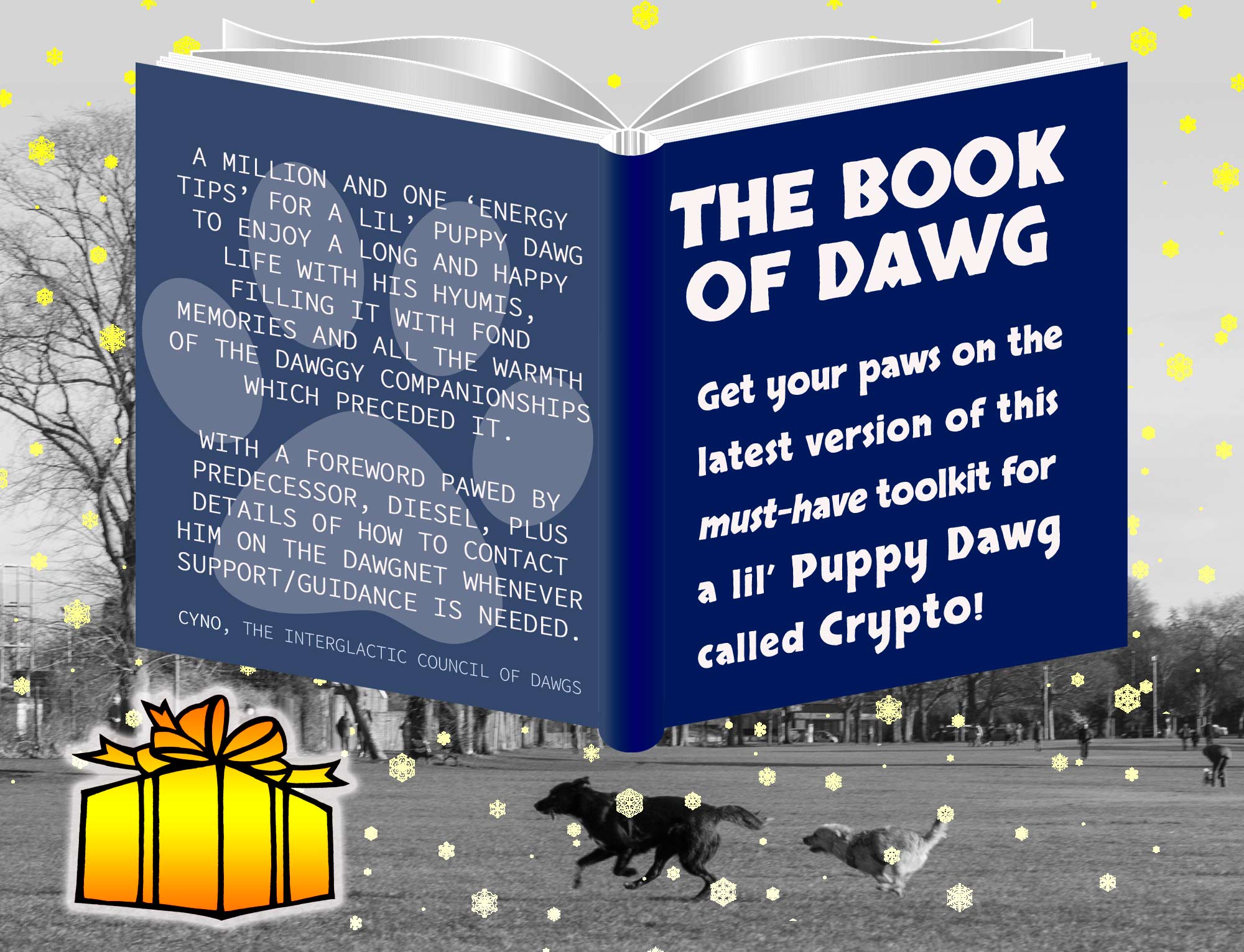 Since lil' Cry pto doesn't yet have his own Dawgblog, the parcel will have to be delivered to his Hyumi, @dwinblood.
I'm asking Secret Santa to be extra gentle and considerate when the door opens and lil' Dawg Crypto + the Winblood family stand before him. You see, Crypto is brand new on the scene and only just arrived some days ago following the recent sudden and tragic death of much-beloved Dawg Diesel.
Part of the pain is likely to be that Dwinblood doesn't even know how/why Diesel died. He thinks he might've been poisoned from eating black walnuts.
This was very unexpected! Day turns to night in the blink of an eye at such times. The world STOPS!
I know that Hyumis experience GREAT pain when something like this happens! In fact, the very day we read Dwin's post about losing Diesel we also came across another moving story from a lady who had lost her Dawg, Princess, whom she had had since Princess was just two days old.
I had to twice comfort my own Hyumi from his sobbing that day, for he was imagining the eventual loss of ME and I know how he feels about that. I tell him that it's different for us Dawgs and that we're always around in spirit even after you think we're gawn. When you tawk to us we'll listen and tawk back, just as we always did during our loving lives with you...you guys are in the MOMENT when you're with us innit?....and so you HAVE made the most of our time together and still can... take heART! I tell him that every experience, however painful, is accurate, although of course that aspect may not register until the healing of Time reveals the Bigger Picture. I tell my Hyumi soothingly that 'death' for us Dawgs is FAR from the end of our relationship - it merely transforms it into something else.

So I suggested to my Hyumi that we use the opportunity of Secret Santa's presence in town to deliver a lil' gift to Diesel's successor, the cute lil' Puppy Dawg Crypto. In fact, when I was checking some random updates on the Dawgnet, I saw numerous messages come in from the other side, all of them indicating that Diesel was (1) delighted that Dwinblood has lil' Puppy Dawg Crypto as a companion (2) delighted in the choice of Crypto as DB's Dawggy companion and successor!
The cover image to this post therefore, is a lil' gift for Crypto and his family, sent with much warmth and all imaginable Best Wishes of Dawg and Man 🙏🤗

About this post
This post was submitted by an up-and-coming original-content creator to the Proof of Blind project, has been reviewed for plagiarism, and is certified plagiarism-free*.
How can I submit original content to the Proof of Blind project?
First and foremost, go to the Proof of Blind FAQ post and review the requirements.
Second, follow @blind.submit so you will receive all future "Request for Submissions" posts.
Third, follow @blind.stats so you can follow the leaderboard and see how your content compares to all the other content being submitted via the Proof of Blind project (and see whether you have been granted permission to post to the project more than once a week).


Once you understand the submission requirements, you can click the following button to start the Proof of Blind submission process:



How can I curate for the Proof of Blind project?
Simply follow @proofofblind and vote for the best content you find there.
Also, if you are interested in photography-only and art-only posts, follow @proofofblind.pix and @proofofblind.art.
*What does certified plagiarism-free mean?
As a result of our plagiarism review, we are confident that this post represents original unpublished creative work.
We are backing that confidence with a 150% curation-reward guarantee.
If you vote for this post and it is found to have been plagiarized (prior to the close of the voting period), we will coordinate efforts to zero out all presumed author rewards. However, that also zeros out all curator rewards. To protect our curators, we will fully reimburse any would-be curation rewards that were zeroed as a result of the plagiarism enforcement, and we will add 50% to it.
This guarantee applies to any curation rewards that would have been worth at least $1 at the time the payout would have occurred. For example, if your upvote was worth $2 in HIVE and $2 in POB, but was zeroed out due to plagiarism-enforcement, then we would reimburse you $1.50 worth of HIVE and $1.50 worth of POB.
What is Proof of Blind and how does it work?
Here is a quick overview:
Content creators submit their original content (following the procedure detailed at the end of the "Request for Submissions" post).

Submitted content is checked for plagiarism.

Plagiarism-free content is posted via the @proofofblind account* (typically within 24 hours after submission), with

the original author as 85% beneficiary,
the person who coordinated the plagiarism review and finalized the @proofofblind post as 10% beneficiary,
@proofofblind retaining 5%.

Thanks for you interest in the Proof of Blind project!