To begin with...
Rabona is a Soccer Manager Game built on the Hive blockchain. It is in Open Beta at the moment but has already gathered an active userbase. Feel free to join in right now! :))
https://peakd.com/@rabona/ rabona.io @rabona
---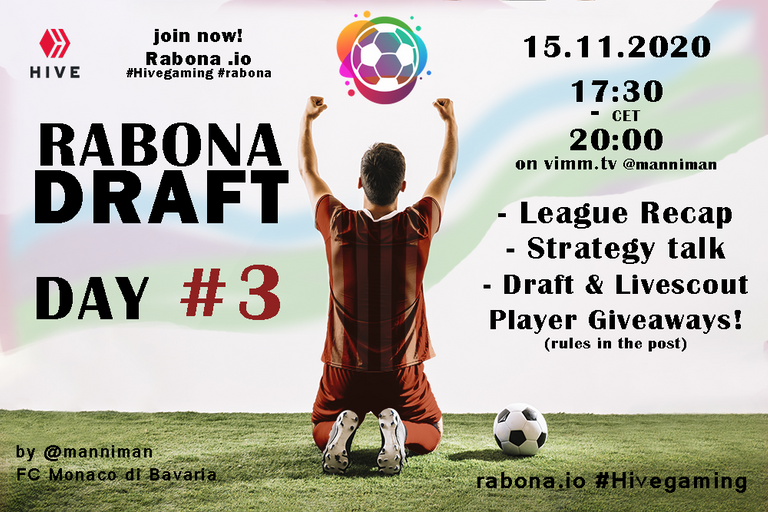 ---
Hello Trainers, Managers, and Soccer Fans on the Hive Blockchain,
the air just started burning this week. The once of us who really try to make it in the 'League of Champions' or 'League 1' have never been challenged in this way before. When in the past Seasons you could sustain your position in the Ranks by making the right player purchases and putting them into the roster, that has officially changed now. A deeper and deeper understanding of Formation skills & fiscal limitations is crucial to your success in these coming seasons!
A lot of exciting stuff to talk about this DraftDay! :))
Come join us this week in the 'General' Rabona discord channel https://discord.gg/FQJW7zG on Sunday and get everything you need to get better right away!
---
Agenda:
17:30 CET - 18:00 CET Gather and distribute the Slots
18:00 CET - 18:45 CET Drafting from the Pre-Scouted Players
18:45 CET - 19:15 CET General Discussion
If you're late, you might still be able to join in and take part in the Live Scouting
19:15 CET - 20:00++ CET Live Scouting with Player Giveaways
---
Here are the Drafting Rules:
- You need to be in discord to participate
- Everyone gets min. 1-2 Draft Slots to choose a Player
- Every Manager can only participate with one of his Clubs
- Clubs in lower Leagues will get to choose first
- You are allowed to trade or sell your slots (live in chat)
The DRAFT Players can already be found in a therefor dedicated Club:
--> https://rabona.io/club.php?id=6691 <-- Every Player in the Club can be chosen
Join us early & bring some fellow Managers with you!
I will host the already third Rabona DraftDay! this Sunday and on Vimm.tv (@vimm @manniman)
https://www.vimm.tv/manniman