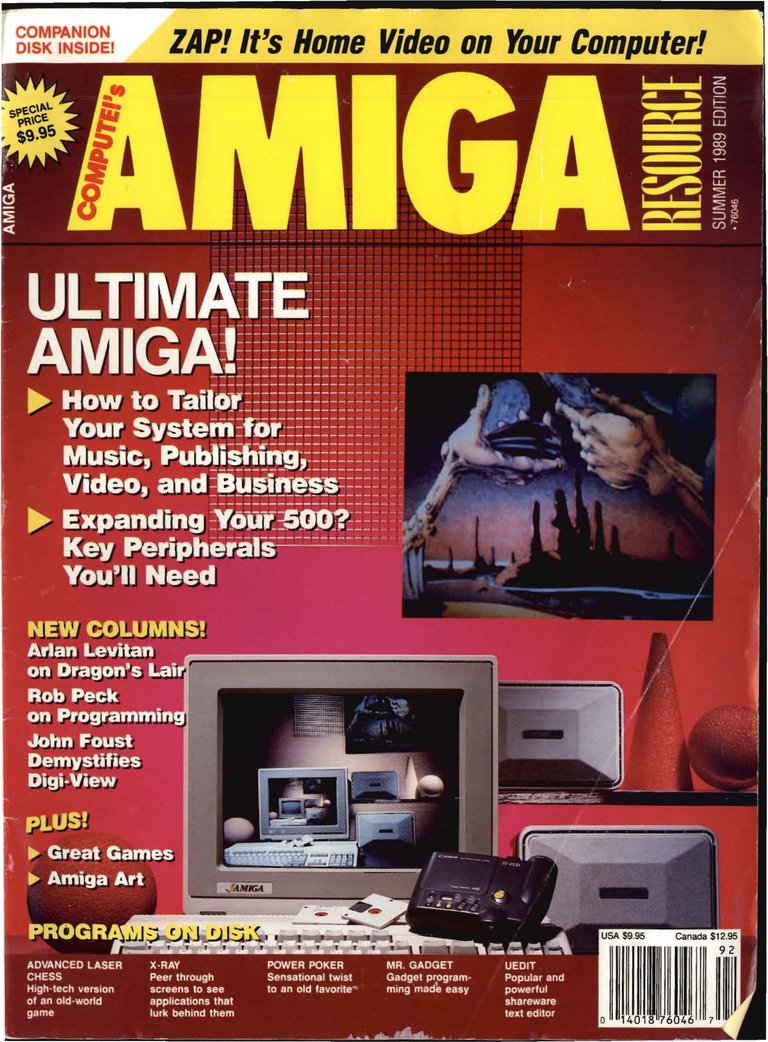 Compute! was among the best multi-format computer magazines of the 1980s. Compute!'s Gazette was an equally great magazine dedicated to the Commodore 64. Compute! had a number of other machine specific spin-offs but none of them ever did as well or lasted particularly long though there was nothing really wrong with the quality. Compute!'s Amiga Resource is one of these spin-offs that happens to be dedicated to the Amiga. The Summer 1989 issue includes:
Features
The Ultimate Amiga - Build the perfect system for any job.
Multitasking Miner - A conversation with the father of the Amiga.
Amiga Zapshots - Using Canon's hot new video technology.
Buyer's Guides
Video Hardware and Software - Doing what the Amiga does best.
Telecommunications Software - The doorway into the Amiga community.
Music Products - Hardware and software that lets you play and compose.
Departments
The Window - Meet our staff.
Readers Feedback - Commodore in education and Bridgeboards for the 500.
Trends - News, new products, and rumors.
Ask Rob Peck - Gadgets: rolling your own.
CLI Clips - Making a custom CLI disk.
Programmer's Page - Adding color to the Workbench.
Columns
Abstractions - Life and times of a Dragon's Lair junkie.
Just for Fun - Human vs. Human, computer referees.
Taking Sides - WYSIWYG: Useless of Useful?
Reviews
Distant Armies
Fantavision
Falcon
On Disk
Contents - Advanced Laser Chess, X-Ray, Power Poker, Mr. Gadget, and more.
Read more: https://www.megalextoria.com/wordpress/index.php/2021/10/06/computes-amiga-resource-summer-1989/