"Welcome back to the fight. This time, I know our side will win."
-Victor Laszlo, Casablanca (1942)
Can't say it much better than Victor. Welcome my fellow revolutionists! In this part of our recipe, you'll learn how to create the second filling for our zucchitilla taco recipe, which will be shown to you next week in its final Vultron form. If you'd like to see Parts I and II to get the party started, be sure to check out:
https://steemit.com/revolution/@revolutionstcafe/pancho-villa-zucchitillas
https://steemit.com/revolution/@revolutionstcafe/beans-and-crice-part-ii
One of the greatest misconceptions is that protein must be ingested in large amounts by huge body builders. This myth has been hard to break thanks in part to the ever-changing food pyramids of our lives that have only added to the confusion of what is considered a healthy diet.
Protein keeps you feeling full and is essential in almost every meal, whether that be as meats, nuts, eggs, etc. Until engineered meat alternatives or eatable insects become the norm, we'll have to utilize what we have.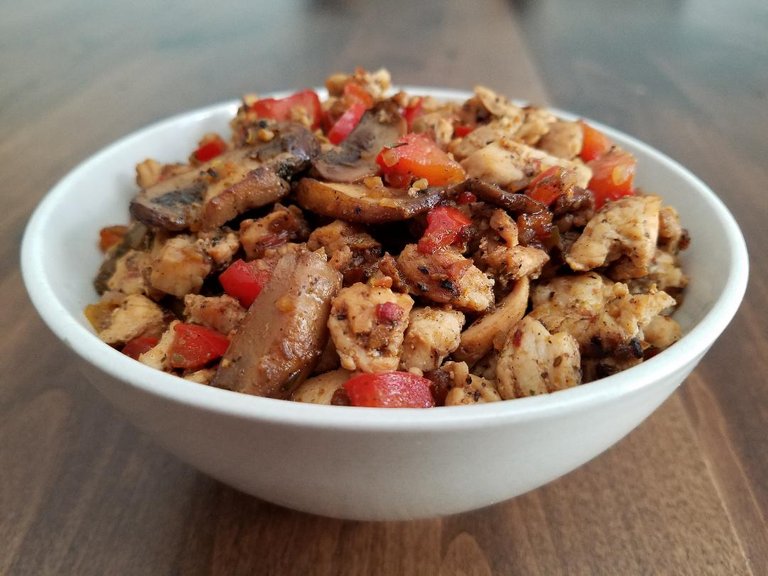 In this recipe, we combine lean chicken and veggies with spices. The trick to this is to keep them separate as both need to be cooked at different times and temperatures. You must cook the veggies first as they take longer than the chicken. This is a spicy dish so be prepared for some heat.
Ingredients:

1 lb - Chicken (roughly two large breasts, cubed)
½ tsp - Salt (Kosher or Himalayan)
½ tsp - Black Pepper
1 tsp - Mrs Dash (original) or Costco Organic No-Salt Seasoning
½ tsp - Chipotle Powder

4-5 oz - Mushrooms (sliced)
1 - Red Bell Pepper (cubed)
½ - Serrano Pepper (sliced)
3 cloves - Garlic (chopped)
½ - Lime
Cooking Ingredients:
2 tbsp - Coconut or Grapeseed Oil
Instructions for Veggies:
1 - Add half the oil to a medium pan on medium heat
2 - Add in the garlic, serrano and mushrooms and saute until mushrooms darken
3 - Add the red bell pepper and saute until lightly charred. I add in a bit of extra salt, black pepper and seasoning as I saute each veggie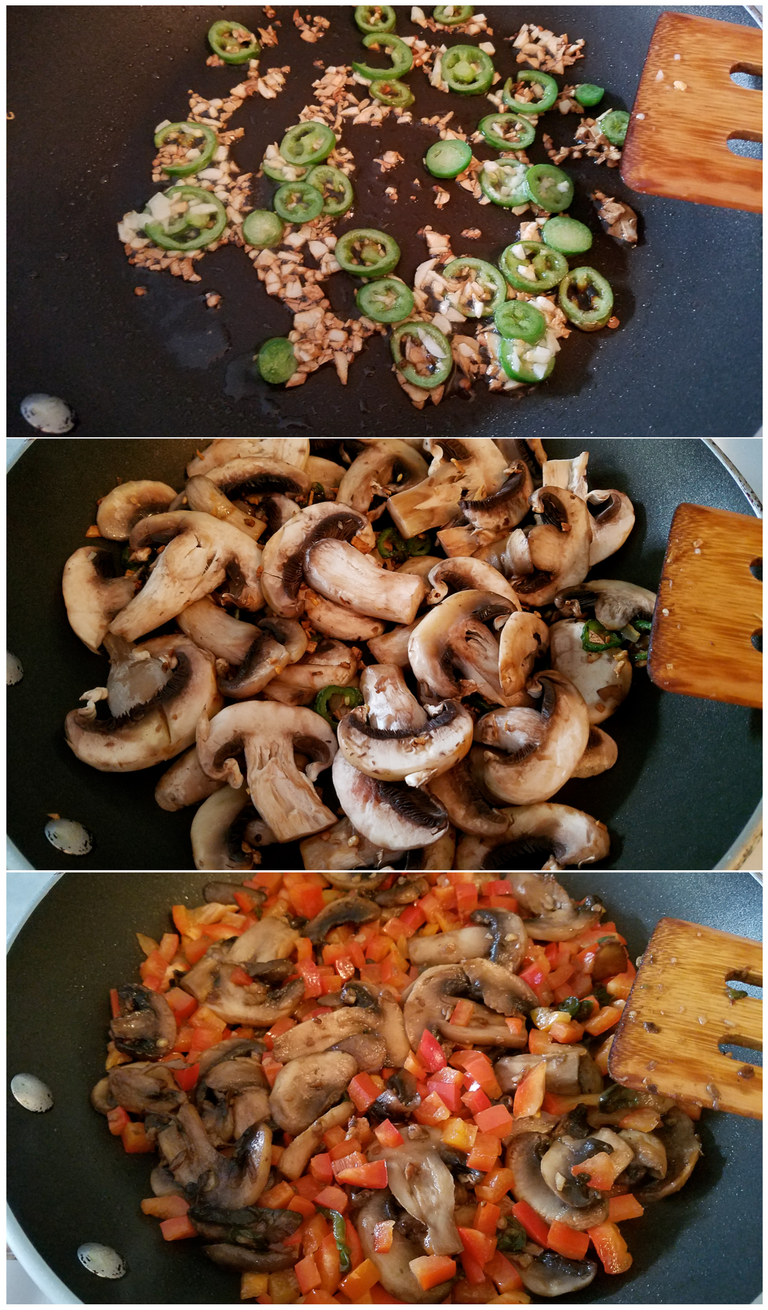 Instructions for Chicken:
1 - Add the other half of oil to a large pan on high heat
2 - Season the chicken on one side and drop in the pan to lock in the juices
3 - Let the chicken sear on each side for about 1 to 2 minutes
4 - Once blackened, lower the heat and add in the veggies
5 - Squeeze in the lime juice and cook for another 10 minutes. And just like that, you are one step closer to our grand zucchitilla taco finale!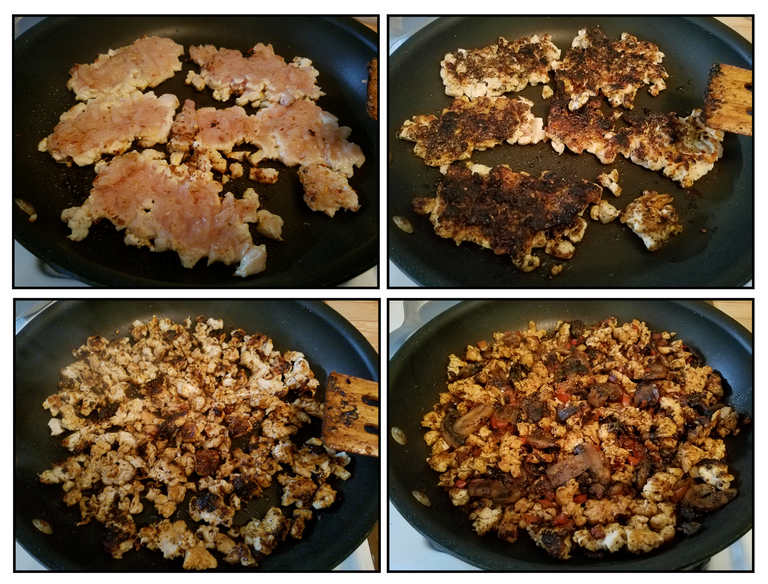 It's clear that no government, corporation or private entity has your best interests at heart. Commercialization at its finest is to create confusion. Pandering to the masses to keep buying the "latest" thing in order to be happy, beautiful, successful, slim, rich, etc.
In our world, the simple and boring is what we should devote our attention to because it doesn't attract a false sense of hope. It's not what sells; it's what we need. What our body needs in order to keep our mind sharp is food. Good food. Simple food. Food that nurtures how we feel and react to everything and everyone around us. By the very act of reading and following these recipes, you will be taking a stand against the injustice of a broken system. A system designed to enslave how we think and feel.
This is the fight for our bodies and minds. Freedom from over consumption and under nourishment. This is how we begin our greatest protest. Join me.
Let's cook!
My contribution to the revolutionist movement will be to turn the recipes I post on this blog into The Revolutionist Cookbook and eventually open a restaurant where only cryptocurrency is accepted. Where tipping won't be necessary as everyone will be paid full salaries and where simple and healthy ingredients will meet delicious cuisine. Like open source code, all of my recipes will be available to the public in full detail and any improvements offered will be embraced and possibly added to the menu in their perfected form. Any donations to the cause are much appreciated either by up-vote or wallet of choice below.
BTC:
1FFKXs4nDU4K5RJED7J4hKZb52Ku5nuFQV
LTC:
LgmcEdMJ1k6e7jY4DbwdTK5nsza9Y3FPHQ
XMR:
49SSmcAqEdECbze28knCJXU6DBzxF2raohnMuVvCQeJ1gqU4eXSXJKBiiZCF8kpy6VKjdUaiCH6CPY3FpP4sHzfgT1ga9us