This is another game I started playing a few days ago which seems really good for killing time during vacation at home
Basically, it's a card collectible game, where you are supposed to build a music band and conquer the charts. The game is in early development and there isn't much action yet. The main goal seems to be to gain XP to level up and collect Startbits - that is the in-game currency which can be traded on Hive-Engine and it's price not bad as of now. Besides th Level/XP player has several other stats
energy (which is standard in such games) - increases in time up to 100%
fans - they come from cards and sometimes from missions, but the latter are drunk and leave you after they get sober
luck and skill - I'm not yet sure what these are good for
Players receive rewards for completing a missions. Mission rewards include XP and Starbit for certain, and if you're lucky you can get some boosters like coffee or pizza to increase your energy. Each mission requires time, energy, fans and player level. When I first started I was level 1 and had 10 fans so I could complete only the first mission. I leveled up easily but the fans were a problem. It took me a day or two to find out that I've been given a card pack as a welcome bonus which included this: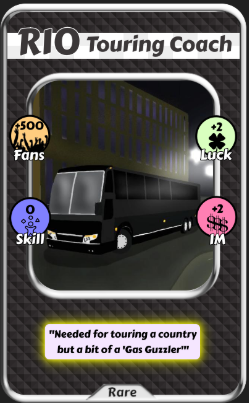 it secured me 500 fans so I can now do every mission from this part of the map, after I reached the required level of course.
Cards can be transferred to other players or sold to market but I'm not interested in that right now. What I've noticed is that items on market cannot be sorted by price, so I could not find how much does my touring coach actually cost.
One strange thing is that in order to buy something, you cannot use starbits from your in-game wallet, but need to withdraw to hive-engine first. I can withdraw only (and exactly) 1000 starbits at a time and it takes a couple of minutes till it reaches my HE wallet, so if I wanted to spend e.g. 10K starbits, I would need quite some time to withdraw it first.
Overall my first impressions are definitely positive, game needs development but has great potential for both fun and profit, I think I'll have some good time with it