Only days after revealing a new preview of Star Trek: Picard at Comic-Con 2019, sources at CBS studios indicate that the new series has been entirely reimagined. Though the preview generated intense fan interest, Picard showrunner Michael Chabon indicated that the new direction taken by another legacy series, Hulu's Veronica Mars, inspired the Star Trek team to reconsider the entire concept of their new series. The plot shown in the preview, speculated to involve the Romulans and the Borg, has been abandoned in favor of a series entirely focused on Jean-Luc Picard's recurring holodeck character Dixon Hill.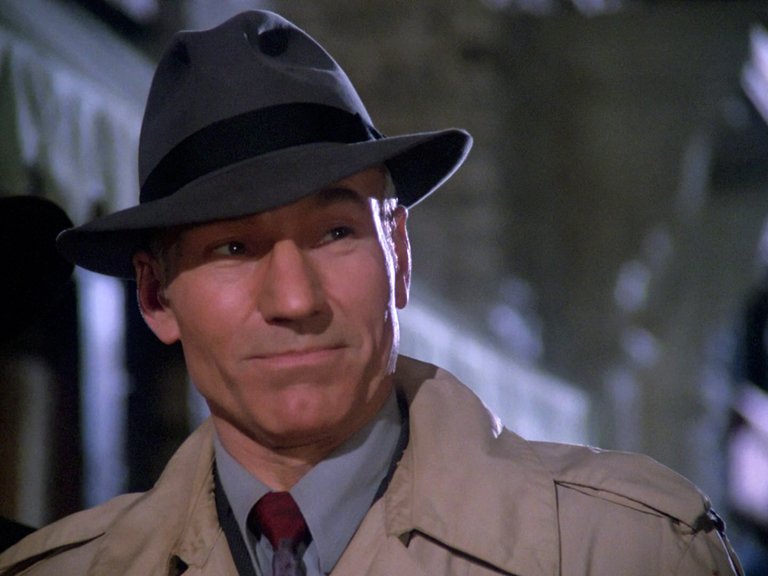 Patrick Stewart playing Jean-Luc Picard playing Dixon Hill. Photo via Memory Alpha.
Hill, a stereotypical hard-boiled detective, first appeared in the twelfth episode of Star Trek: The Next Generation in 1988, and appeared in two further episodes of the series as well as the film Star Trek: First Contact. While the first episode, "The Big Goodbye," is generally regarded as one of the series' best holodeck episodes, it's unclear whether there was any significant audience demand for the character's return.
"What [Veronica Mars] showed us is that you have to discard a show's past in order to envision its future," said Star Trek development coordinator Alex Kurtzman. "Space battles, Romulans, and the Borg are all things that we've done before. If we're going to do something new, we have to get away from that and focus just on Dixon Hill." Kurtzman confirmed that the show will be set entirely within a holodeck environment. "You might not even know it's the holodeck," he said. "Dixon Hill the character will still be Jean-Luc Picard underneath, but it's going to be a detective show, not a science fiction show."
Plans to bring back characters from previous Star Trek shows have also been reconsidered, with Jeri Ryan (Seven of Nine), Brent Spiner (Data), and Jonathan del Arco (Hugh) reportedly being written out of the new series. "[Veronica Mars showrunner Rob] Thomas has taught us that returning beloved characters doesn't really matter," said Chabon. "What's important is putting your main character into new situations completely unlike the ones anyone has ever cared about before."
When contacted, Patrick Stewart had no comment.