ome of you already know what the SBC League is, some of you don't. Don't worry, though, you'll see what it's all about soon. Buckle up buckaroos!

If you were taking part in the original SBC League on steemit you know it's limitations. The manual tracking of picks, different members using different books and odds... This time we've got a solution that will make it much easier for us to track the members picks and it will put all of us on a level playing field:
Blitzpredict
In order to take part in the league, you'll have to open an account on blitzpredict.io and send an email to [email protected] with the request to be added to the leaderboard.
BlitzPredict is many things and if you want to learn more about it you can do that here, but for our purposes, all you need is to open an account, send that email, and get familiar with it since we will be using it to post and track the picks.
The reason for using it is that we all will have the same odds and because there are many sports you can select - from football, MMA, to eSports.
Posts
After you've got your account and you make your picks on blitzpredict you should write a post about it. Get the word out. You can publish those posts on scorum, steemit or both.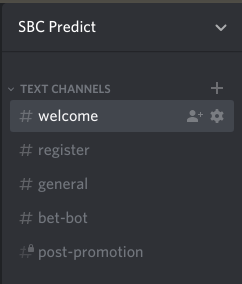 We've created a new, SBC League only, drama free, 0 politics discord server that has a private #post-promotion channel.
Access to that channel (and the upvotes that will be given) is limited to those that have followed the steps and registered the account on blitzpredict.
Both scorum and steemit posts can be promoted there. Those not on our community upovte list on steemit will be added and will be upvoted by our community upvote bot - @sbcbot.
The scorum posts should be tagged sbcleague while steemit posts should be tagged sbctips.
Here's an example on how to approach it: scorum post/steemit post
If you're posting the football picks (soccer) do try to sneak in some ScorumBet bets, but if you're specializing in a different sport (not on it), don't worry about it. It is not required to do so.
We start with no strict rules, anyone who opens the blitzpredict account, sends that email, and joins the SBC Predict Discord server can take part in the league.
Yes, anybody and everybody.
The Purpose
The main goal of the league is to identify and support the talented tipsters that got no big audience. Being part of the league and finishing the month in the profits will help you get your name out there, make some new friendships, and have a lot of fun in the process.
Sure, some prizes and the upvotes, too.
At the moment, the first place will get 200, the second place 100, and the third 50 SCR.
In order to qualify for the prizes you need to make a minimum of 5 picks per month and post a minimum of 3 posts on scorum, steemit, or both.
If you're interested, if you think you've got what it takes and you're not afraid to fail in public if your picks go sideways, get busy. Open the account, send that email and join in.
It's your time to shine. Good luck!
The SBC Crew!