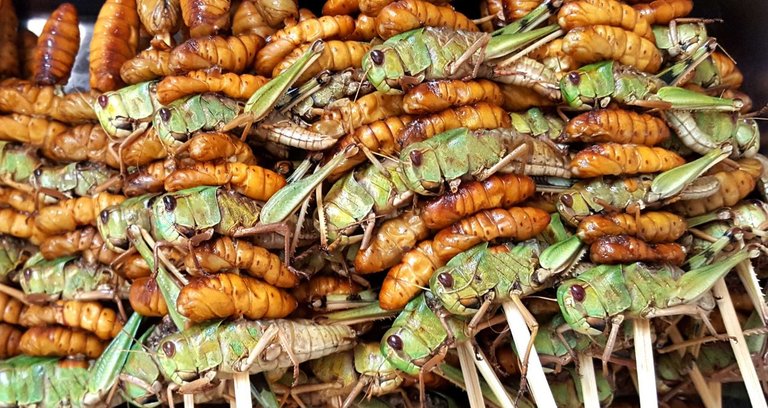 Source<
While surfing the web looking for some news to feed your avid brains I came across the news that
The European Union approves the human consumption of meal-worms"
and it occurred to me that possibly in the near future insects they can supply all the nutrients of the meats that we consume regularly.
Mientras surfeaba la web buscando alguna noticia para alimentar vuestros ávidos cerebros me encontré con la noticia de que La Unión Europea aprueba el consumo humano de los gusanos de la harina" y se me vino a la cabeza que posiblemente en un futuro cercano los insectos pueden suplir todos los nutrientes de las carnes que consumimos habitualmente.
With some exceptions, especially in Asia, raising the possibility of eating insects tends to provoke reactions of disgust in the interviewees, in the West and especially in cities we usually identify insects with dirt and pests and in a certain way this is the case since city bugs feed on garbage.
Con algunas excepciones, sobre todo en Asia, plantear la posibilidad de comer insectos suele provocar reacciones de asco en los entrevistados, en occidente y sobre todo en las ciudades solemos identificar los insectos con la suciedad y las plagas y en cierta manera es así puesto que los insectos de las ciudades se alimentan de basura.
But obviously when it comes to eating insects it is not about going with a toothpick pricking every arthropod that crosses our path, only certain species of insects are edible and provide enough nutrients to make it worth eating, the rest they are still bugs.
Pero obviamente cuando se habla de comer insectos no se trata de ir con un palillo de dientes pinchando a todo artrópodo que se cruce en nuestro camino, solo determinadas especies de insectos son comestibles y aportan los nutrientes suficientes para que merezca la pena comérnoslos, el resto siguen siendo bichos.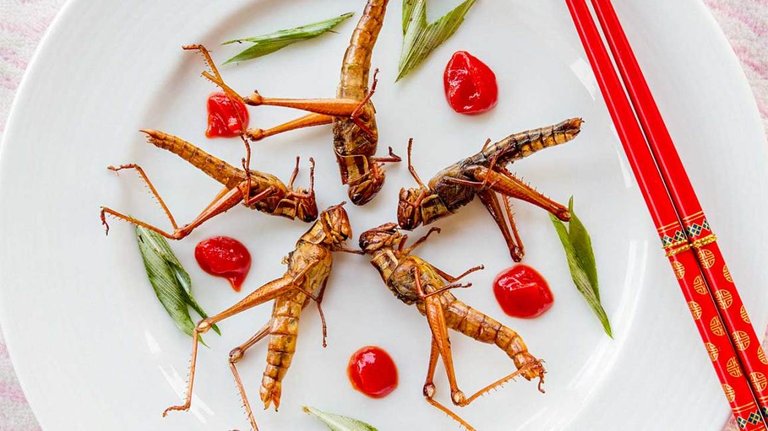 Source
Although seen in the short term it seems that the world is getting worse, if we look at the data in a broad term we will see how more and more countries are coming out of chronic misery and naturally want to eat good steaks, raising cattle is very expensive, According to experts, the water needed to raise a calf would set a destroyer afloat.
Aunque visto a corto plazo parece que el mundo cada vez está peor, si miramos los datos en un plazo amplio veremos como cada vez más países van saliendo de la miseria crónica y naturalmente quieren comer buenos filetes, la cría de ganado vacuno es muy costosa, según los expertos con el agua que se necesita para criar un ternero se pondría a flote a un destructor.
Producing meat for everyone will have an environmental cost impossible to assume, so it is necessary to look for alternatives and insects are a good option, they have between 60-70% of good quality proteins, they are rich in calcium, magnesium, manganese, selenium, zinc, copper, iron and phosphorus, also provide folic acid and vitamins B2 and B5, all this with hardly any calories.
Producir carne para todos tendrá un coste medioambiental imposible de asumir por lo que es necesario buscar alternativas y los insectos son una buena opción, tienen entre un 60-70 % de proteínas de buena calidad, son ricos en calcio, magnesio, manganeso, selenio, zinc, cobre, hierro y fósforo, también aportan ácido fólico y vitaminas B2 y B5, todo esto sin apenas calorías.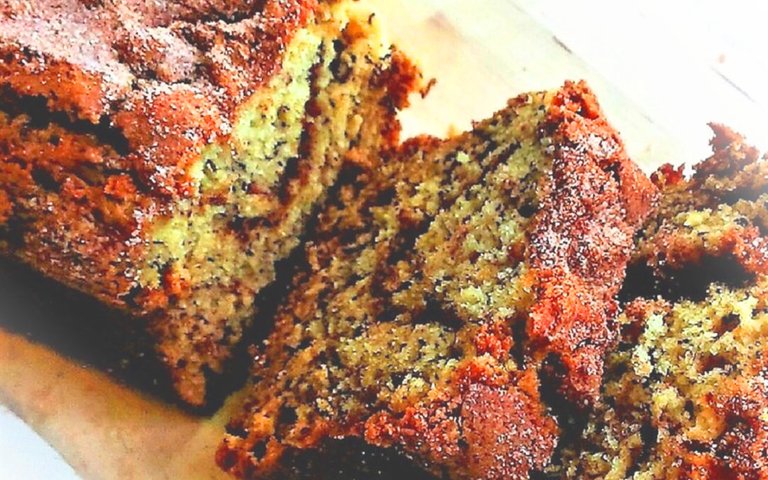 Source
On the other hand, the breeding of insects for consumption requires much less complex and smaller facilities than those necessary for the breeding of cattle, sheep or pigs in addition to generating much less waste, what I do not know is if the insects fart methane like cows, I'll check it out and I'll tell you about it in another post.
Por otra parte la cría de insectos para consumo requiere instalaciones mucho menos complejas y más pequeñas que las necesarias para la cría de ganado bovino, ovino o porcino además de generar muchos menos desechos, lo que no sé es si los insectos se tiran pedos de metano como las vacas, lo consultaré y os lo cuento en otro post.
As for me, I have tried grasshoppers and some very fat cockroach-like bugs during a visit to Bangkok and I have to say that they were delicious but very spicy but that is not the fault of the insect itself.
Bon Appetit!!
En lo que a mí respecta, he probado durante una visita a Bangkok los saltamontes y unos bichos parecidos a cucarachas pero muy gordas y tengo que decir que estaban exquisitos aunque muy picantes pero eso no es culpa del insecto en sí.
¡¡Buen provecho!!