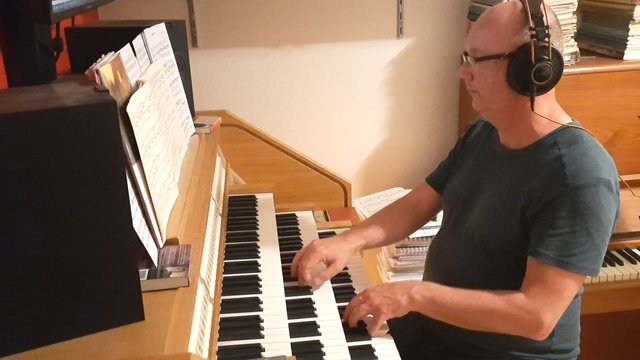 This is my entry for the Secrets of Organ Playing Contest Week 68.
For a few weeks now I have been working on the first part of Bach's first Triosonata (BWV 525). And I had intended that as my entry for this weeks contest. Sadly, it's not ready yet.
Looking at the notes my impression was that it would be easier than the third part of the fifth Triosonata. And I mastered that one in two weeks. It turns out my first impression was wrong. It is a great deal trickier to play fluently and (there's the snag) without mistakes. To get it to a level fit for entry in the contest, it still needs a lot of work.
As I was not about to give up hope of perhaps miraculously play it one time without mistakes while recording, I kept trying till yesterday evening. but sometimes miracles do not happen... 😃
As I did want to submit something, I dug up something I could play a prima vista. Well, the recording is actually 'tertia vista'.
It is a Trio as well, it is in E flat major as well, and it is from Bach as well. So I do stay close to my initial plan.
Small detail: it is from a totally different Bach. August Wilhelm Bach (1796 - 1869) was organist of the Marienkriche in Berlin. Despite his name, he was unrelated to the famous Bach family. He was , however, an influential figure in the Berlin music scene in the second third of the 19th century. Though he is now perhaps mostly remembered as the teacher of Felix mendelsohn Bartholdy, he was a composer himself as well. This charming Trio shows that though he was not one of the great composers, he did write music that is nice to play and listen to.
The recording was done with the Hauptwerk software and the sampleset, made by Sonus Paradisi, of the Schittger organ in the St. Martini-kerk, Groningen (http://www.sonusparadisi.cz/en/organs/netherlands/groningen-st-martini.html). I recorded it yesterday evening, late in the evening. Now that I listen to the recording again, I can hear I was really tired. Normally i would record it again. Alas, no time, so this is the best I have this week.