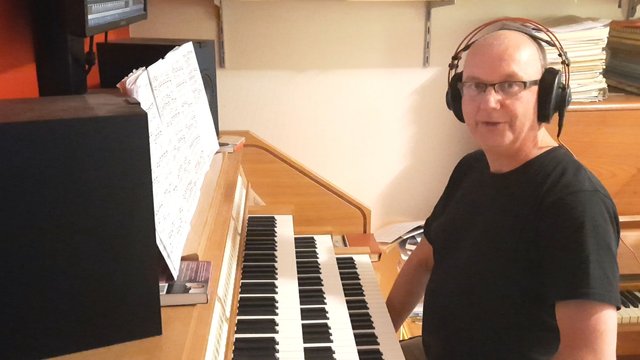 This is my entry for the secrets of Organ Playing Contest, Week 69. I play the first movement from Bach's first Triosonate in E flat major, BWV 525.
Something happened I would never have thought possible: I grew tired of playing a composition by JS Bach. That is a strange experience.
When I started practising this piece I thought it would be easier than the last Triosonata movement I practised, the third movement of the fifth Sonata. It looked easier on paper. In reality it turned out not to be easier at all. I've never put in so much hours of practising time in one composition as I did in this one. And I still can't play it properly.
I've actually considerd giving it up and perhaps try again in a few lifetimes or so. Today I tried one more time to perform it on camera, before giving up permanently. Luckily it came out sort of okay, without too many mistakes. Though it is by far not my best performance.
That this Triosonata is this difficult came as a bit of a surprise. Of course, Bach's Triosonatas are famously difficult. Yet after practising the fifth Sonata, I thought they are playable with enough practise. The entire Sonata took me four weeks to master. And I thought I could make it a realistic goal for 2020 to learn all six of them. Now that I have spent three weeks with the first movement of the first Triosonata I am not so sure anymore. Learning all 6 Triosonatas is probably going to take a lot longer.
For now, I am really glad I can let this movement rest for a few weeks. First I'll work on the second movement. Then I'll take on again the first movement. I know I can do better, it's just that for now I am really tired of playing this piece.
The recording was done with the Hauptwerk software and the sampleset, made by Sonus Paradisi, of the Klapmeyer organ in the St. Nikolai church in Altenbruch (http://www.sonusparadisi.cz/en/organs/germany/klapmeyer-organ-altenbruch.html).
My youngest was playing some game while I recorded this. You can hear the sounds of his game in the announcement of the video. Near the end my wife entered the room to tell my son it is time for him to go to bed. All in all, a not ideal performance in not ideal circumstances. Oh well, I gues that's part of being a misician as well...