This is my entry for the Secrets of Organ Playing Contest, Week 73. I play the Trio in c minor by Johann Tobias Krebs.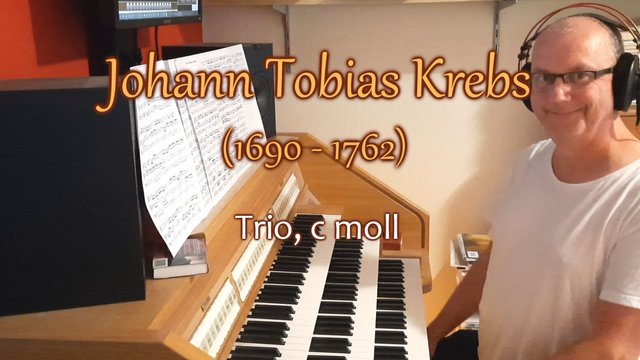 Johann Tobias Krebs (1690-1762) was a German baroque composer and organist. He studied with both Johann Gottfried Walter and with Johann Sebastian Bach. In 1710 he was appointed Kantor and organist at Buttelstedt, near Weimar, and in 1721 he became organist and headmaster at nearby Buttstädt, where he remained until his death.
And of course, he was the father of Johann Ludwig Krebs, who is perhaps more well known and of whom at least more compositions survive.
Johann Tobias Krebs is mentioned as the possible composer of of the Eight Short Preludes and Fugues, previously attributed to J.S. Bach. The Trio I play now was attributed to Bach as well.
It is a charming little Trio and well written. Makes me wish more compositions of Johann Tobias Krebs survived to the present day.
The recording was done with the Hauptwerk software and the sampleset, made by Sonus Paradisi, of the Schittger organ in the St. Martini-kerk, Groningen (http://www.sonusparadisi.cz/en/organs/netherlands/groningen-st-martini.html).
Score: http://partitura.org/index.php/johann-tobias-krebs-trio-c-moll/