5th in the Story Series is called Creative Sexuality and is about freedom and authentic expression.
I tokenized Creative Sexuality on Rarible, 4 editions for .22 eth each.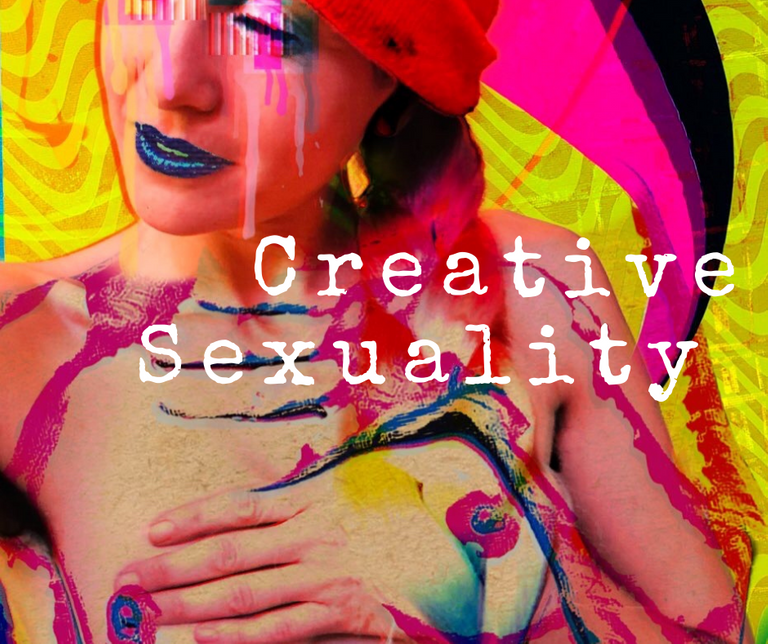 https://app.rarible.com/token/0xd07dc4262bcdbf85190c01c996b4c06a461d2430:109366:0xb1dc6e4641d4ad094553907af39a97c95d7eb0a3
Here's my interpretation of this piece, but like all stories is subjective to my perspectives, so please take what you want and leave the rest.
Sexuality is a part of the human experience and is as unique as each individual. And is a necessary part of life. A lot of the human condition is tied up in reproduction. According to Maslow and his hierarchy of needs sex is 3rd behind sustenance and shelter. In order for humans to exist on Earth we need intra-species biodiversity to remain resilient to environmental change. So, nature set the conditions for attraction to be diverse. However, that's not the story that gets told about sexuality. Before reliable birth control, shame and the concept of sin were the last lines of defense against unwanted pregnancy, hence all the taboos surrounding sex. Although times have changed, many still operate from a "sex is bad" lens and see lust as a sin. This outdated lens creates an unhealthy environment for sexual expression.
With decentralized media systems we are no longer dictated by the predominantly male media executives to have exclusive rights pushing their version of "attractive." The internet sets the stage for all bodies, conditions and context to have a stage. Opening the adult industry to more people is allowing more people to have more of a say in the dialog of what is "attractive." In fact, I don't see how we can expect to build a tolerant and diverse society without access to the spectrum of sexual diversity.
My sexuality looks different from what I was shown in the media and that's a really good thing! Exploring this part of myself has helped me get to know myself, my preferences, what makes me feel alive. We are all free to express any aspect of ourselves in a consensual and authentic way, free from censorship.
This is the perfect time to talk about this because on Dec. 18, 2020, Senators Ben Sasse (@SenSasse) (R-Neb.) and Jeff Merkley (@SenJeffMerkley) (D-Ore.) introduced bipartisan legislation, SISEA, "Stop Internet Sexual Exploitation Act" which is intended to add regulations to "all platforms that host pornography." Adhering to these regulations is beyond the ability or budget of most pornographic companies and individuals who create & publish their own sites. Many who work in the industry, myself included, are at risk of being put out of work in the middle of a pandemic and our freedoms infringed.
I don't watch porn but create it and am an advocate for it. I believe it's a freedom we should all have. It's important because it shows
multiple perspectives about a very human experience. We need a variety of porn creators to normalize sexuality and eliminate stigmas. Sex is a natural human function, not a taboo!
No matter your body type, color, or even condition there is a percentage of humanity that is genetically predisposed to being attracted to you! Learning this helped me be more comfortable in my own skin and gave me greater confidence to express myself sexually. I don't have to look like or act like the woman portrayed in the media.
What you can do to help sex workers stay safe and employed
The bill is still in committee. A bill is brought to a group of people who serve on a particular committee. Those people discuss the bill, invite experts to testify, take comments, etc. They often revise the bill, and often table/ cancel it. Only if it's approved by the committee does it go to a whole vote of the Senate and then the same thing has to happen in the House and then voted on by the President. So there is still time to make a difference in how this turns out.
Call or write Senator Merkley as well as your local representatives. All the information, scripts, numbers and addresses can all be found here : https://ailaa.org/organizing-to-inform/s-5054-information-campaign/
Elements:
Lush2 (exploring sexuality in creative ways)
Tears (emotion)
Blue mouth smiling (communication, contentment)
Eyes focused away (looking away - it's not about the audience)
Hands (2 right hands. From photograph- covering breasts. From art- exposing breasts)
Saitomei (cat- independence, courage, individuality)
Wave lines (movement, vibration)
Being Annie (self acceptance)
Pieces included in Creative Sexuality:
Lush2 - 24"x17" Vinyl on metal- 2019.
Artistic representation of the Lush2, Bluetooth internal vibrator made by Lovense. Original, prints and stickers available on Etsy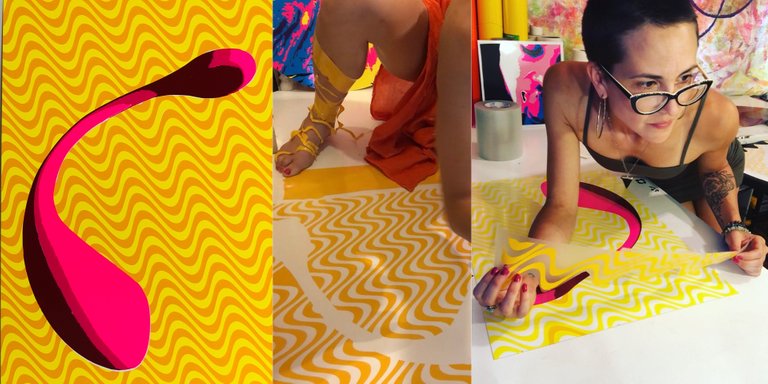 Being Annie - 20"x 24" Vinyl on metal. 2019.
Self portrait. Prints and stickers available on on Etsy.
Saitomei - 48"x 24" Vinyl on metal. 2018.
Portrait of my cat.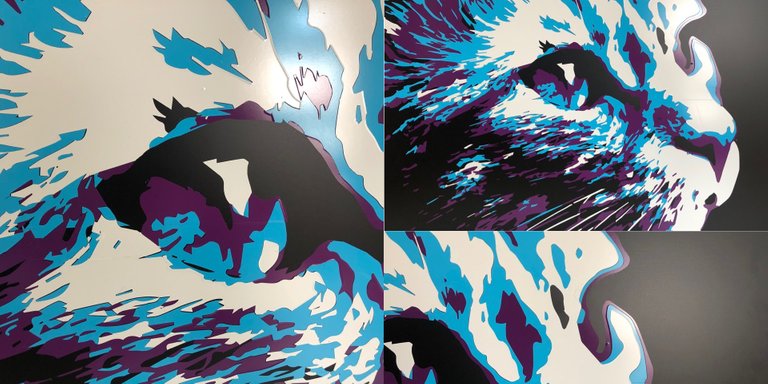 Lush2 Painting -Acrylic on canvas. 2019.
Painting created my first time using the Lush2.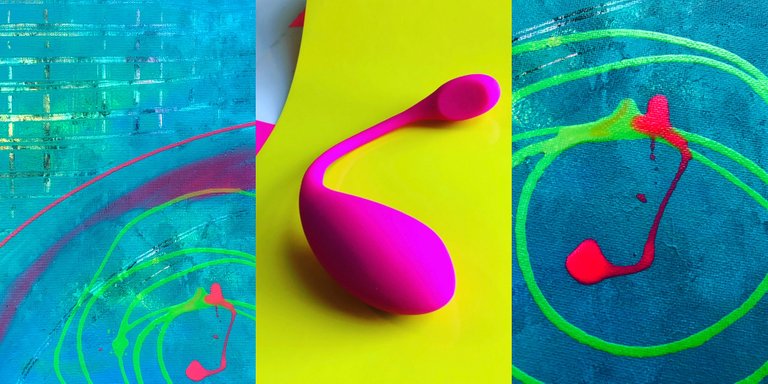 Buy the piece on Rarible:
https://app.rarible.com/token/0xd07dc4262bcdbf85190c01c996b4c06a461d2430:109366:0xb1dc6e4641d4ad094553907af39a97c95d7eb0a3
About the Series:
Everything I create is done spontaneously & intuitively. This allows me to reflect on the work afterwards and dig in to find what my and the collective unconscious is communicating.
This collection represents my artistic expression for the past two years. I created these pieces by layering, blending and editing multiple original photos. Repurposing my physical art and modeling photos. Reinventing my past work is an evolution for me as an artist and it allows me the chance to tell the story, highlighting how all the pieces weave together.
I'm releasing the series in 2 parts. The finished pieces on Rarible. https://app.rarible.com/polyannie/onsale
And elements of the pieces on the NFT Showroom as limited reproduction rights unlockable photo sets.
https://nftshowroom.com/polyannie/gallery
Everything I'm presenting was made by me almost entirely from my mobile device. Being able to work and create from mobile opens more possibilities and I hope inspires others with limited resources to do the same.
Eth earned from these pieces will be kept in crypto. I'm going to be exploring & experimenting with staking Hex, Dai and will continue to buy Hot.
Hive earned I'm keeping in hive to buy art, support others and continue onboarding efforts.
About the artist:
Multidisciplinary Artist & Live Streamer, PolyAnnie weaves her intuitive creativity into a living documentary, boldly paving the way forward into new economies through creating empowered art that's expressed through many mediums: adhesive vinyl mosaics, erotic abstract expressionist paintings, prop manipulation (hula hoop & fire dance), music, nsfw content creation, dance & fashion design.
Physical Art
http://polyanniestudios.patternbyetsy.com
Crypto Art
https://nftshowroom.com/polyannie/gallery
https://app.rarible.com/polyannie/onsale
LiveStreams & Videos
Bigo- PolyAnnie