Español
¡Hola amigos! hoy les presento el proceso de cómo dibuje a un personaje llamado "Nami" del videojuego liga de las leyendas.
hablemos un poco de ella, lnami es una joven vastaya de los mares (los vastaya son una raza que se encuentran principalmente en los bosques de ionia) usa un báculo de Invocadora de Mareas para modelar las olas y defender a sus compañeros marai (especie vastaya que ese encuentra en los mares del monte targon) del peligro.
Ella es la primera en de su especie en abandonar el océano y aventurarse en tierra firme, Nami se enfrenta a lo inimaginable con valor, determinación y temple.
''Yo decido lo que traerá la marea''.
English
Hello friends! Today I present the process of how to draw a character named "Nami" of the video game league of legends.
let's talk a little about her, lnami is a young vastaya of the seas (the vastaya are a race found mainly in the ionia forests) uses a Tidal Invocer's staff to model the waves and defend her fellow marai (vastaya species) that he finds in the seas of Monte Targon) of danger.
She is the first of her kind to leave the ocean and venture on land, Nami faces the unimaginable with courage, determination and courage.
'' I decide what the tide will bring. ''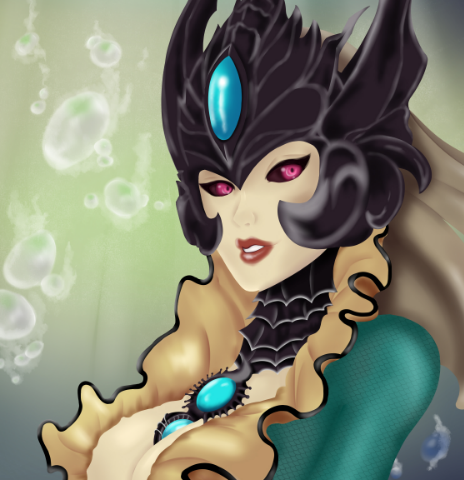 1
como siempre lo primero que hago es un boceto del personaje. Use como ejemplo el diseño del personaje que puedes encontrar dando click aqui -----> LINK

As always, the first thing I do is a sketch of the character. Use as an example the character design you can find by clicking here -----> LINK


2
Esta vez comencé con el fondo, intente recrear el agua de un lago, pues nami es una pequeña "sirena" asi que ¿porque no hacerla en un lindo ambiente marino?.

This time I started with the background, try to recreate the water of a lake, because nami is a little "mermaid" so why not do it in a nice marine environment?






3
Ya con el fondo listo, comence primero por la piel de las escamas y la parte amarilla.

With the background ready, start first with the skin of the scales and the yellow part.








4
Ahora es momento de darle color a la piel de nami.

now it's time to color the skin of nami.




5
Ahora le di color a los accesorios y al casco que ella usa.

Now I gave color to the accessories and the helmet that she wears.







6
Es momento de darle una linda expresión a la pequeña nami, asi que me dedique a hacer su boca y ojos.

It is time to give a cute expression to the little nami, so I dedicate myself to making her mouth and eyes.








7
Ahora solo falta el cabello, en lo personal parece mas tentaculos de calamar que como cabello real asi que intente simular los tentaculos.

Now only lack the hair, personally seems more squid tentacles than real hair so try to simulate the tentacles.





8
Finalmente coloque mi marca de agua en la ilustración y aqui la tienen ya completa, una linda Nami terminada.

Finally I put my watermark in the illustration and here they have it already completed, a beautiful Nami finished






"This work is licensed under a Creative Commons
Attribution 4.0 International License"



De verdad gracias por ver mi post, realmente pongo mi corazón en cada ilustración que les muestro y su apoyo en serio me ayuda a avanzar cada dia mas para traerles dibujos mas increibles.
Nota: ahora implementare la marcada de agua en cada ilustración, "IllusPanda" es mi pagina en faceboock :) por alli podrás seguirme si lo deseas.
Nos vemos en un proximo post
Really thank you for watching my post, I really put my heart in every illustration I show you and your support seriously helps me to advance every day more to bring you more incredible drawings.
Note: now I will implement the watermark in each illustration, "IllusPanda" is my page in faceboock :) there you can follow me if you wish.
See you in a next post