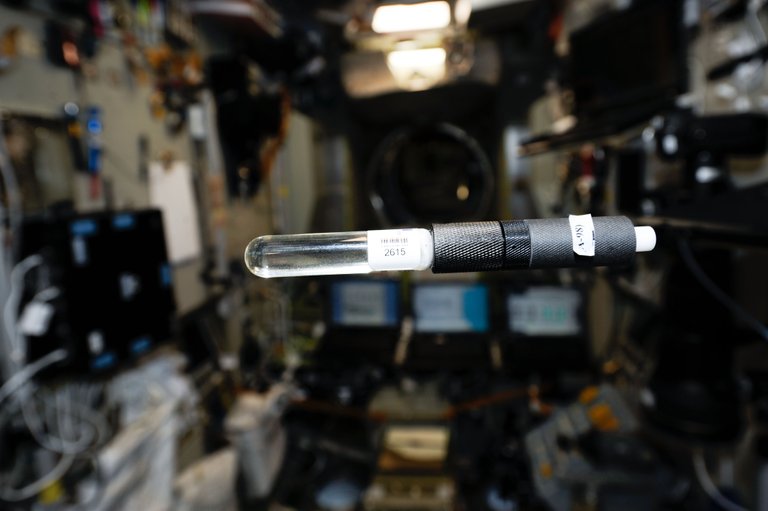 Defining Radiation Risk to Astronauts
In this image, one of the radiation detectors for the Radi-N2 experiment floats in the space station. This device will help researchers explore the radition risk to humans in space.
Neutrons make up a significant part of the radiation exposure in low-Earth orbit, but have not been well characterized. Radi-N2, a Canadian Space Agency investigation, uses bubble detectors to better characterize the neutron environment on the space station, helping to define the risk it poses to crew members. It continues a previous investigation, Radi-N1, and repeats measurements in the same or equivalent locations aboard the space station. Measuring the average dose in different segments of the space station supports development of a radiation protection plan for future missions. During the week of Aug. 17, 2020, crew members retrieved detectors for collection of dose measurements.
Оценка радиационной опасности для астронавтов
Это изображение одного из детекторов радиации для эксперимента Radi-N2, парящего внутри космической станции. Это устройство поможет ученым оценить радиационную опасность для людей в космосе.
На низкой околоземной орбите большую часть излучения составляют нейтроны, это недостаточно изученное явление. Исследование Radi-N2, проводимое Канадским Космическим Агентством, использует пузырьковые детекторы для получения более подробных характеристик состояния нейтронов на космической станции, что поможет определить потенциальное негативное влияние на членов экипажа. Это исследование является продолжением предыдущего эксперимента Radi-N1 и повторяет измерения в тех же или похожих местах на борту космической станции. Полученные из разных сегментов значения помогут в разработке плана радиационной защиты для будущих миссий. В течение недели с 17 августа 2020 года члены экипажа собирали эти детекторы.