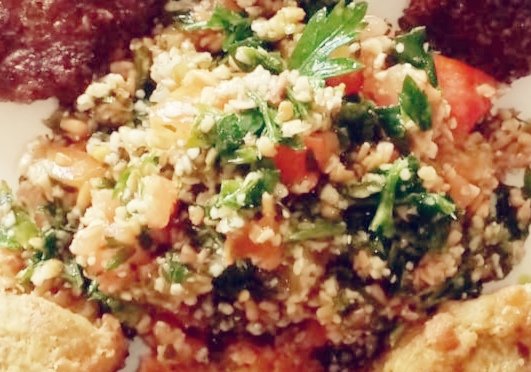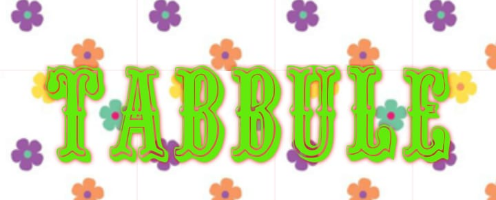 ES UNA ENSALADA ORIUNDA DEL LÍBANO Y SIRIA QUE ACOMPAÑA ALGUNOS PLATOS TÍPICOS DE LA ZONA
Es un plato frío que se consume en los calurosos días de verano en todo el mundo árabe.
Existe una leyenda que dice que el tabulé fue inventado por los caldeos en Mesopotamia en el año 1800 antes de Cristo, y la receta fue llevada a través de la historia y la geografía a los fenicios cerca de la costa del mar Mediterráneo.
Tabulé deriva de la raíz (TLB) QUÉ SIGNIFICA MEZCLA DE VEGETALES
Esto empezó siendo una fina mezcla de tomate, menta o hierbabuena, cebolla y perejil, y se cree que el trigo se añadió en la región de Bekaa por la propagación de su cultivo.
Esta receta fue llevada por los inmigrantes a varios países y llegó América latina para encantar nuestro paladar.
El secreto de esta deliciosa ensalada está en la mezcla de las cantidades correctas de aceite de oliva, limón y sal en la cantidad correcta o según su gusto.
Reveal spoiler

Reveal spoiler

>>

TABBULE OR TABULE

IT IS A SALAD FROM LEBANON AND SYRIA THAT ACCOMPANIES SOME TYPICAL DISHES OF THE AREA

It is a cold dish that is consumed on hot summer days throughout the Arab world.

There is a legend that the tabbouleh was invented by the Chaldeans in Mesopotamia in 1800 BC, and the recipe was carried through history and geography to the Phoenicians near the coast of the Mediterranean Sea.

Tabulé derives from the root (TLB) WHAT DOES VEGETABLE BLEND MEAN?

This started as a fine mix of tomato, mint or peppermint, onion and parsley, and it is believed that wheat was added in the Bekaa region by the spread of its cultivation.

This recipe was taken by immigrants to various countries and Latin America came to delight our palates.

The secret of this delicious salad is in the mixture of the correct amounts of olive oil, lemon and salt in the correct amount or according to your taste.

Manos a la obra

>>Busquemos los ingredientes

1 taza de sémola de trigo
3 cebollas picadas
2 ramos de perejil fresco picado una taza de hierbabuena fresca picada o menta
1/2 kilogramo de tomates cortados en cuadritos
1/2 taza de limón recién exprimido
sal
pimienta opcional
2 o 3 cucharadas de aceite de oliva>>

Vamos con el paso a paso

Remojamos la sémola de trigo por 10 minutos.

Transcurridos los 10 minutos, escurrimos y presionamos con una cuchara para sacarle todo el líquido residual.

Colocamos todos los vegetales en un bowl y mezclamos.

Aderezamos con sal, limón y aceite de oliva según las cantidades descritas en la receta.

Reveal spoiler

Reveal spoiler

>>

¡Y así de fácil!

Ya tenemos lista nuestra ensalada que podemos disfrutar sola o como acompañante en un delicioso plato.

Vamos a disfrutarlo en estos días de calor y de unión familiar.

Let's do it

**Let's find the ingredients

1 cup of wheat semolina
3 chopped onions
2 bouquets of chopped fresh parsley a cup of chopped fresh mint or mint
1/2 kilogram of diced tomatoes
1/2 cup freshly squeezed lemon
Salt
optional pepper
2 or 3 tablespoons of olive oil

Let's go step by step

We soak the wheat semolina for 10 minutes.

After 10 minutes, drain and press with a spoon to remove all the residual liquid.

We put all the vegetables in a bowl and mix.

We season with salt, lemon and olive oil according to the amounts described in the recipe.

And it's that easy!

We already have our salad ready that we can enjoy alone or as a side dish in a delicious dish.

We are going to enjoy it on these days of warmth and family togetherness.


Gracias a @enmy, @danielvehe, @bluemist, @leticiapereira

¡Gracias a todos!

¡Espero les guste y lo disfruten!

Edición: Ayarit Diaz
Fotografia: Ayarit Díaz y Rodolfo Mendez
Tomadas con celular MottoG7 power y Huawei Y6 2019
Edición de fotografía con la herramienta Layout for Instagram
Letras artísticas realizadas con la herramienta Fonts Letras para Chat.