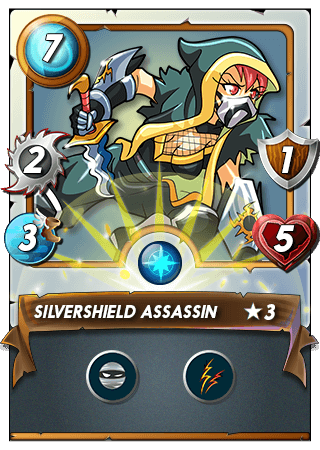 https://steemmonsters.com?p=battle&id=df4d86e3bbb8e7b1f95b82bc22ef00b299397861&ref=navorn
My main strategy for this battle was to try and outlast my opponent as my Silvershield Assassin would take out their rear guard. My backup plan was for my cave slug to pick off the weaker enemies and hope that it works out.
Lucky my two strategies worked together well and helped me win.
My line up consisted of Lord Arianthus for his tank abilities, the Silvershield Bard for her healing abilities, Divine Sorceress because I needed a three mana character, Cave Slug to take out weak enemies quickly, Silvershield Assassin to take out the rear guard, and the Creeping Ooze to slow down my enemy. This line up helped my Silvershield Assassin by protecting her from taking hits from the enemies and keeping the damage done to other monsters to a minimum.
I didn't expect my strategy to work, I fully expected that the opponent would've used an Enchanted Defender, which combined with the battle type, Weak Magic, would've been the best move. In general I usually only use Silvershield Assassin when the battle type is Unprotected, since that guarantees damage to be done.