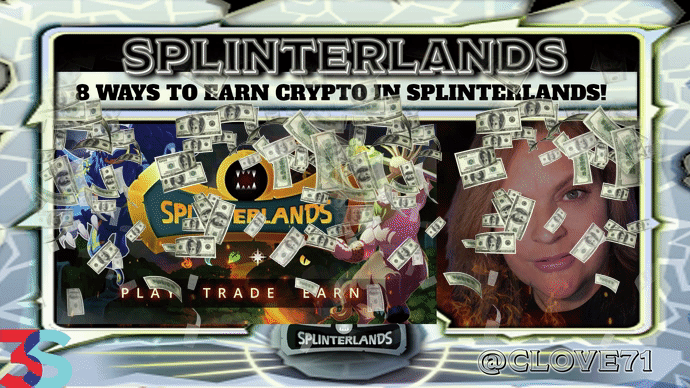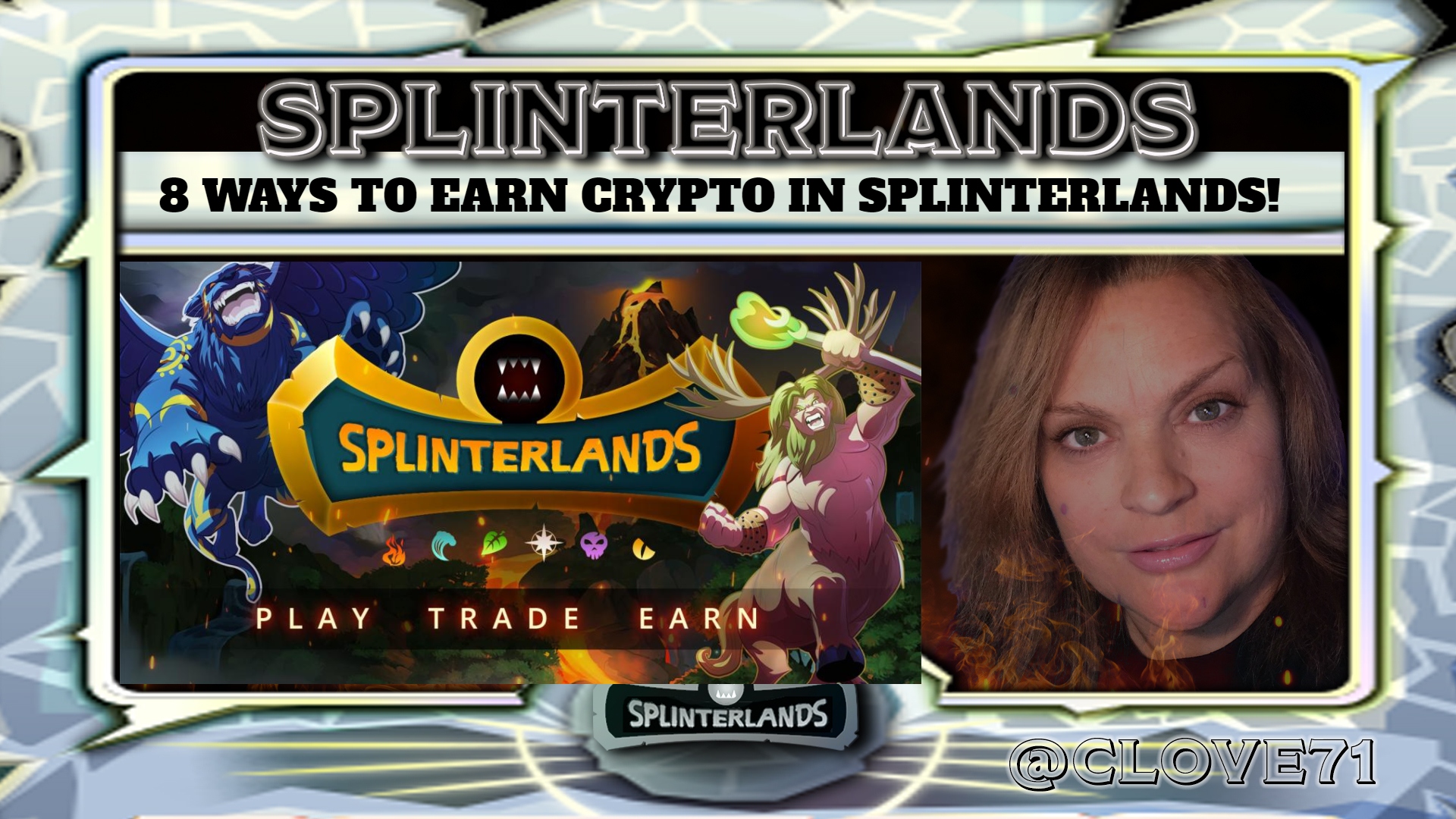 Hello everyone! Happy Holidays to you all! I am here on Splinterlands showing you all, especially new players to Splinterlands 8 different ways you can earn crypto in Splinterlands! These are all things that I do in the game. I must be doing something right as I am still in the top ten of the most valuable decks in Splinterlands. Nothing is guaranteed here, these are just my experiences with the game.

There are a few other ways to earn but these are just the ways I earn every day in Splinterlands. You do not have to be a rocket Scientist to earn crypto in Splinterlands. I am simply a Mom of three and I have made a great nest egg all by myself playing and collecting cards in Splinterlands and blogging on Hive! There are lots of ways to earn DEC, (Dark Energy Crystals) the in-game token, SPS, HBD, HIVE, and Hive power!

I was so excited to find my name there among the top ten most valuable collections! I was so happy as I have made something great for myself and my family!

I am a stay-at-home Mom of a 26-year son who has Cerebral Palsy. I am his home health aide. I have created this 1 million+ Splinterlands account plus a #1 Guild and am proud of myself! I love it here, the community is so awesome and the opportunities are unlimited! I pulled my first Alpha Gold Foil Legendary long ago, a Spirit of the Forest. It is now worth 20K! There is only 1 for sale!

I am so happy I know how to HODL! I almost sold it once when I needed some money but I am so happy I saved it! I plan on using some of this for buying a house, hopefully within the next 6 months! I also need a new minivan for my son as well, our old one barely starts sometimes, LOL! Let's go check out all the ways to earn now!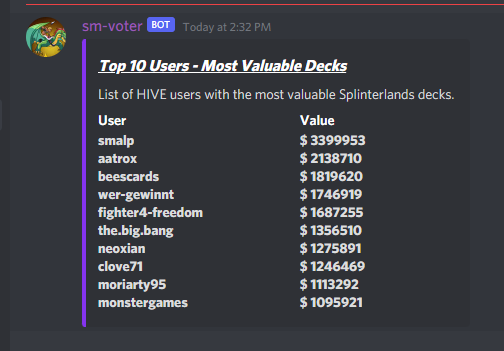 1.) When you battle and win a ranked battle or win in a tournament, you earn DEC! You can also earn by battling your daily quest and opening the loot chests and receiving your end-of-season rewards loot chests which are given out every 2 weeks.
2.) Create great Splinterlands content on the Hive Blockchain and earn upvotes from Splinterlands and the community in HBD and Hive power! You can even make a video on the Splinterlands @3speak community and receive upvotes for that! Follow the guidelines in the Splinterlands post HERE. Drop your 3speak post in my Discord for a chance to get an upvote from meHERE.
3.) Flippening! Flippening is when you buy any Splinterlands packs whether they are Chaos Legion packs, Alpha, Beta, Orbs, Untamed, or Dice packs, and pull a great value card. You can then sell it or HODL it and over time watch the price rise. You are not guaranteed to pull something great but over time and with potions, I eventually always do!
4.) Rent your cards out! You can go to your card in game or peakmonsters.com and rent out your cards! Some cards are cheap but leveled-up Legendaries and Summoners do very well! So many people have been renting and I see a shortage of rentals lately near the season-ending after the players are renting them out to get a higher collection power to enter tournaments as well as end-of-the-season rewards.
5.) Use your referral link to sign up new players with the Splinterlands affiliate program! You earn 5% for life when they buy a spellbook, packs, land, or potions in-game. This can add up quickly if you have a big following or just know a lot of people. replace my name with yours and use it today! https://splinterlands.com?ref=clove71
6.) Trade Cards & DEC. There is a buy-sell channel in the Splinterlands Discord where players trade. You do need to know the person as if you don't you will risk losing your money or cards. There is a big community and you can check out the channel where players will vouch for one another after deals. I prefer using Monstermarket.io as I get 3% cashback. You can view all sites in-game under the market. When I was building up my deck I did use this a lot though to get cards I needed and trade with extras I had. DEC has been very low at times and you can buy it, wait until it goes back up which is often during the weekends I noticed.
7.) Win Giveaways! Yes, there are a ton of giveaways throughout the community. I have seen players make huge collections entering them all. Follow Splinterlands on Hive and check out all of their many contests and giveaways to earn! They have over 5 or 6 a week, just check their blog. Players also give away a ton, including myself! There is a giveaways channel in Discord for you to view and search for giveaways on Hive posts, Twitter, etc. Follow me on Twitch, and join me for a live stream, so many streamers giveaway awesome prizes every day! My links are below! Make sure you subscribe and click on notifications for when I'm streaming. All you have to do is be active on Twitch to get a chance to win!
8.) Earn SPS airdrops by holding Splinterlands assets such as cards, packs, land, champion points, totems, titles, DEC, DEC Liquidity pools, card skins, and SPT will earn you an SPS daily airdrop! You can stake your SPS and earn even more SPS! Read all about the airdrops and SPS HERE. There are many other ways to earn but these are the ones that I do daily.
I hope you all earn some crypto and have a great time as I do in Splinterlands! ~Chris Love AKA @clove71
I hope you all join me tonight on Christmas Eve, at 6:00 PM EST for a Christmas Eve tournament! The prize wheel is a bit large so you may not want to miss it. I will see you all tonight on Twitch right HERE. Check out my prize wheel below! Happy Holidays! ~@clove71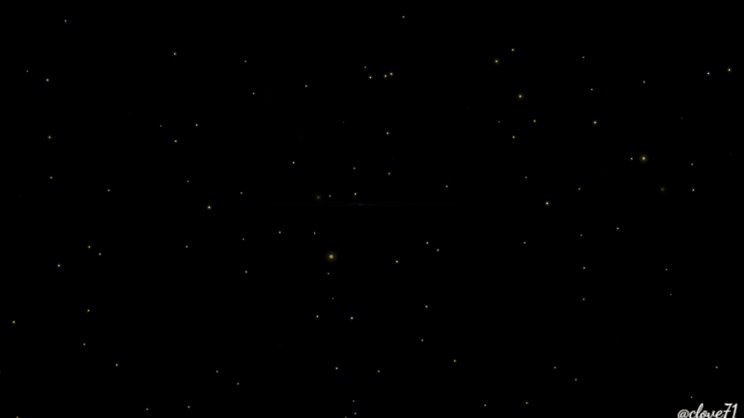 The Updated Christmas Eve and New Years' Eve Prize Wheel for my Twitch Subscribers!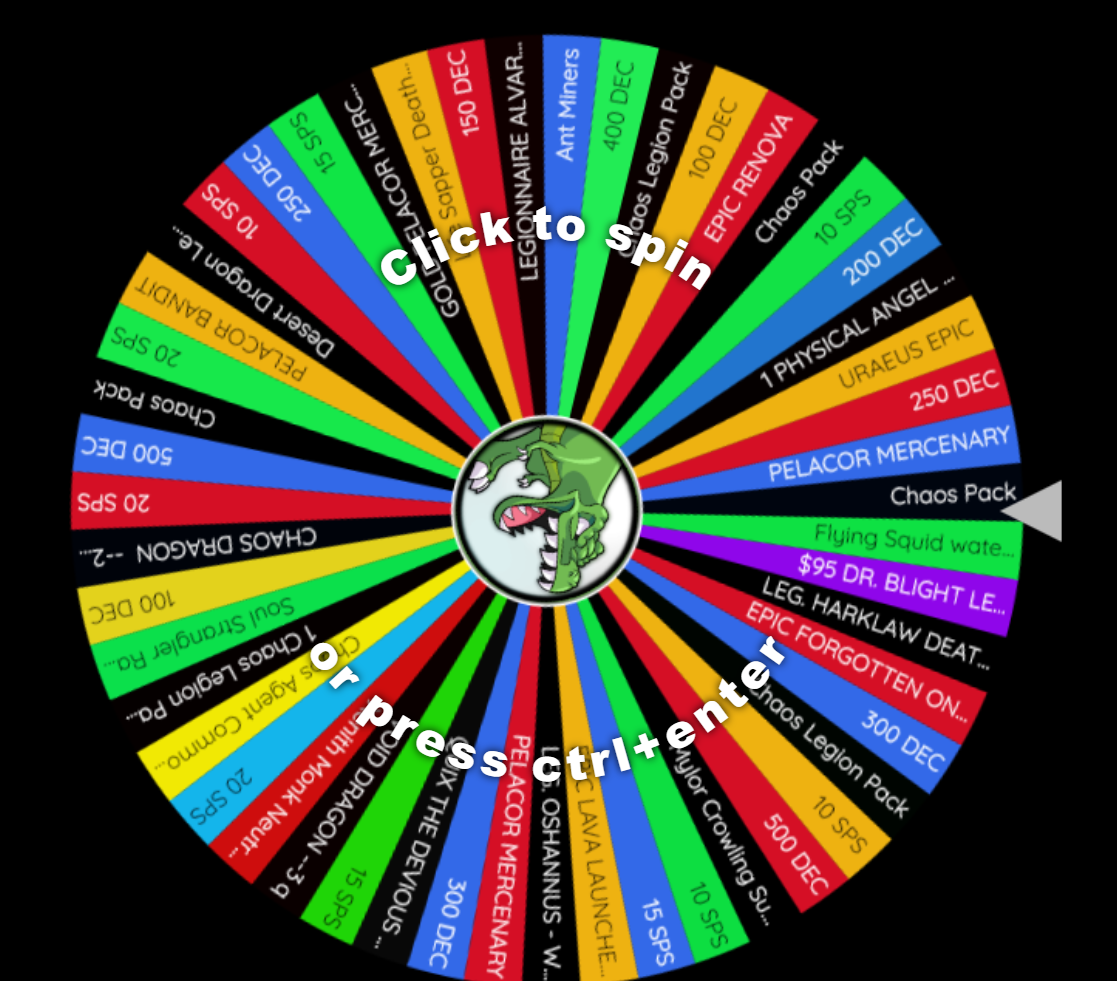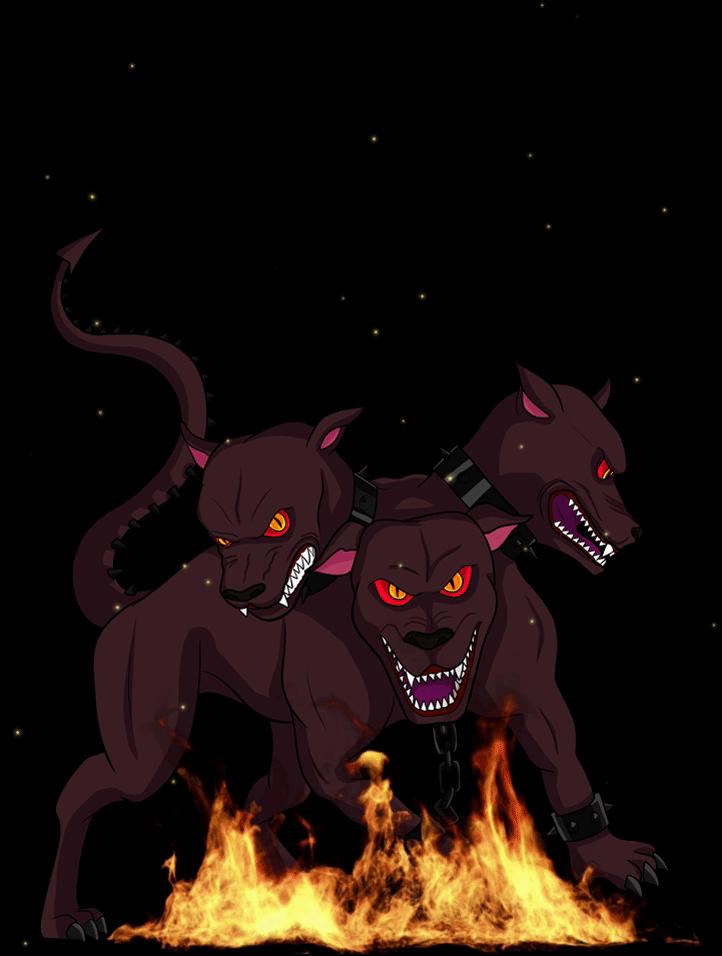 Catch me on Twitch for Live Coverage and Giveaways!
---

---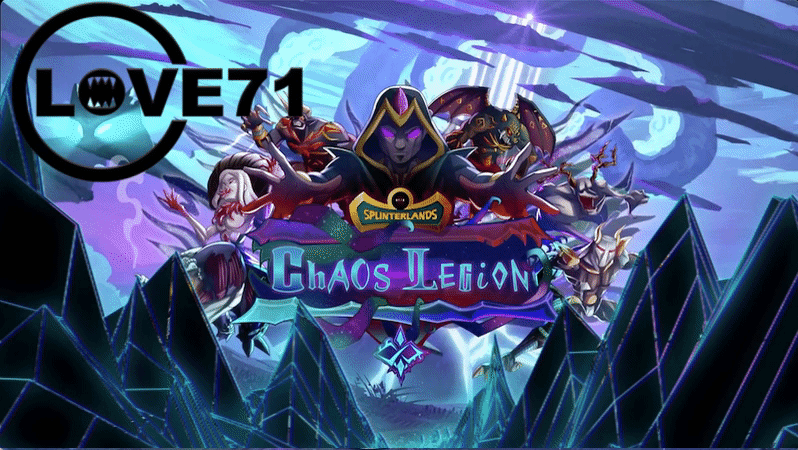 ---

---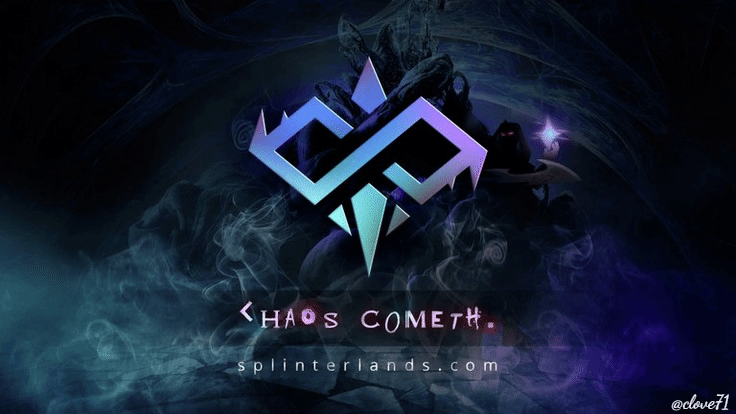 Immortal Gods is now RECRUITING! DM me, clove71#5266 in Discord if you have a nice win rate and decent cards so apply at the Guild OR you can DM me as well! Gold foil cards are needed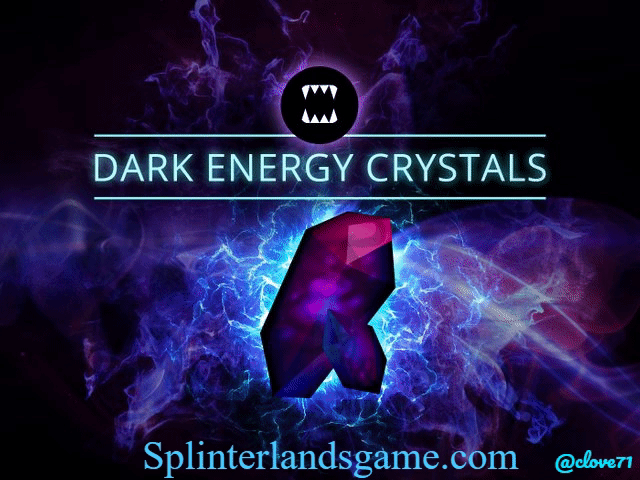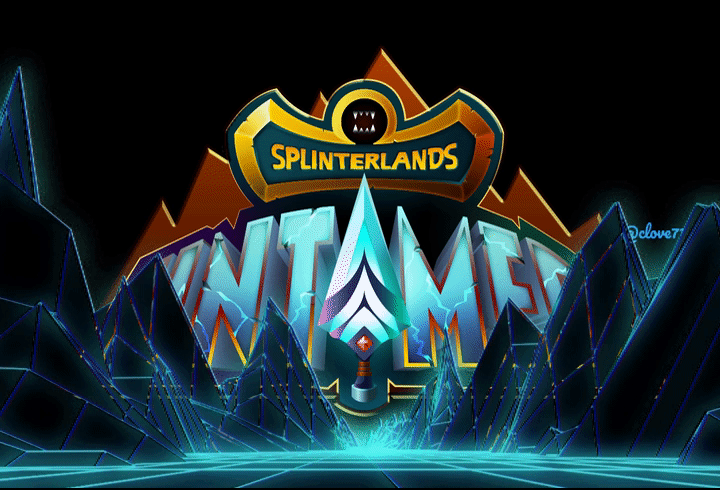 Splinterlands Custom Merch HERE
Start Playing Now for FREE!
TWITCH Live Streams HERE
MY NFT ART GALLERY HERE
THETA.tv Live Streams HERE
Splinterlands Content Twitter HERE
Splinterlands TikTok HERE
Splinterlands Discord HERE
Splinterlandsgame IG - HERE
YouTube Splinterlands Content - HERE
3Speak HIVE Splinterlands Community - HERE

I wish you luck in your battles and daily quest loot chests!
I will see you all on the battlefield!
May the Monsters be with you.
Chris Love @clove71
Splinterlands Rep


2021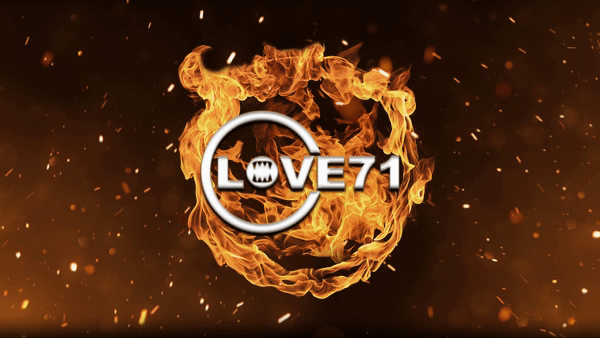 2019


2018