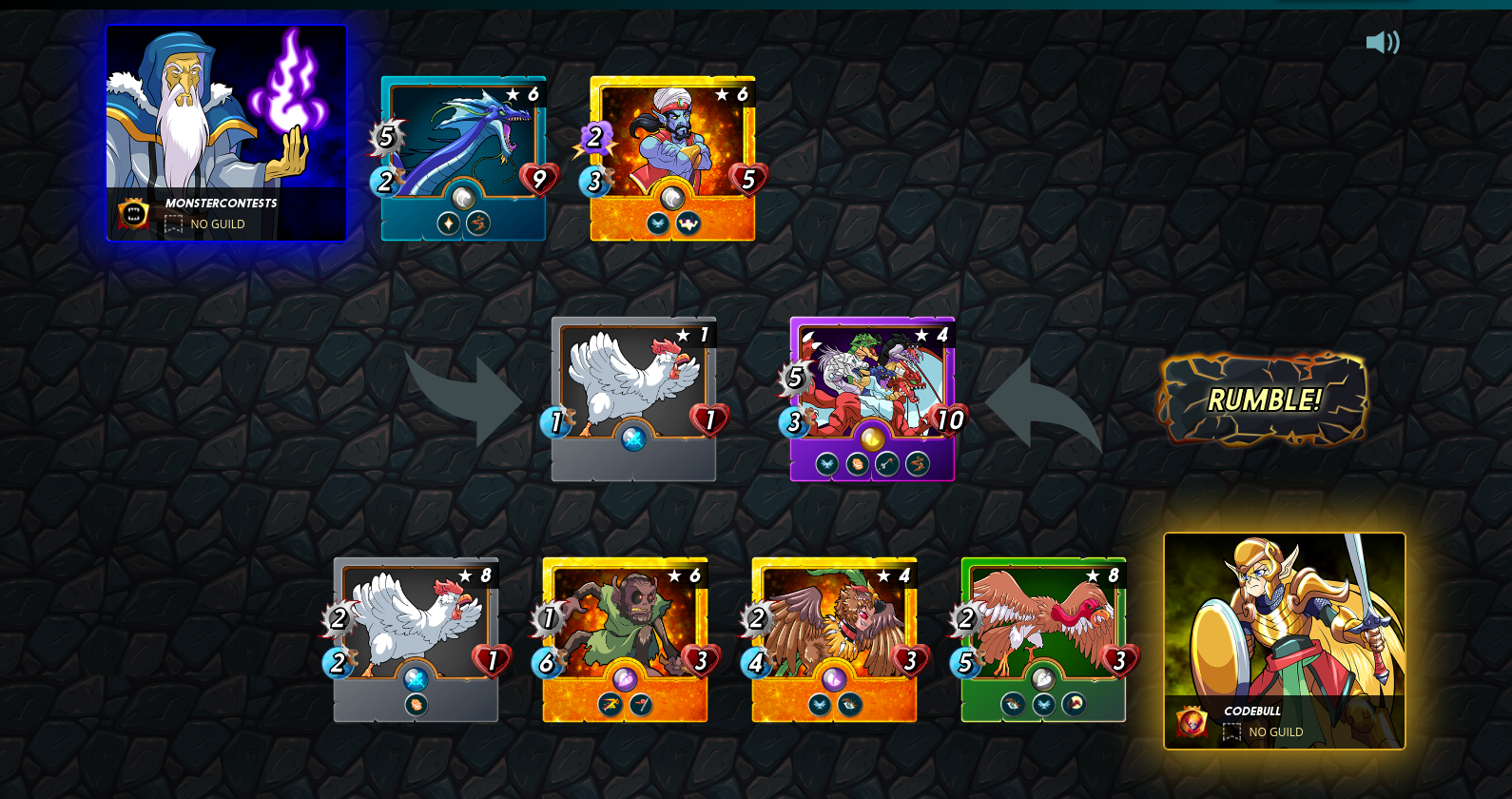 Battle Link
Today's top battle is between me and monstercontests.
Ruleset: Silenced Summoners and Earthquake
Mana Limit: 17
I have selected Daria Dragonscale (Lvl 6) summoner, and Chromatic Dragon (Lvl 4), Screeching Vulture (Lvl 8), Fiendish Harpy (Lvl 4), Brownie (Lvl 6), Furious Chicken (Lvl 8) monsters. Opponent has fielded Alric Stormbringer (Lvl 5) summoner and Furious Chicken (Lvl 1), Sea Monster (Lvl 6), Sea Genie (Lvl 6) monsters.
This battle has earned me 32.513 DEC and 48 rating points.
Today's Quest Rewards
| Cards | Gold | Legendary | Dec | Orb |
| --- | --- | --- | --- | --- |
| Sand Worm, Flame Monkey, Wave Runner, Gelatinous Cube, Ettin Spearman, Robo-Dragon Knight, Fineas Rage | 2 | 3 | 297 | 0 |
Today's All Battles
| Me | Result | Opponent |
| --- | --- | --- |
| Selenia Sky (Lvl 3), Chromatic Dragon (Lvl 3), Manticore (Lvl 4), Octopider (Lvl 6), Twisted Jester (Lvl 6), Soulstorm (Lvl 5), Goblin Chariot (Lvl 6) | Win View | Daria Dragonscale (Lvl 3), Lord Arianthus (Lvl 2), Manticore (Lvl 3), Air Elemental (Lvl 3), Peacebringer (Lvl 3), Silvershield Sheriff (Lvl 1), Cornealus (Lvl 1) |
| Selenia Sky (Lvl 3), Lord Arianthus (Lvl 2), Phantom Soldier (Lvl 5), Octopider (Lvl 6), Twisted Jester (Lvl 6), Soulstorm (Lvl 5), Vampire (Lvl 6) | Win View | Wizard of Eastwood (Lvl 6), Cornealus (Lvl 3), Goblin Sorcerer (Lvl 8), Khmer Princess (Lvl 5), Child of the Forest (Lvl 6), Mitica Headhunter (Lvl 4), Mantoid (Lvl 6) |
| Selenia Sky (Lvl 3), Flesh Golem (Lvl 5), Earth Elemental (Lvl 6), Javelin Thrower (Lvl 5), Goblin Chariot (Lvl 6), Barking Spider (Lvl 8), Highland Archer (Lvl 5) | Loss View | Lyanna Natura (Lvl 6), Flesh Golem (Lvl 7), Screeching Vulture (Lvl 8), Wood Nymph (Lvl 8), Javelin Thrower (Lvl 6), Mushroom Seer (Lvl 6), Earth Elemental (Lvl 5) |
| Daria Dragonscale (Lvl 6), Chromatic Dragon (Lvl 4), Screeching Vulture (Lvl 8), Fiendish Harpy (Lvl 4), Brownie (Lvl 6), Furious Chicken (Lvl 8) | Win View | Alric Stormbringer (Lvl 5), Furious Chicken (Lvl 1), Sea Monster (Lvl 6), Sea Genie (Lvl 6) |
| Daria Dragonscale (Lvl 6), Minotaur Warlord (Lvl 3), Chromatic Dragon (Lvl 4), Manticore (Lvl 4), Fiendish Harpy (Lvl 4), Dragon Jumper (Lvl 1), Chain Golem (Lvl 2) | Win View | Delwyn Dragonscale (Lvl 10), The Kraken (Lvl 1), Torhilo the Frozen (Lvl 4), Sand Worm (Lvl 3), Sabre Shark (Lvl 2), Dragon Jumper (Lvl 1), Creeping Ooze (Lvl 4) |
| Daria Dragonscale (Lvl 6), Flesh Golem (Lvl 5), Creeping Ooze (Lvl 10), Brownie (Lvl 6), Screeching Vulture (Lvl 8), Fiendish Harpy (Lvl 4), Furious Chicken (Lvl 8) | Win View | Zintar Mortalis (Lvl 5), Haunted Spirit (Lvl 4), Undead Priest (Lvl 3), Haunted Spider (Lvl 4), Twisted Jester (Lvl 3) |
---