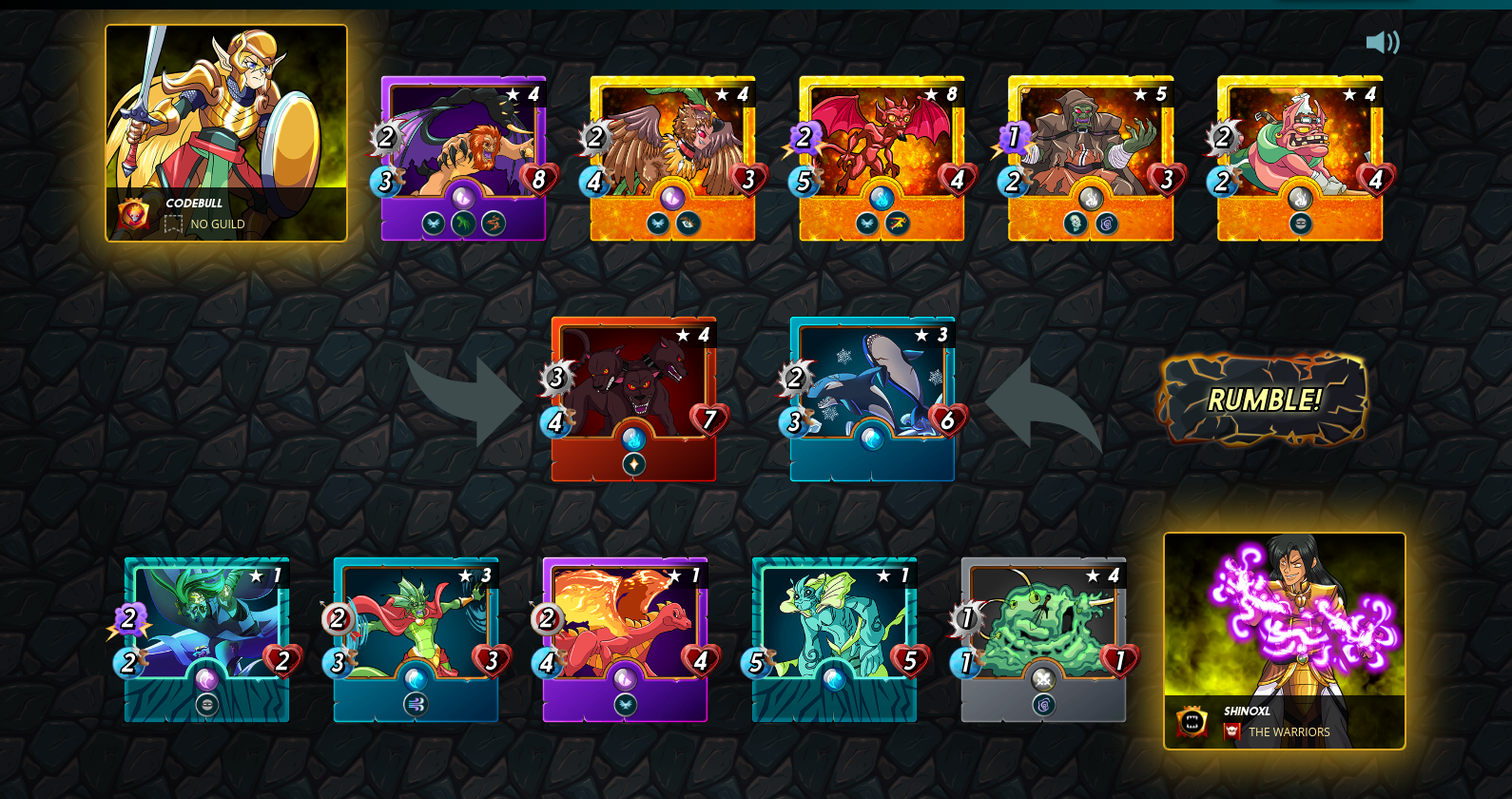 Battle Link
Today's top battle is between me and shinoxl.
Ruleset: Unprotected and Little League
Mana Limit: 22
I have selected Daria Dragonscale (Lvl 6) summoner, and Cerberus (Lvl 4), Manticore (Lvl 4), Fiendish Harpy (Lvl 4), Flame Imp (Lvl 8), Goblin Shaman (Lvl 5), Kobold Miner (Lvl 4) monsters. Opponent has fielded Neb Seni (Lvl 3) summoner and Battle Orca (Lvl 3), Creeping Ooze (Lvl 4), Kelp Initiate (Lvl 1), Fire Spitter (Lvl 1), Naga Windmaster (Lvl 3), Coral Wraith (Lvl 1) monsters.
This battle has earned me 38.028 DEC and 38 rating points.
Today's Quest Rewards
| Cards | Gold | Legendary | Dec | Orb |
| --- | --- | --- | --- | --- |
| Sand Worm, Barking Spider, Torhilo the Frozen, Baby Unicorn, Ettin Spearman | 1 | 5 | 167 | 0 |
Today's All Battles
| Me | Result | Opponent |
| --- | --- | --- |
| Daria Dragonscale (Lvl 6), Cerberus (Lvl 4), Manticore (Lvl 4), Fiendish Harpy (Lvl 4), Serpentine Spy (Lvl 4), Fire Spitter (Lvl 6), Beetle Queen (Lvl 8) | Win View | Tyrus Paladium (Lvl 5), Crystal Jaguar (Lvl 4), Halfling Alchemist (Lvl 1), Feral Spirit (Lvl 4), Peacebringer (Lvl 1), Centaur (Lvl 4), Highland Archer (Lvl 4) |
| Delwyn Dragonscale (Lvl 6), Phantom Soldier (Lvl 4), Dark Enchantress (Lvl 4), Screaming Banshee (Lvl 3), Death Elemental (Lvl 5), Undead Priest (Lvl 5), Octopider (Lvl 5) | Loss View | Mimosa Nightshade (Lvl 2), Shadowy Presence (Lvl 1), Goblin Mech (Lvl 5), Prismatic Energy (Lvl 4), Dark Enchantress (Lvl 2), Death Elemental (Lvl 2), Screaming Banshee (Lvl 1) |
| Selenia Sky (Lvl 3), Stone Golem (Lvl 6), Khmer Princess (Lvl 4), Earth Elemental (Lvl 6) | Loss View | Tyrus Paladium (Lvl 6), Sacred Unicorn (Lvl 3), Divine Healer (Lvl 3) |
| Daria Dragonscale (Lvl 6), Cerberus (Lvl 4), Manticore (Lvl 4), Fiendish Harpy (Lvl 4), Flame Imp (Lvl 8), Goblin Shaman (Lvl 5), Kobold Miner (Lvl 4) | Win View | Neb Seni (Lvl 3), Battle Orca (Lvl 3), Creeping Ooze (Lvl 4), Kelp Initiate (Lvl 1), Fire Spitter (Lvl 1), Naga Windmaster (Lvl 3), Coral Wraith (Lvl 1) |
| Alric Stormbringer (Lvl 4), Spineback Turtle (Lvl 5), Ice Pixie (Lvl 2), Mischievous Mermaid (Lvl 3), Ruler of the Seas (Lvl 2) | Win View | Tyrus Paladium (Lvl 7), Silvershield Paladin (Lvl 4), Feral Spirit (Lvl 5), Divine Healer (Lvl 6), Peacebringer (Lvl 6), Armorsmith (Lvl 6) |
---