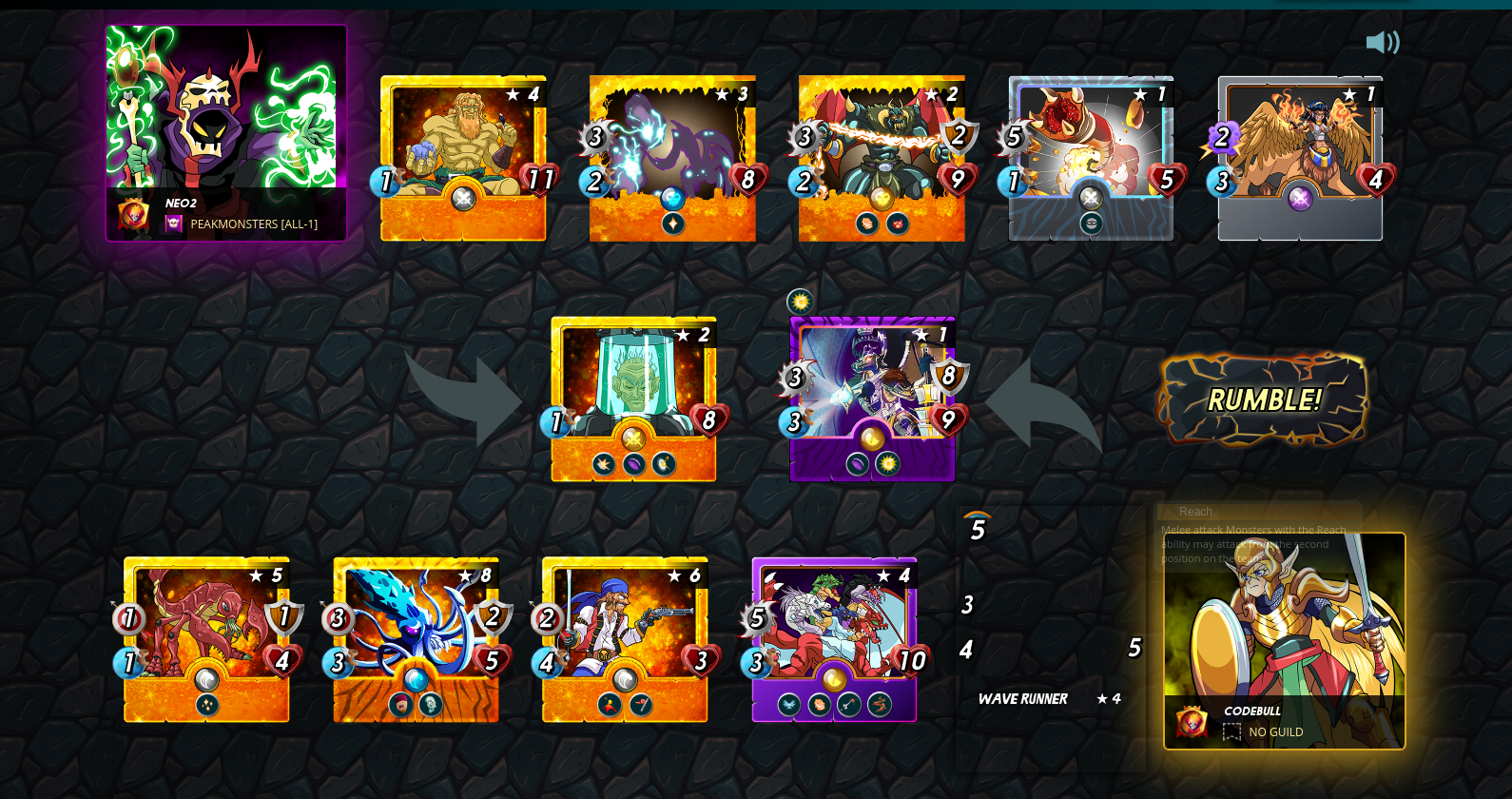 Battle Link
Today's top battle is between me and neo2.
Ruleset: Reverse Speed and Odd Ones Out
Mana Limit: 40
I have selected Daria Dragonscale (Lvl 6) summoner, and Robo-Dragon Knight (Lvl 1), Wave Runner (Lvl 4), Chromatic Dragon (Lvl 4), Pirate Captain (Lvl 6), Giant Squid (Lvl 8), Crustacean King (Lvl 5) monsters. Opponent has fielded Zintar Mortalis (Lvl 3) summoner and Lord Arianthus (Lvl 2), Peaceful Giant (Lvl 4), Haunted Spirit (Lvl 3), Lord of Darkness (Lvl 2), Sand Worm (Lvl 1), Magi Sphinx (Lvl 1) monsters.
This battle has earned me 33.516 DEC and 21 rating points.
Today's Quest Rewards
| Cards | Gold | Legendary | Dec | Orb |
| --- | --- | --- | --- | --- |
| Silvershield Sheriff, Nectar Queen, Nectar Queen, Baby Unicorn, Boogeyman, Screeching Vulture, Onyx Sentinel, Flame Monkey, Barking Spider, Undead Rexx, Wave Runner | 1 | 2 | 39 | 0 |
Today's All Battles
| Me | Result | Opponent |
| --- | --- | --- |
| Malric Inferno (Lvl 4), Cerberus (Lvl 4), Serpentine Spy (Lvl 4), Exploding Dwarf (Lvl 5), Kobold Miner (Lvl 4), Serpentine Soldier (Lvl 4) | Win View | Alric Stormbringer (Lvl 5), Spineback Turtle (Lvl 4), Creeping Ooze (Lvl 5), Pirate Archer (Lvl 5), Crustacean King (Lvl 6), Naga Windmaster (Lvl 5), Water Elemental (Lvl 3) |
| Alric Stormbringer (Lvl 4), The Kraken (Lvl 2), Captain's Ghost (Lvl 3), Sea Genie (Lvl 5), Mermaid Healer (Lvl 3), Ruler of the Seas (Lvl 2), Mischievous Mermaid (Lvl 3) | Loss View | Alric Stormbringer (Lvl 5), Sea Monster (Lvl 6), Prismatic Energy (Lvl 5), Sea Genie (Lvl 6), Ruler of the Seas (Lvl 2), Crustacean King (Lvl 6), Naga Windmaster (Lvl 5) |
| Selenia Sky (Lvl 3), Chain Golem (Lvl 2), Phantom Soldier (Lvl 5), Elven Mystic (Lvl 6), Twisted Jester (Lvl 6), Fire Spitter (Lvl 5), Octopider (Lvl 6) | Win View | Alric Stormbringer (Lvl 5), Spineback Turtle (Lvl 4), Sea Monster (Lvl 6), Prismatic Energy (Lvl 5), Ruler of the Seas (Lvl 2), Sea Genie (Lvl 6), Naga Windmaster (Lvl 5) |
| Selenia Sky (Lvl 3), Spineback Turtle (Lvl 5), Water Elemental (Lvl 4), Pirate Archer (Lvl 6) | Loss View | Zintar Mortalis (Lvl 6), Furious Chicken (Lvl 3), Haunted Spirit (Lvl 6), Haunted Spider (Lvl 8), Skeleton Assassin (Lvl 7) |
| Daria Dragonscale (Lvl 6), The Kraken (Lvl 3), Electric Eels (Lvl 8), Manticore (Lvl 4), Fiendish Harpy (Lvl 4), Dragon Jumper (Lvl 1), Chromatic Dragon (Lvl 4) | Win View | Yodin Zaku (Lvl 1), Goblin Mech (Lvl 3), Fineas Rage (Lvl 2), Molten Ogre (Lvl 3), Serpentine Spy (Lvl 3), Sand Worm (Lvl 3), Living Lava (Lvl 1) |
| Daria Dragonscale (Lvl 6), Robo-Dragon Knight (Lvl 1), Wave Runner (Lvl 4), Chromatic Dragon (Lvl 4), Pirate Captain (Lvl 6), Giant Squid (Lvl 8), Crustacean King (Lvl 5) | Win View | Zintar Mortalis (Lvl 3), Lord Arianthus (Lvl 2), Peaceful Giant (Lvl 4), Haunted Spirit (Lvl 3), Lord of Darkness (Lvl 2), Sand Worm (Lvl 1), Magi Sphinx (Lvl 1) |
---