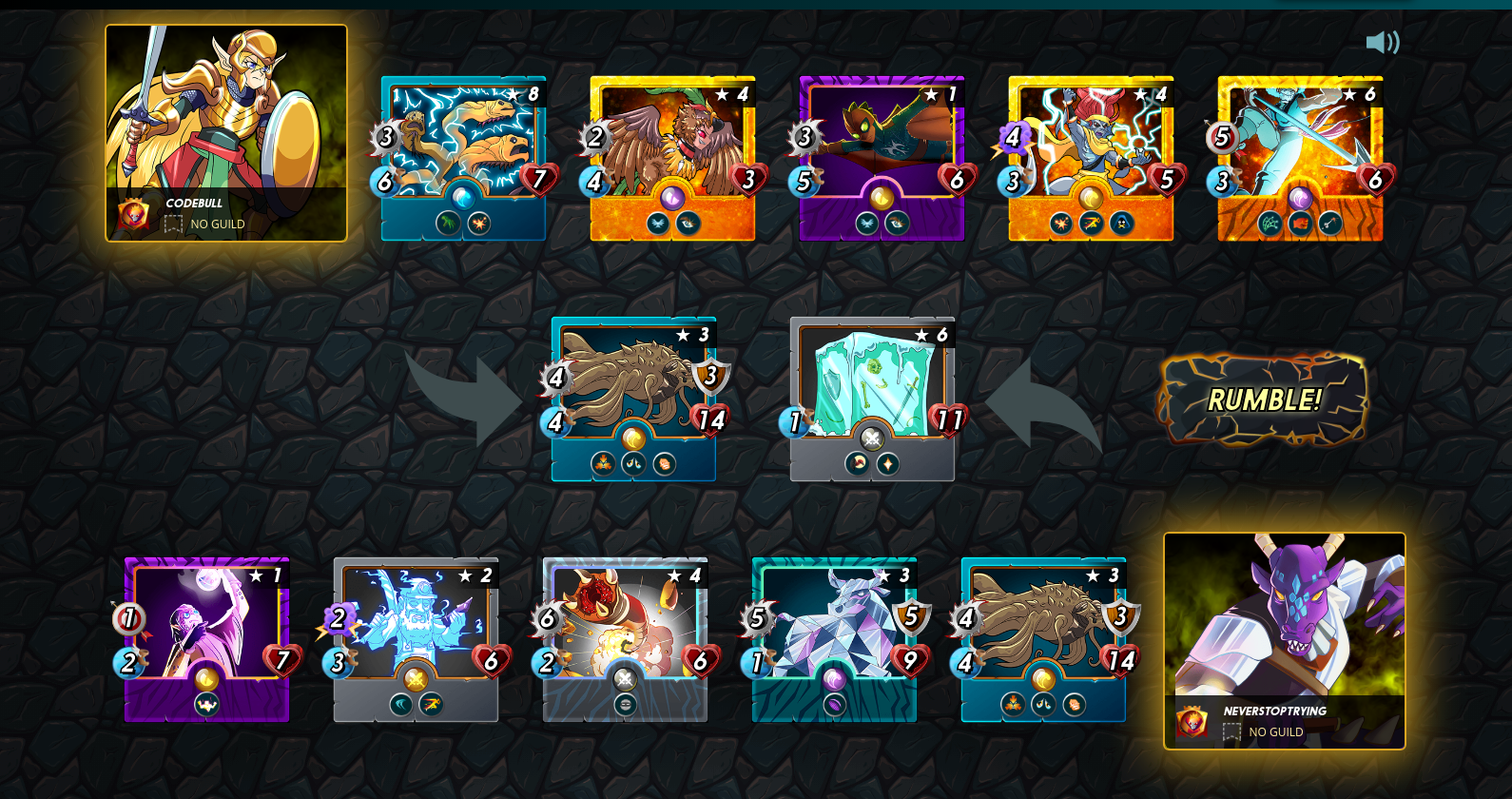 Battle Link
Today's top battle is between me and neverstoptrying.
Ruleset: Weak Magic
Mana Limit: 99
I have selected Daria Dragonscale (Lvl 6) summoner, and The Kraken (Lvl 3), Electric Eels (Lvl 8), Fiendish Harpy (Lvl 4), Dragon Jumper (Lvl 1), Ruler of the Seas (Lvl 4), Azmare Harpoonist (Lvl 6) monsters. Opponent has fielded Kretch Tallevor (Lvl 4) summoner and Gelatinous Cube (Lvl 6), The Kraken (Lvl 3), Torhilo the Frozen (Lvl 3), Sand Worm (Lvl 4), Spirit Miner (Lvl 2), Scale Doctor (Lvl 1) monsters.
This battle has earned me 28.873 DEC and 18 rating points.
Today's Quest Rewards
| Cards | Gold | Legendary | Dec | Orb |
| --- | --- | --- | --- | --- |
| Phantasm, Gremlin Blaster, Undead Rexx, Warrior of Peace, Silvershield Sheriff, Ettin Spearman, Screeching Vulture | 5 | 7 | 8 | 0 |
Today's All Battles
| Me | Result | Opponent |
| --- | --- | --- |
| Alric Stormbringer (Lvl 4), The Kraken (Lvl 2), Prismatic Energy (Lvl 4), Sea Genie (Lvl 5), Mischievous Mermaid (Lvl 3), Ruler of the Seas (Lvl 2), Phantom of the Abyss (Lvl 1) | Win View | Tyrus Paladium (Lvl 4), Warrior of Peace (Lvl 4), Goblin Mech (Lvl 5), Sand Worm (Lvl 3), High Priest Darius (Lvl 1), Prismatic Energy (Lvl 3), Defender of Truth (Lvl 3) |
| Xia Seachan (Lvl 6), Lord Arianthus (Lvl 2), Electric Eels (Lvl 8), Sabre Shark (Lvl 5), Elven Cutthroat (Lvl 4), Pirate Archer (Lvl 8), Crustacean King (Lvl 5) | Win View | Contessa L'ament (Lvl 5), Bone Golem (Lvl 5), Horny Toad (Lvl 6), Death Elemental (Lvl 4), Dwarven Wizard (Lvl 4), Haunted Spider (Lvl 4), Furious Chicken (Lvl 1) |
| Lyanna Natura (Lvl 4), Lord Arianthus (Lvl 2), Brownie (Lvl 3), Earth Elemental (Lvl 4), Highland Archer (Lvl 5), Goblin Chariot (Lvl 4), Javelin Thrower (Lvl 4) | Win View | Wizard of Eastwood (Lvl 5), Stone Golem (Lvl 1), Brownie (Lvl 4), Mushroom Seer (Lvl 5), Earth Elemental (Lvl 4), Highland Archer (Lvl 6), Javelin Thrower (Lvl 5) |
| Lyanna Natura (Lvl 4), Lord Arianthus (Lvl 2), Earth Elemental (Lvl 4), Javelin Thrower (Lvl 4), Goblin Chariot (Lvl 4), Highland Archer (Lvl 5), Creeping Ooze (Lvl 1) | Loss View | Wizard of Eastwood (Lvl 8), Failed Summoner (Lvl 7), Earth Elemental (Lvl 6), Mantoid (Lvl 8), Centaur (Lvl 7), Spirit of the Forest (Lvl 3) |
| Delwyn Dragonscale (Lvl 6), Prismatic Energy (Lvl 4), Phantom Soldier (Lvl 4), Boogeyman (Lvl 5), Undead Priest (Lvl 5), Fallen Specter (Lvl 2), Shadowy Presence (Lvl 3) | Loss View | Lyanna Natura (Lvl 8), Stone Golem (Lvl 4), Spirit Shaman (Lvl 5), Screeching Vulture (Lvl 8), Prismatic Energy (Lvl 8), Wood Nymph (Lvl 10), Mushroom Seer (Lvl 4) |
| Daria Dragonscale (Lvl 6), Unicorn Mustang (Lvl 8), Manticore (Lvl 4), Screeching Vulture (Lvl 8), Fiendish Harpy (Lvl 4), Dragon Jumper (Lvl 1), Khmer Princess (Lvl 4) | Loss View | Lyanna Natura (Lvl 8), Flesh Golem (Lvl 10), Minotaur Warrior (Lvl 10), Earth Elemental (Lvl 8), Swamp Thing (Lvl 6), Magi of the Forest (Lvl 6), Spirit of the Forest (Lvl 4) |
| Daria Dragonscale (Lvl 6), Minotaur Warlord (Lvl 3), Fiendish Harpy (Lvl 4), Khmer Princess (Lvl 4), Furious Chicken (Lvl 8), Flesh Golem (Lvl 5) | Win View | Malric Inferno (Lvl 5), Ant Miners (Lvl 3), Magma Troll (Lvl 1), Spark Pixies (Lvl 1), Kobold Miner (Lvl 4), Goblin Fireballer (Lvl 1), Fire Demon (Lvl 4) |
| Daria Dragonscale (Lvl 6), Furious Chicken (Lvl 8), Chromatic Dragon (Lvl 4), Manticore (Lvl 4), Fiendish Harpy (Lvl 4), Dragon Jumper (Lvl 1), Screeching Vulture (Lvl 8) | Win View | Daria Dragonscale (Lvl 5), Mischievous Mermaid (Lvl 4), Ruler of the Seas (Lvl 2), Furious Chicken (Lvl 3), Crustacean King (Lvl 6), The Vigilator (Lvl 2) |
| Daria Dragonscale (Lvl 6), The Kraken (Lvl 3), Electric Eels (Lvl 8), Fiendish Harpy (Lvl 4), Dragon Jumper (Lvl 1), Ruler of the Seas (Lvl 4), Azmare Harpoonist (Lvl 6) | Win View | Kretch Tallevor (Lvl 4), Gelatinous Cube (Lvl 6), The Kraken (Lvl 3), Torhilo the Frozen (Lvl 3), Sand Worm (Lvl 4), Spirit Miner (Lvl 2), Scale Doctor (Lvl 1) |
| Delwyn Dragonscale (Lvl 6), Prismatic Energy (Lvl 4), Sea Genie (Lvl 6), Mischievous Mermaid (Lvl 4), Magi Sphinx (Lvl 1), Tortisian Chief (Lvl 4), Azmare Harpoonist (Lvl 4) | Win View | Alric Stormbringer (Lvl 3), Torhilo the Frozen (Lvl 2), Prismatic Energy (Lvl 1), Captain's Ghost (Lvl 1), Sea Genie (Lvl 1), Medusa (Lvl 3), War Chaang (Lvl 1) |
| Malric Inferno (Lvl 4), Molten Ogre (Lvl 5), Ettin Spearman (Lvl 5), Ferexia General (Lvl 3), Fire Elemental (Lvl 4), Pyromancer (Lvl 3), Goblin Chariot (Lvl 4) | Loss View | Tyrus Paladium (Lvl 5), Silvershield Paladin (Lvl 5), Silvershield Assassin (Lvl 5), Feral Spirit (Lvl 5), Elven Cutthroat (Lvl 6), Enchanted Pixie (Lvl 5), Silvershield Knight (Lvl 6) |
| Selenia Sky (Lvl 3), Stone Golem (Lvl 6), Earth Elemental (Lvl 6), Javelin Thrower (Lvl 5), Fire Spitter (Lvl 5), Swamp Thing (Lvl 2) | Win View | Lyanna Natura (Lvl 5), Flesh Golem (Lvl 5), Mushroom Seer (Lvl 5), Wood Nymph (Lvl 6), Magi of the Forest (Lvl 2) |
| Alric Stormbringer (Lvl 4), Sea Genie (Lvl 5), Water Elemental (Lvl 4), Crustacean King (Lvl 5), Poseidon (Lvl 1), Ruler of the Seas (Lvl 2), Azmare Harpoonist (Lvl 3) | Loss View | Alric Stormbringer (Lvl 5), Lord Arianthus (Lvl 3), Prismatic Energy (Lvl 5), Medusa (Lvl 5), Crustacean King (Lvl 6), Ruler of the Seas (Lvl 3), Sea Genie (Lvl 6) |
| Alric Stormbringer (Lvl 4), Spineback Turtle (Lvl 5), Sea Genie (Lvl 5), Pirate Archer (Lvl 4), Medusa (Lvl 3), Ice Pixie (Lvl 2), Crustacean King (Lvl 5) | Win View | Alric Stormbringer (Lvl 3), Furious Chicken (Lvl 1), Creeping Ooze (Lvl 2), Captain's Ghost (Lvl 1), Sea Genie (Lvl 1), Ice Pixie (Lvl 1), Water Elemental (Lvl 3) |
| Alric Stormbringer (Lvl 4), The Kraken (Lvl 2), Sea Genie (Lvl 5), Ruler of the Seas (Lvl 2), Mischievous Mermaid (Lvl 3), Phantom of the Abyss (Lvl 1), Azmare Harpoonist (Lvl 3) | Win View | Bortus (Lvl 1), Frozen Soldier (Lvl 1), Serpent of Eld (Lvl 1), Torhilo the Frozen (Lvl 1), Sand Worm (Lvl 1), Captain's Ghost (Lvl 1), Water Elemental (Lvl 1) |
---