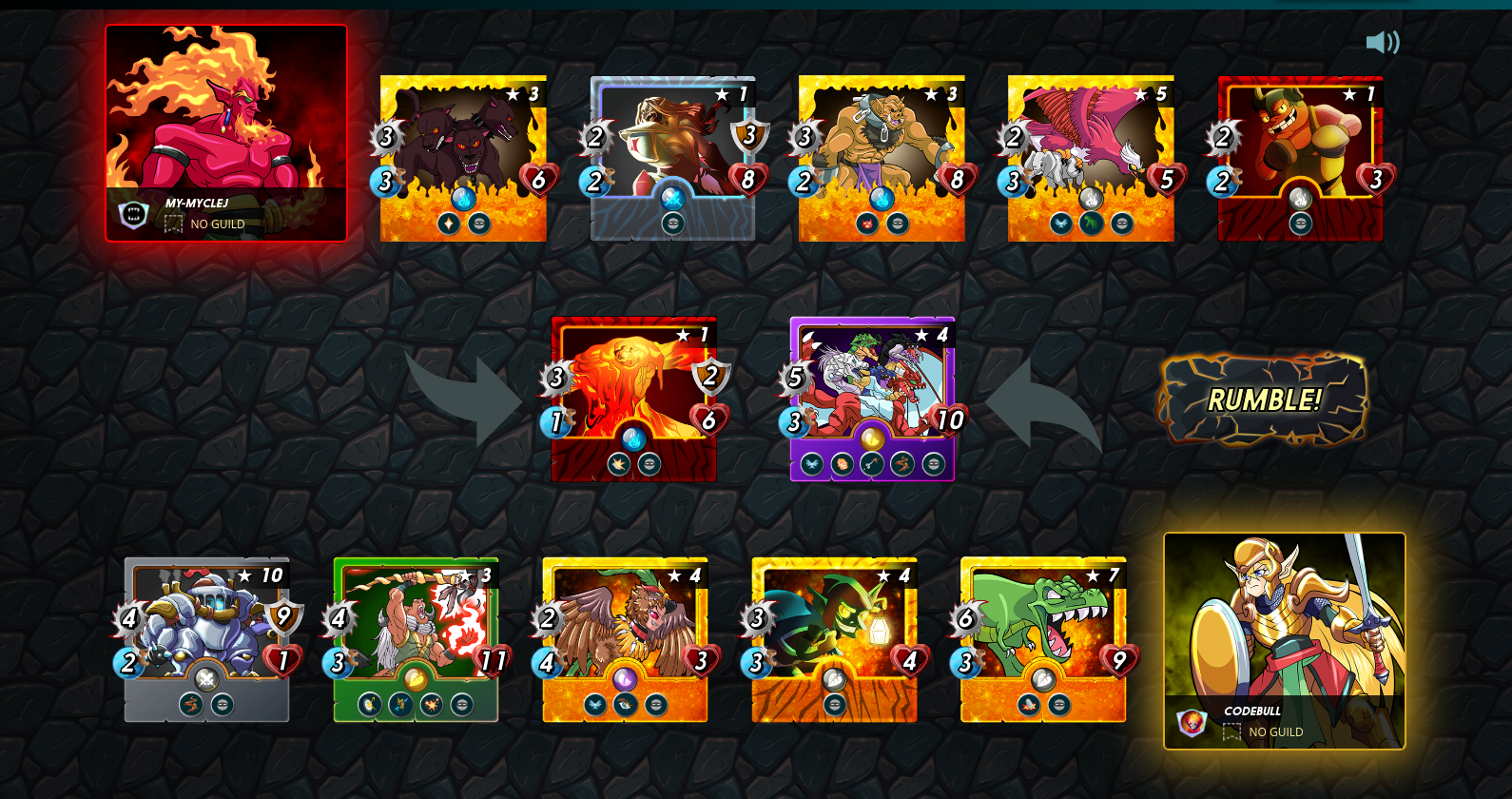 Battle Link
Today's top battle is between me and my-myclej.
Ruleset: Super Sneak and Up Close & Personal
Mana Limit: 36
I have selected Daria Dragonscale (Lvl 6) summoner, and Chromatic Dragon (Lvl 4), Rexxie (Lvl 7), Goblin Thief (Lvl 4), Fiendish Harpy (Lvl 4), Minotaur Warlord (Lvl 3), Enchanted Defender (Lvl 10) monsters. Opponent has fielded Malric Inferno (Lvl 4) summoner and Living Lava (Lvl 1), Cerberus (Lvl 3), Elven Defender (Lvl 1), Pit Ogre (Lvl 3), Giant Roc (Lvl 5), Kobold Bruiser (Lvl 1) monsters.
This battle has earned me 41.922 DEC and 42 rating points.
Today's Quest Rewards
| Cards | Gold | Legendary | Dec | Orb |
| --- | --- | --- | --- | --- |
| Barking Spider, Warrior of Peace, Gremlin Blaster, Serpentine Mystic | 2 | 1 | 111 | 0 |
Today's All Battles
| Me | Result | Opponent |
| --- | --- | --- |
| Lyanna Natura (Lvl 4), Flesh Golem (Lvl 5), Goblin Thief (Lvl 4), Screeching Vulture (Lvl 5), Brownie (Lvl 3), Stonesplitter Orc (Lvl 3) | Win View | Lyanna Natura (Lvl 8), Unicorn Mustang (Lvl 1), Elven Cutthroat (Lvl 10), Orc Sergeant (Lvl 1), Goblin Thief (Lvl 1) |
| Selenia Sky (Lvl 3), Haunted Spirit (Lvl 4), Maggots (Lvl 4), Vampire (Lvl 6), Soulstorm (Lvl 5), Death Elemental (Lvl 6) | Loss View | Talia Firestorm (Lvl 5), Exploding Dwarf (Lvl 6), Flame Monkey (Lvl 5), Elemental Phoenix (Lvl 2), Flame Imp (Lvl 5), Goblin Shaman (Lvl 3), Lord of Fire (Lvl 3) |
| Zintar Mortalis (Lvl 4), Haunted Spirit (Lvl 4), Twisted Jester (Lvl 4), Haunted Spider (Lvl 5) | Win View | Zintar Mortalis (Lvl 6), Goblin Mech (Lvl 4), Undead Badger (Lvl 1), Furious Chicken (Lvl 1) |
| Alric Stormbringer (Lvl 4), Spineback Turtle (Lvl 5), Ruler of the Seas (Lvl 2), Mischievous Mermaid (Lvl 3), Mermaid Healer (Lvl 3), Ice Pixie (Lvl 2), Coral Wraith (Lvl 1) | Loss View | Tyrus Paladium (Lvl 8), Silvershield Paladin (Lvl 8), Divine Healer (Lvl 10), Feral Spirit (Lvl 10), Defender of Truth (Lvl 6), Peacebringer (Lvl 8), Air Elemental (Lvl 6) |
| Daria Dragonscale (Lvl 6), Cerberus (Lvl 4), Magma Troll (Lvl 10), Fiendish Harpy (Lvl 4), Serpentine Spy (Lvl 4), Parasitic Growth (Lvl 6), Beetle Queen (Lvl 8) | Loss View | Selenia Sky (Lvl 4), Elven Mystic (Lvl 8), Horny Toad (Lvl 10), Baby Unicorn (Lvl 6), Dwarven Wizard (Lvl 6), Serpentine Mystic (Lvl 8), Parasitic Growth (Lvl 10) |
| Daria Dragonscale (Lvl 6), Chromatic Dragon (Lvl 4), Rexxie (Lvl 7), Goblin Thief (Lvl 4), Fiendish Harpy (Lvl 4), Minotaur Warlord (Lvl 3), Enchanted Defender (Lvl 10) | Win View | Malric Inferno (Lvl 4), Living Lava (Lvl 1), Cerberus (Lvl 3), Elven Defender (Lvl 1), Pit Ogre (Lvl 3), Giant Roc (Lvl 5), Kobold Bruiser (Lvl 1) |
| Daria Dragonscale (Lvl 6), Chromatic Dragon (Lvl 4), Manticore (Lvl 4), Fiendish Harpy (Lvl 4), Flame Imp (Lvl 8), Dragon Jumper (Lvl 1), Fire Spitter (Lvl 6) | Win View | Daria Dragonscale (Lvl 4), Chromatic Dragon (Lvl 2), Manticore (Lvl 4), Gold Dragon (Lvl 2), Dragon Jumper (Lvl 2), Fiendish Harpy (Lvl 4), Javelin Thrower (Lvl 5) |
---