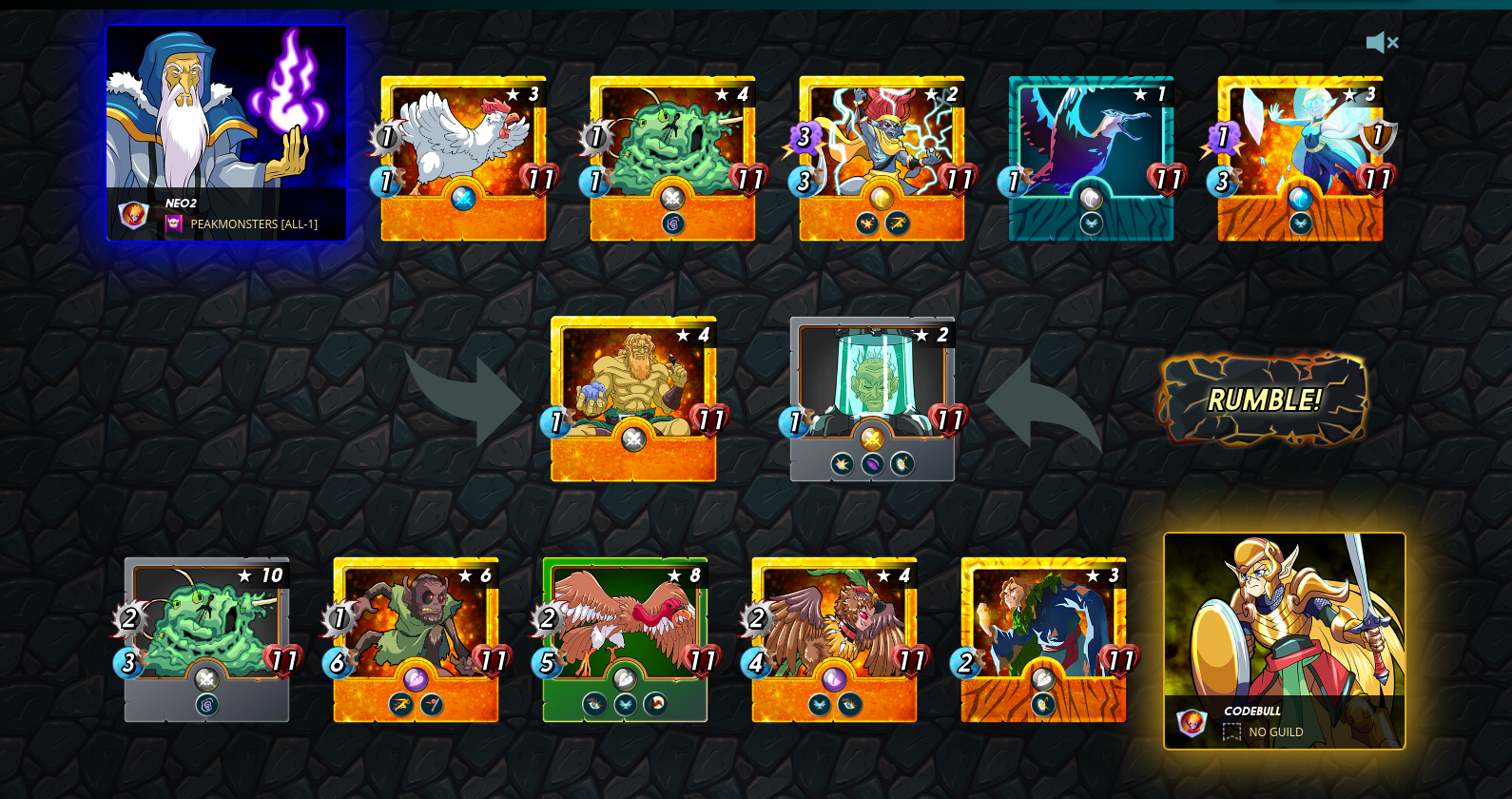 Battle Link
Today's top battle is between me and neo2.
Ruleset: Close Range and Equalizer
Mana Limit: 18
I have selected Daria Dragonscale (Lvl 6) summoner, and Lord Arianthus (Lvl 2), Failed Summoner (Lvl 3), Fiendish Harpy (Lvl 4), Screeching Vulture (Lvl 8), Brownie (Lvl 6), Creeping Ooze (Lvl 10) monsters. Opponent has fielded Alric Stormbringer (Lvl 3) summoner and Peaceful Giant (Lvl 4), Furious Chicken (Lvl 3), Creeping Ooze (Lvl 4), Ruler of the Seas (Lvl 2), Albatross (Lvl 1), Ice Pixie (Lvl 3) monsters.
This battle has earned me 35.876 DEC and 21 rating points.
Today's Quest Rewards
| Cards | Gold | Legendary | Dec | Orb |
| --- | --- | --- | --- | --- |
| | 4 | 5 | 221 | 0 |
Today's All Battles
| Me | Result | Opponent |
| --- | --- | --- |
| Selenia Sky (Lvl 3), Robo-Dragon Knight (Lvl 1), Chromatic Dragon (Lvl 3), Cthulhu (Lvl 1), Vampire (Lvl 6), Soulstorm (Lvl 5), Goblin Chariot (Lvl 6) | Win View | Delwyn Dragonscale (Lvl 5), Lord Arianthus (Lvl 2), The Vigilator (Lvl 1), Ancient Lich (Lvl 1), Haunted Spider (Lvl 5), Screaming Banshee (Lvl 3), Death Elemental (Lvl 4) |
| Selenia Sky (Lvl 3), Flesh Golem (Lvl 5), Screeching Vulture (Lvl 8), Fiendish Harpy (Lvl 4), Brownie (Lvl 5) | Win View | Daria Dragonscale (Lvl 3), Brownie (Lvl 3), Swamp Thing (Lvl 1), Earth Elemental (Lvl 3), Javelin Thrower (Lvl 3) |
| Alric Stormbringer (Lvl 4), Ruler of the Seas (Lvl 2), Albatross (Lvl 3), Medusa (Lvl 3), Ice Pixie (Lvl 2), Furious Chicken (Lvl 4) | Loss View | Plado Emberstorm (Lvl 4), Cerberus (Lvl 8), Creeping Ooze (Lvl 10), Goblin Shaman (Lvl 10), Kobold Miner (Lvl 10), Furious Chicken (Lvl 8) |
| Daria Dragonscale (Lvl 6), Lord Arianthus (Lvl 2), Failed Summoner (Lvl 3), Screeching Vulture (Lvl 8), Fiendish Harpy (Lvl 4), Parasitic Growth (Lvl 6), Brownie (Lvl 6) | Win View | Alric Stormbringer (Lvl 3), Spineback Turtle (Lvl 4), Kelp Initiate (Lvl 1), Sabre Shark (Lvl 4), Ruler of the Seas (Lvl 1), Furious Chicken (Lvl 1), Medusa (Lvl 3) |
| Daria Dragonscale (Lvl 6), Furious Chicken (Lvl 8), Chromatic Dragon (Lvl 4), Manticore (Lvl 4), Fiendish Harpy (Lvl 4), Dragon Jumper (Lvl 1), Ferexia General (Lvl 6) | Loss View | Malric Inferno (Lvl 8), Cerberus (Lvl 8), Serpentine Soldier (Lvl 8), Serpent of the Flame (Lvl 6), Pit Ogre (Lvl 8), Kobold Miner (Lvl 9), Flame Imp (Lvl 8) |
| Daria Dragonscale (Lvl 6), Lord Arianthus (Lvl 2), Failed Summoner (Lvl 3), Fiendish Harpy (Lvl 4), Screeching Vulture (Lvl 8), Brownie (Lvl 6), Creeping Ooze (Lvl 10) | Win View | Alric Stormbringer (Lvl 3), Peaceful Giant (Lvl 4), Furious Chicken (Lvl 3), Creeping Ooze (Lvl 4), Ruler of the Seas (Lvl 2), Albatross (Lvl 1), Ice Pixie (Lvl 3) |
| Selenia Sky (Lvl 3), Haunted Spirit (Lvl 4), Haunted Spider (Lvl 5), Twisted Jester (Lvl 6), Furious Chicken (Lvl 6) | Loss View | Malric Inferno (Lvl 4), Cerberus (Lvl 4), Flame Monkey (Lvl 5), Creeping Ooze (Lvl 4), Kobold Miner (Lvl 5), Furious Chicken (Lvl 1), Fire Demon (Lvl 3) |
| Daria Dragonscale (Lvl 6), Lord Arianthus (Lvl 2), Screeching Vulture (Lvl 8), Fiendish Harpy (Lvl 4), Brownie (Lvl 6), Goblin Thief (Lvl 4) | Loss View | Lyanna Natura (Lvl 7), Furious Chicken (Lvl 3), Failed Summoner (Lvl 4), Brownie (Lvl 4), Mushroom Seer (Lvl 5), Screeching Vulture (Lvl 7), Javelin Thrower (Lvl 7) |
---