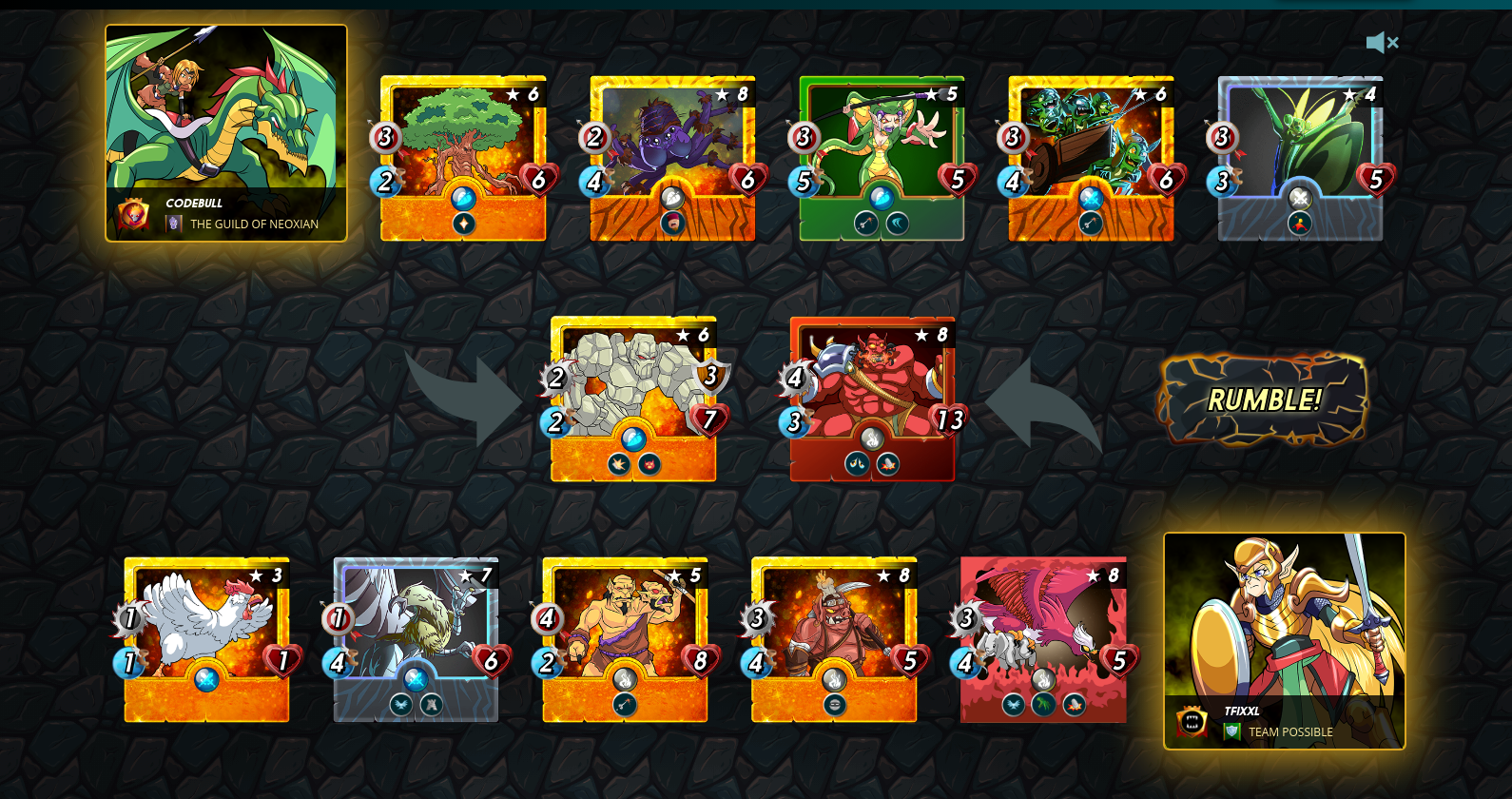 Battle Link
Today's top battle is between me and tfixxl.
Ruleset: Rise of the Commons
Mana Limit: 32
I have selected Selenia Sky (Lvl 3) summoner, and Stone Golem (Lvl 6), Earth Elemental (Lvl 6), Barking Spider (Lvl 8), Javelin Thrower (Lvl 5), Goblin Chariot (Lvl 6), Mantoid (Lvl 4) monsters. Opponent has fielded Daria Dragonscale (Lvl 6) summoner and Molten Ogre (Lvl 8), Giant Roc (Lvl 8), Kobold Miner (Lvl 8), Ettin Spearman (Lvl 5), Tower Griffin (Lvl 7), Furious Chicken (Lvl 3) monsters.
This battle has earned me 33.658 DEC and 54 rating points.
Today's Quest Rewards
| Cards | Gold | Legendary | Dec | Orb |
| --- | --- | --- | --- | --- |
| Screeching Vulture, Baby Unicorn, Gloridax Soldier, Ettin Spearman, Gelatinous Cube, Nectar Queen, Undead Rexx | 2 | 3 | 73 | 1 |
Today's All Battles
| Me | Result | Opponent |
| --- | --- | --- |
| Daria Dragonscale (Lvl 6), Lord Arianthus (Lvl 2), Failed Summoner (Lvl 3), Screeching Vulture (Lvl 8), Fiendish Harpy (Lvl 4), Elven Cutthroat (Lvl 4), Brownie (Lvl 6) | Win View | Alric Stormbringer (Lvl 3), Lord Arianthus (Lvl 2), Creeping Ooze (Lvl 4), Furious Chicken (Lvl 3), Ice Pixie (Lvl 2), Ruler of the Seas (Lvl 2), Dwarven Wizard (Lvl 1) |
| Daria Dragonscale (Lvl 6), Unicorn Mustang (Lvl 8), Chromatic Dragon (Lvl 4), Oaken Behemoth (Lvl 1), Screeching Vulture (Lvl 8), Dragon Jumper (Lvl 1), Javelin Thrower (Lvl 5) | Loss View | Delwyn Dragonscale (Lvl 8), Lord of Darkness (Lvl 3), Corrupted Pegasus (Lvl 3), Phantom Soldier (Lvl 5), Dark Enchantress (Lvl 5), Boogeyman (Lvl 5), Octopider (Lvl 6) |
| Daria Dragonscale (Lvl 6), Chromatic Dragon (Lvl 4), Screeching Vulture (Lvl 8), Fiendish Harpy (Lvl 4), Furious Chicken (Lvl 8) | Win View | Lyanna Natura (Lvl 8), Flesh Golem (Lvl 10), Wood Nymph (Lvl 9), Enchanted Pixie (Lvl 8) |
| Daria Dragonscale (Lvl 6), Stone Golem (Lvl 8), Fiendish Harpy (Lvl 4), Screeching Vulture (Lvl 8), Furious Chicken (Lvl 8) | Loss View | Alric Stormbringer (Lvl 8), Furious Chicken (Lvl 1), Albatross (Lvl 9), Creeping Ooze (Lvl 10), Ruler of the Seas (Lvl 4), Ice Pixie (Lvl 5) |
| Daria Dragonscale (Lvl 6), Crystal Werewolf (Lvl 6), Manticore (Lvl 4), Fiendish Harpy (Lvl 4), Feral Spirit (Lvl 4), Silvershield Bard (Lvl 8), Crystal Jaguar (Lvl 10) | Loss View | Selenia Sky (Lvl 4), Crystal Jaguar (Lvl 3), Creeping Ooze (Lvl 8), Divine Healer (Lvl 5), Defender of Truth (Lvl 3), Thunderbird (Lvl 1), Peacebringer (Lvl 4) |
| Daria Dragonscale (Lvl 6), The Kraken (Lvl 3), Electric Eels (Lvl 8), Ruler of the Seas (Lvl 4), Dragon Jumper (Lvl 1), Fiendish Harpy (Lvl 4), Naga Windmaster (Lvl 8) | Win View | Delwyn Dragonscale (Lvl 5), Warrior of Peace (Lvl 5), Dragon Jumper (Lvl 2), Gold Dragon (Lvl 2), Diamond Dragon (Lvl 2), Divine Healer (Lvl 5), Defender of Truth (Lvl 3) |
| Daria Dragonscale (Lvl 6), Cerberus (Lvl 4), Manticore (Lvl 4), Fiendish Harpy (Lvl 4), Flame Imp (Lvl 8), Furious Chicken (Lvl 8) | Loss View | Malric Inferno (Lvl 5), Cerberus (Lvl 5), Furious Chicken (Lvl 3), Flame Imp (Lvl 5), Goblin Shaman (Lvl 6), Kobold Miner (Lvl 5), Imp Bowman (Lvl 4) |
| Selenia Sky (Lvl 3), Stone Golem (Lvl 6), Earth Elemental (Lvl 6), Barking Spider (Lvl 8), Javelin Thrower (Lvl 5), Goblin Chariot (Lvl 6), Mantoid (Lvl 4) | Win View | Daria Dragonscale (Lvl 6), Molten Ogre (Lvl 8), Giant Roc (Lvl 8), Kobold Miner (Lvl 8), Ettin Spearman (Lvl 5), Tower Griffin (Lvl 7), Furious Chicken (Lvl 3) |
| Selenia Sky (Lvl 3), Haunted Spirit (Lvl 4), Shadowy Presence (Lvl 3), Haunted Spider (Lvl 5), Soulstorm (Lvl 5), Furious Chicken (Lvl 6) | Win View | Zintar Mortalis (Lvl 5), Haunted Spirit (Lvl 4), Skeleton Assassin (Lvl 6), Elven Cutthroat (Lvl 5), Haunted Spider (Lvl 5), Furious Chicken (Lvl 5) |
---