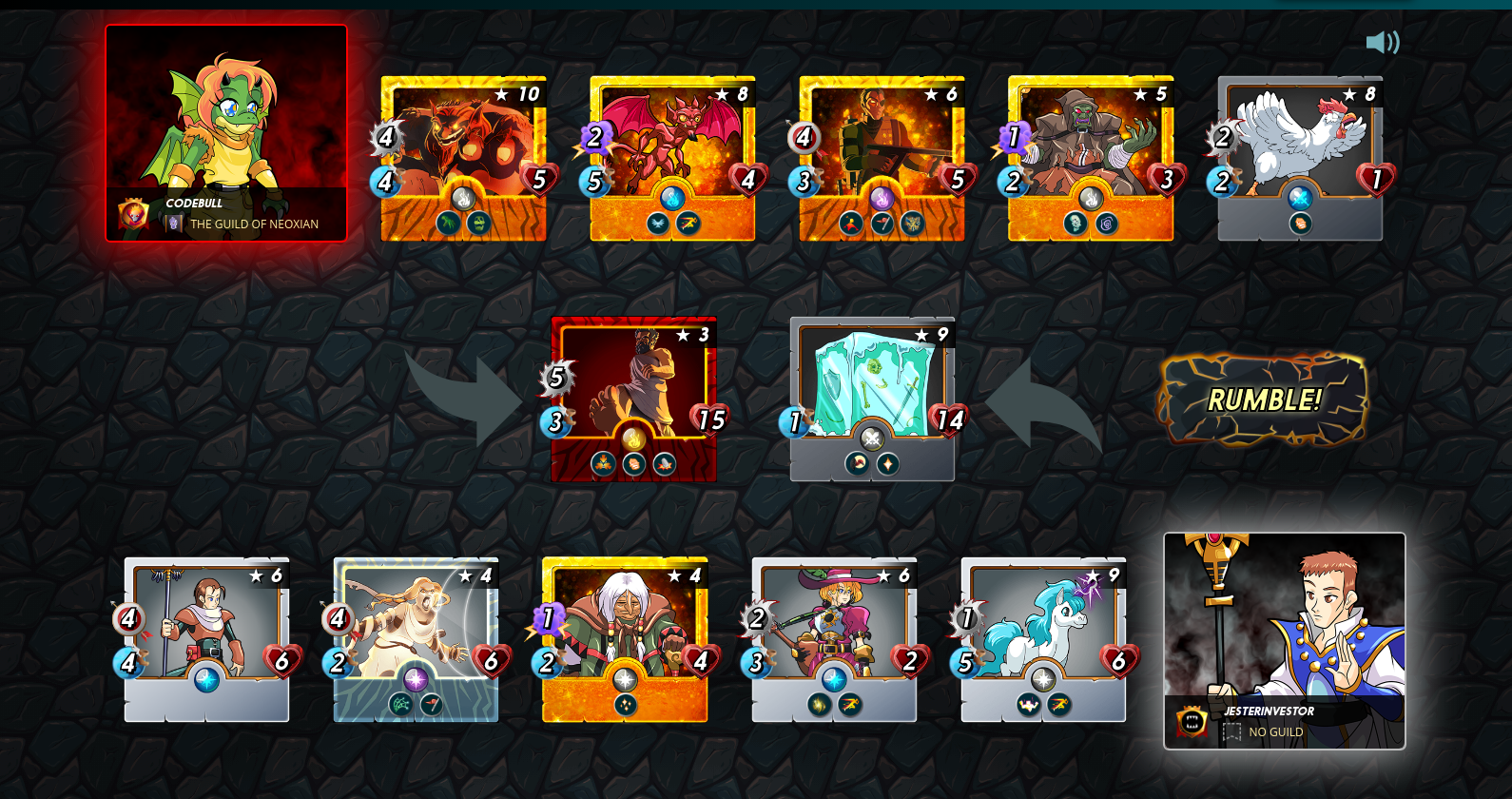 Battle Link
Today's top battle is between me and jesterinvestor.
Ruleset: Unprotected
Mana Limit: 27
I have selected Talia Firestorm (Lvl 6) summoner, and Magnor (Lvl 3), Magma Troll (Lvl 10), Flame Imp (Lvl 8), Ferexia General (Lvl 6), Goblin Shaman (Lvl 5), Furious Chicken (Lvl 8) monsters. Opponent has fielded Tyrus Paladium (Lvl 7) summoner and Gelatinous Cube (Lvl 9), Baby Unicorn (Lvl 9), Silvershield Bard (Lvl 6), Divine Healer (Lvl 4), Evangelist (Lvl 4), Peacebringer (Lvl 6) monsters.
This battle has earned me 31.655 DEC and 56 rating points.
Today's Quest Rewards
| Cards | Gold | Legendary | Dec | Orb |
| --- | --- | --- | --- | --- |
| Fineas Rage, Wave Runner, Centauri Mage | 5 | 2 | 81 | 0 |
Today's All Battles
| Me | Result | Opponent |
| --- | --- | --- |
| Talia Firestorm (Lvl 6), Magnor (Lvl 3), Magma Troll (Lvl 10), Flame Imp (Lvl 8), Ferexia General (Lvl 6), Goblin Shaman (Lvl 5), Furious Chicken (Lvl 8) | Win View | Tyrus Paladium (Lvl 7), Gelatinous Cube (Lvl 9), Baby Unicorn (Lvl 9), Silvershield Bard (Lvl 6), Divine Healer (Lvl 4), Evangelist (Lvl 4), Peacebringer (Lvl 6) |
| Talia Firestorm (Lvl 6), Exploding Dwarf (Lvl 6), Magma Troll (Lvl 10), Imp Bowman (Lvl 6), Ferexia General (Lvl 6), Creeping Ooze (Lvl 10), Furious Chicken (Lvl 8) | Win View | Malric Inferno (Lvl 8), Exploding Dwarf (Lvl 10), Flame Monkey (Lvl 5), Kobold Miner (Lvl 4), Ettin Spearman (Lvl 10) |
| Talia Firestorm (Lvl 6), Magnor (Lvl 3), Flame Imp (Lvl 8) | Win View | Malric Inferno (Lvl 6), Cerberus (Lvl 5), Flame Monkey (Lvl 1), Kobold Miner (Lvl 6), Goblin Shaman (Lvl 6), Imp Bowman (Lvl 3) |
| Talia Firestorm (Lvl 6), Ettin Spearman (Lvl 9), Lord Arianthus (Lvl 2), Imp Bowman (Lvl 6), Furious Chicken (Lvl 1) | Loss View | Lyanna Natura (Lvl 6), Furious Chicken (Lvl 2), Gelatinous Cube (Lvl 8), Earth Elemental (Lvl 6), Creeping Ooze (Lvl 2), Wood Nymph (Lvl 8) |
| Talia Firestorm (Lvl 6), Chain Golem (Lvl 2), Prismatic Energy (Lvl 5), Ferexia General (Lvl 6), Pyromancer (Lvl 3), Tortisian Chief (Lvl 6), Ettin Spearman (Lvl 9) | Loss View | Jarlax the Undead (Lvl 3), Lord Arianthus (Lvl 2), Corrupted Pegasus (Lvl 2), Sand Worm (Lvl 4), Phantom Soldier (Lvl 3), Prismatic Energy (Lvl 4), Cyclops (Lvl 4) |
| Talia Firestorm (Lvl 6), Molten Ogre (Lvl 10), Magma Troll (Lvl 10), Ettin Spearman (Lvl 9), Fire Elemental (Lvl 8), Ferexia General (Lvl 6), Goblin Chariot (Lvl 8) | Win View | Malric Inferno (Lvl 5), Cerberus (Lvl 5), Serpent of the Flame (Lvl 3), Prismatic Energy (Lvl 5), Naga Fire Wizard (Lvl 5), Ettin Spearman (Lvl 5), Cyclops (Lvl 4) |
| Talia Firestorm (Lvl 6), Prismatic Energy (Lvl 5), Magma Troll (Lvl 10), Ettin Spearman (Lvl 9), Fire Elemental (Lvl 8), Goblin Chariot (Lvl 8), Beetle Queen (Lvl 8) | Loss View | Malric Inferno (Lvl 5), Cerberus (Lvl 5), Fineas Rage (Lvl 2), Flame Imp (Lvl 5), Prismatic Energy (Lvl 5), Goblin Shaman (Lvl 6), Ettin Spearman (Lvl 6) |
| Talia Firestorm (Lvl 6), Lord Arianthus (Lvl 2), Magma Troll (Lvl 10), Ferexia General (Lvl 6), Exploding Dwarf (Lvl 6), Fire Elemental (Lvl 8), Enchanted Defender (Lvl 10) | Win View | Xander Foxwood (Lvl 4), Chain Golem (Lvl 2), Orc Sergeant (Lvl 6), Sporcerer (Lvl 4), Javelin Thrower (Lvl 5), Brownie (Lvl 4), Earth Elemental (Lvl 5) |
| Talia Firestorm (Lvl 6), Cerberus (Lvl 4), Magma Troll (Lvl 10), Serpentine Spy (Lvl 4), Ferexia General (Lvl 6), Imp Bowman (Lvl 6), Kobold Miner (Lvl 4) | Loss View | Malric Inferno (Lvl 8), Cerberus (Lvl 7), Serpentine Soldier (Lvl 8), Kobold Miner (Lvl 9), Creeping Ooze (Lvl 4), Fire Demon (Lvl 6), Fire Beetle (Lvl 10) |
| Talia Firestorm (Lvl 6), Lord Arianthus (Lvl 2), Prismatic Energy (Lvl 5), Fire Elemental (Lvl 8), Ferexia General (Lvl 6), Goblin Chariot (Lvl 8), Imp Bowman (Lvl 6) | Loss View | Alric Stormbringer (Lvl 6), Lord Arianthus (Lvl 3), Prismatic Energy (Lvl 6), Mermaid Healer (Lvl 4), Ruler of the Seas (Lvl 3), Medusa (Lvl 5), Crustacean King (Lvl 6) |
---