Intro
This post will provide a summary of feature changes since the last update, as well as information regarding the current state of the Splinter Stats Report Card (announcement).
For those who haven't been following along with @splinterstats and my (@kiokizz) Splinterlands Statistics, welcome.
---
Season Report Card
Card Usage Statistics "Offline"
With the start of Season 56's reports, sections of the report card which rely on card usage statistic, have been removed. This includes:
Top 10 Summoner Usage
Top 100 Monster Usage
Win Rate by Ruleset
Due to an error in the Splinterlands API the majority match details are no longer showing in the account history, making these sections both sparesely populated and innacurate. When I become aware of this being fixed I will update the Report to include these again.
The remainder of features should behave as usual.
Rental Reports Added
The era of rentals paid in DEC has come and now feels like the new norm. For those who weren't aware, you can generate a report of your earning and spendings on rentals as part of the report:

As a sidenote here, how many people are renting their cards on separate accounts, and are unable to generate the report card due to that 'season played' check? If wanted I can make a separate tool for this.
SPS Added
Another recent new addition is the SPS Report, showing aidrop amounts claimed and your claimed staking rewards:

General Notes
Some general notes regarding the report card, primarily around data availability from the API:
I would recomend posting your report shortly after the end of each play Season. I have seen some people posting towards the end of the next season; I am unsure if they are aware the report corresponds to previous play season, thinking it belongs to the current - a mistake atleast one person has made.
Tournament data may be missed the further into the next season you generate the report. Due to the Splinterlands API, the only simple way to track tournaments is based on your entry/withdrawel transactions. If these are more than 30 days before you generate the report the tournament will not be listed.
Thanks 👌
A thank you to everyone using the Report Card to make a Hive post and supporting developement through your beneficiary.
As a token, and to support your future blogs, I have sponsored each account that posted during the last season with 2 Hive SBI (Hive Stake Based Income) shares. Please read this post for answers regarding HBI.
If your name is missing and you posted a Season 55 Report, or was mis-copied, please reply to this post.
@danrid @sinjinn @renovatio @hirokisw @riandeuk @logantron @royaleagle @gooddeck @jfang003 @torran @cabalcoin @sinistry @ojamajo @monsterpit @xawi @vimukthi @dbooster @elricmoonslayer @lammbock @dipoabasch @vincix @newageinv @fire-born @pandapuzzles @aussieninja @cicisaja @monster.farmer @d-zero @notaboutme @slamlord @amphlux @sm-trainer @mirage-mage @vnm-monster @sodom-lv @jdike @steemkeepers @omra-sky @tedus @platypus-dundee @sentipl @kennybot @kiokizz @cryptoace33 @scooter77 @jimbobbill @gregory-f @arcgspy @barricade87 @j-p-bs @shaidon @irisworld @oadissin @blotokes-g @lordwinty @samsemilia7 @monsterchiller @arytonhive @aryt @tristantje
---
Rich List
Somewhat made redundant by @peakmonsters fancy new Rich List page is the SplinterStats Rich List: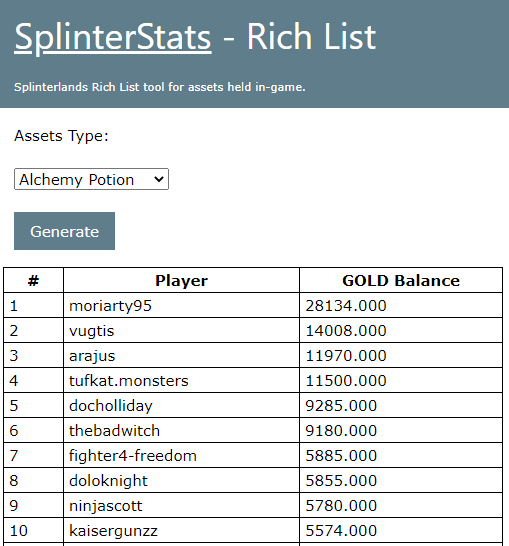 It may get an update at a later date, though it is currently on the back of the priority list.
---
Thanks for your time. If you have any data requests or issues with any Splinter Stats pages, please respond here or leave a message on Discord. Not all suggestions may be practical to implement, or will get prioritised, but your ideas shape the future of @splinterstats.