What a race!!!!! F1 at its best. With literally everyone in with a chance of getting a win or a podium place.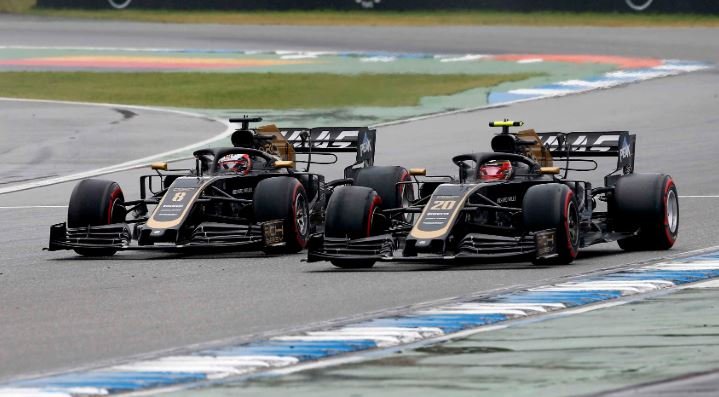 Hulkenberg was on to get a podium for the first time in years of racing F1. It would have been well deserved.
But he crashed out on the Ice Rink of champions. As all the major crash and burns ended at the same place.
Leclerc sliding over the Drag Track that on a normal day is a good steady surface. But with rain he turned into Bambi on Ice.
And his Thumper moment, was a collision with a Mercedes Advertisement showing their 150 yrs in Motor Sport.
Hollywood could not have written the script better.
And the Mercedes Pit Crew. Dressed like clowns and behaving just like clowns, as they fucked up Hamilton's Pit Stop.
A very bad day at the office for Hammy Hamster and friends. But fantastic entertainment for everybody else.
And what about the Haas boys.
After a million Pit Stops K-Mag ended up on 8th place with Grosjean 7th.
Which on any other day would have been cause for jubilation.
But not today.
Alfa Romeo got caught fiddling with the electronics . A big no no. and got booted out of the top 10.
Which moved everybody up.
Including the, could not get a kick in a stampede , Williams car, driven by the one armed bandit Kubica.
Have I mentioned the Haas boys smashed into each other. Deja Vu all over again again.
I would say this was Grosjean driving into K-Mag. And it would also suggest he is toast for next year.
Gasly and Bottas both fucked up and went out of the race.
So it looks like these will not get a drive next year in their current teams.
So once again all change, all change for the F1 driver merry go round.
2019 German Grand Prix: Race Highlights (Watch on Youtube)
German Grand Prix: Team Haas Race Recap 2019
https://www.haasf1team.com/news/german-grand-prix-race-recap-0
Red Bull Racing's Max Verstappen scored the victory in today's German Grand Prix, the seventh of his career, his first at Hockenheim, and his second in the last three events this season. Last-place starter Sebastian Vettel of Scuderia Ferrari crossed the finish line 7.333 seconds behind Verstappen for the runner-up spot while Daniil Kvyat of Toro Rosso brought home the final podium position of third.
The F1 Wild and Wonderful Flying Circus move on to Hungry!!!!!
The 2019 FIA Formula One World Championship
Resumes Aug. 4 with the Hungarian Grand Prix
At Hungaroring in Budapest.
Go K-Mag!!!!!!!!!!!!!!
Go Grosjean!!!!!!!!!!!!!!!!!!!