Another fabulous F1 race. Chess on four speedy wheels. A fantastic advertisement for the F1 Circus.
Not a bad day for Haas. No points but K-Mag done what he is paid for. Drove a great battling race.
Used his elbows as you do. But he was not going to let Ricardo by.
Got a warning from the stewards about his movement. Which was fair enough.
But when you see Bottas and Leclerc just letting cars overtake without any sign of defense.
You appreciate the K-Mag style of driving. Other than K-Mag and Ricardo's little battle over no points.
It was all about Hammy Hamster giving a masterclass in faultless driving to hunt down and then pass Verstappen.
It looked an impossible task Mercedes had set him. But he is the best in the business at the moment and he drove like a man possessed.
Grosjean didn't finish and K-Mag finished in 13th place.
During the summer break I expect there will be some news on the Drivers merry go-round.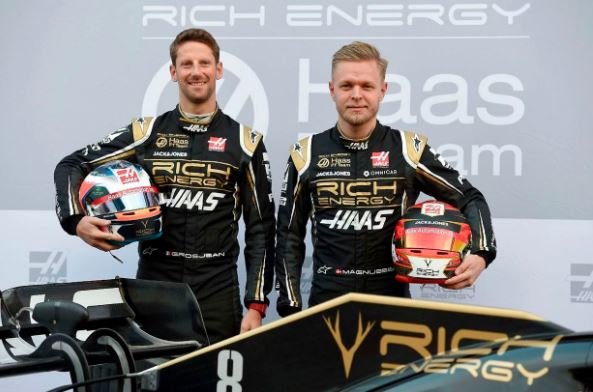 I think this race finished Bottas in Mercedes future plans - He should be replaced by Ocon.
Gasly will be replaced by Kyvat. (Though K-Mag would slid in there no problem if asked)
Hulkenberg may get moved on and a cheaper driver will take his place.
Grosjean will get the push and be replaced again with a cheaper driver.
If Grosjean didn't have bad luck he'd have no luck at all.
I like Grosjean, but he is way overpaid for what he brings home to the team.
2019 Hungarian Grand Prix: Race Highlights (Watch on Youtube)
Hungarian Grand Prix: Team Haas Race Recap
Aug 4, 2019
https://www.haasf1team.com/news/hungarian-grand-prix-race-recap-1
Mercedes driver Lewis Hamilton made a late-race pass of polesitter Max Verstappen of Red Bull Racing to score the victory in today's Hungarian Grand Prix, the 81st of his career, his eighth this season and his seventh at Hungaroring. Hamilton crossed the finish line 17.796 seconds ahead of Verstappen with Scuderia Ferrari's Sebastian Vettel another 43 seconds behind in the final podium position of third.
The F1 World Circus takes a summer break and comes back roaring in Belgium!!!
Nine races remain on the 2019 Formula One schedule as teams embark on their annual summer break.
With the next event coming in four weeks –
the Belgian Grand Prix Aug. 30 to Sept. 1
At Circuit de Spa-Francorchamps.
Go K-Mag!!!!!!!!!!!!!!!!!!!
Go Grosjean!!!!!!!!!!!!!!!!!!
Image Courtesy of BT