K-Mag drove a cracking race and grabbed some much needed points for the team.
Had to drive out of his skin to make up a 5 second penalty.
But make it up he did. So a big huraaaaaaaaaaaaaaa for K-Mag.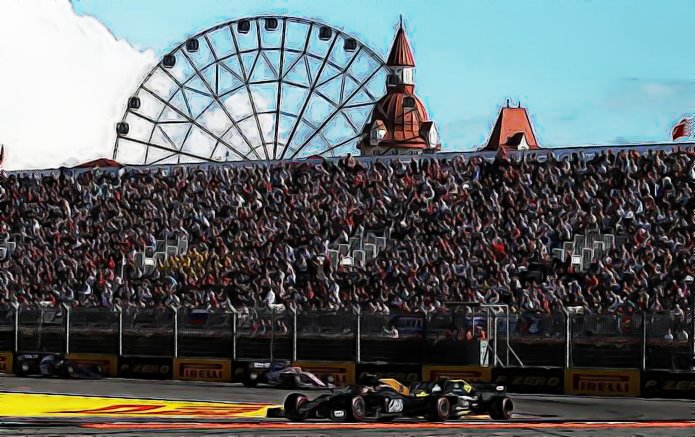 Grosjeans luck knows no bounds. As he gets rear ended and knocked out of the race.
And now I hear them repeating on the F1 TV clips, what I have been saying all year.
"If Grosjean didn't have bad luck he'd have no luck at all."
I've been watching Game of Thrones and I think Leclerc should to.
As he trusted Vettel to let him by as some verbal arrangement had been made before the race.
He didn't and Leclerc sounded dumb founded that a promise had been broken.
Vettel said after the race , he didn't understand what the hassle was all about.
This is the F1 Game of Broken Promises.
Or never bring a Vettel promise to a F1 Gunfight.
2019 Russian Grand Prix: Race Highlights - (Watch on Youtube)
Russian Grand Prix: Team Haas Race Recap
https://www.haasf1team.com/news/russian-grand-prix-race-recap-1
Lewis Hamilton scored the victory in the Russian Grand Prix by 3.829 seconds over his Mercedes teammate Valtteri Bottas with polesitter Charles Leclerc of Scuderia Ferrari taking the final podium spot another 1.383 seconds back.
It was Hamilton's 82nd career Formula One victory, his ninth of the season and his fourth at Sochi.
Next up is Japan. In the Great F1 Game of Champions.
The 2019 FIA Formula One World Championship
Resumes with the Japanese Grand Prix
Oct. 13 at Suzuka Circuit.
Go K-Mag!!!!!!!!!!!!
Go Grosjean!!!!!!!!!!!!
Image Courtesy of EB