Your opponent is not your enemy (at least when it comes to sports which is really all that matters now that American Football season has begun).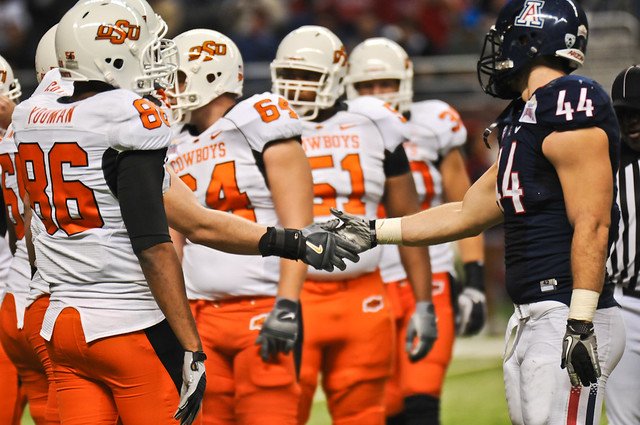 In fact, the opponent should be appreciated and revered. In any game, the opponent is one of only two components absolutely necessary in order to play. If you have a stadium, a ball, fancy uniforms, incompetent referees, talented cheerleaders, screaming fans, over-priced beer, and only one team shows up, what do you have?
Nothing... except a long walk back to the overflowing parking lot and the joy of knowing it will be three hours before you can get your car out after it has been blocked in by a Ford pickup truck filled with all the accoutrements needed to make sure the tailgate party succeeds in its goal of assuring that a bunch of rowdy guys and gals will be thoroughly over-served well before kickoff.
I think there should be an opportunity for fans to say "thank you" to the opponent for showing up.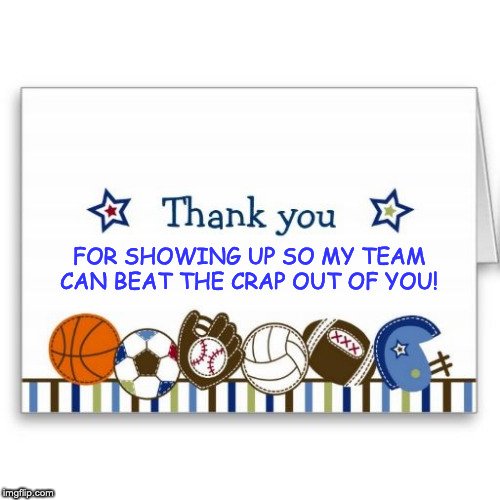 That would be classy.
But that is just silly. Sports fans can't be that classy. They need to hate their opponent and cheer for them to get injured so their team has a better chance to win (I'm looking at you Toronto Raptors fans). They need to hope the other team comes down with food poisoning the morning of the big game so that they can advance to the next round of the playoffs ("cough, cough, cough" New York Knicks fans). They especially need to wish for a special place in Hell for any player who dares to leave their team to join the enemy (Ummmmmm who would do that? Perhaps Satan Cleveland Cavalier fans!).
Let's face it. Sports fans just aren't able to be that classy. I challenge anyone to prove me wrong.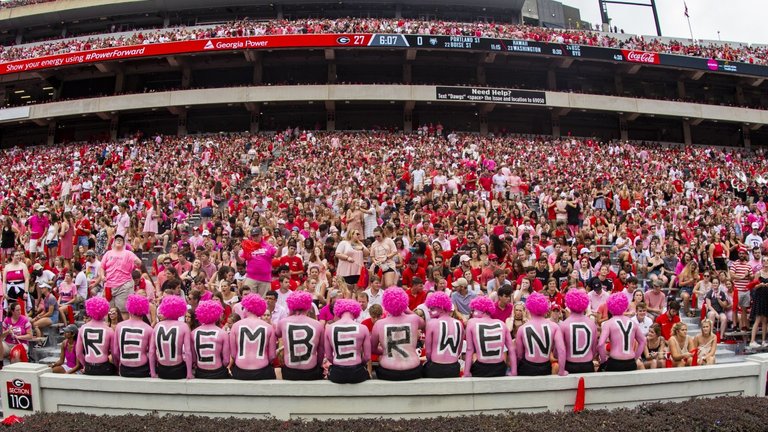 Yep. That would do it.
Do you see all that pink? Do you see those fanatics using their undeniable urge to paint their bodies to honor Wendy?
That is pure class.
Why?
This scene is from yesterday's Arkansas State vs the University of Georgia football game. "Wendy" was Wendy Anderson, the wife of Arkansas State coach Blake Anderson. Wendy died from breast cancer on August 19th. Yesterday was Blake Anderson's first game back since the tragedy.
It was incredibly supportive and kind of the Arkansas State student body and fans to come out in full support of Blake and all of the people whose lives have been torn apart by breast cancer.
But wait.
These are not Arkansas State fans.
This game was played in Georgia.
These were Georgia Bulldog fans uniting together to support and honor the coach of their opponent!
Apparently Georgia alum, Dwight Standridge, who had been working with a local charity to plan a "Pink Out" later in the season, decided to try to move up the event in order to honor Wendy Anderson. With only five days to prepare, he threw up a Hail Mary in hopes that the Bulldogs fans could show their support. On Tuesday, Standridge tweeted:
"DawgNation let's get behind this on Saturday," he wrote. "It's bigger than a football game."
Here was the response: