Hello Friends of Sports Talk- Bar

It is a great honor to welcome you to our community, this is intended to support you with the quality of your sports-related items and reward you for your achievements. To get our support you just have to comply with the regulations published in this post and publish your post by Discord server in the post-promotion channel our moderator will select the post to perform upvote, your work will be rewarded on Monday, Wednesday and Friday, you can be highlighted in the report on Tuesday, Thursday and Saturday, do not forget to follow us and join the Discord server
The intention of this community is not to compete with any other, we are only to support them and boost their publication through this project, in turn to the new users that are arriving.
If you want to delegate your Sportlk directly and support the community in general.
Selected publication for healing
Come and support these big fans of the sport.
How to delegate Sportlk
1.) Visit steem-engine.com and go to your wallet.

2.) Make sure you have SPORTS chips bet.


3.) Click on the delegate button that looks like this
4.) Assign the user sportstalkbar and how many tokens you want to delegate.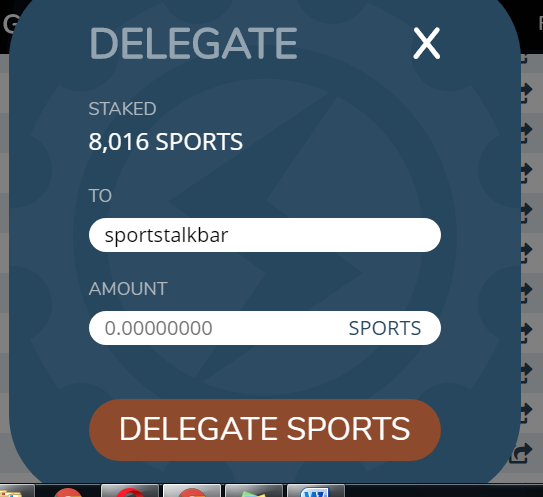 This can be revoked at any time, allowing you to return the SPORTS delegated to your control 7 days later. After delegating, send your delegation confirmation in the #participation channel.
Come join our team.
Thank you for your support and believe in us.