This is my entry to find the Monkee mascot a name. Checkout Dreemie's challenge here.
---
Once upon a time, in a street not very far from you, a little Monkee woke up under a big tree. He sat up and shook his head and looked around with a bewildered expression on his little face. How did he get here? And where was he going to? Most importantly, what was his name?!
The poor little Monkee had banged his head and forgotten his name. He got to his feet and started to walk, until he met a fluffy little dog.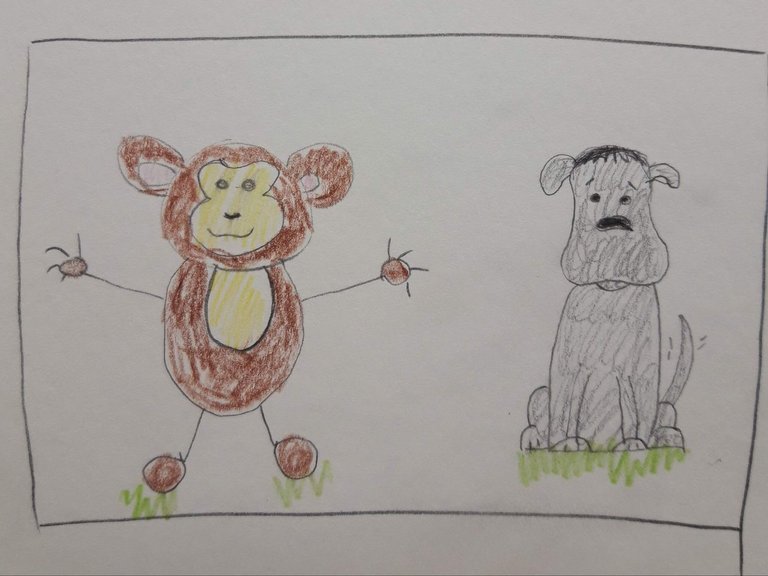 "Ruff!" said the dog. "What are you doing out here all alone monkee?"
"I don't know," said monkee. "I can't remember where I live."
"Well what's your name?"
"Name?" said monkee. He really was very confused.
"Like when it's teatime and the hoomans yell SEBASTIAN!!"
"Oh. I don't remember mine," said monkee, rubbing his belly. The word 'tea' had made it rumble. "Can you give me a name?"
Sebastian looked monkee up and down. "Well, you keep rubbing your head, so I'm going to call you CLUNKEE MONKEE."
Right at that moment, Sebastian's hooman pulled his lead, and he trotted off.
Monkee sighed. He didn't like the name Clunkee, so he decided to ask someone else.
Monkee had been walking for five minutes when something that looked like a mini tiger wound its tail around him.
"Meow," said Tiger Le Cat. "What's your name little monkee?"
Monkee pulled a face. Tiger's tail was tickling his nose and he didn't like to be called little. "I don't know, I can't remember," he huffed.
Tiger Le Cat raised an eyebrow. "Hm well, I've got a good name for you- GRUMPEE MONKEE!" And off he sauntered, tail swishing.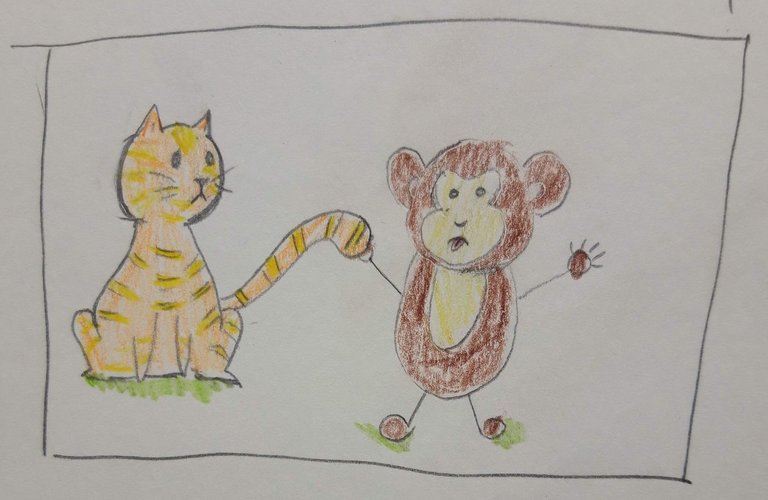 Monkee stuck his tongue out as the cat strode away. He really really didn't like that name either. He started to look for someone else to ask, but felt so sad and hungry that he sat down under a hedge and had a little cry.
"What's the matter monkee?" Asked a giant hooman, bending down to smile at him.
Monkee wiped his tears and said "I can't remember my name, or where I live, and I'm so hungry and... I just give up!"
"Oh come now... with that attitude you'll end up being called FLUNKEE MONKEE!" laughed the hooman.
Monkee sighed and stood up. "You're right."
"Come with me. We'll get you a banana and then you'll feel better."
The nice hooman bought monkee a banana in the corner shop, and just as they were about to leave the hooman gave a great gasp. "Look- it's you!" She said, pointing to his face on a large poster which said...
LOST
HAVE YOU SEEN THIS MONKEE?
100 STEEM REWARD
PLEASE CALL CAPT'N DREEMIE IF YOU FIND
MR. ALPH. A. MONKEE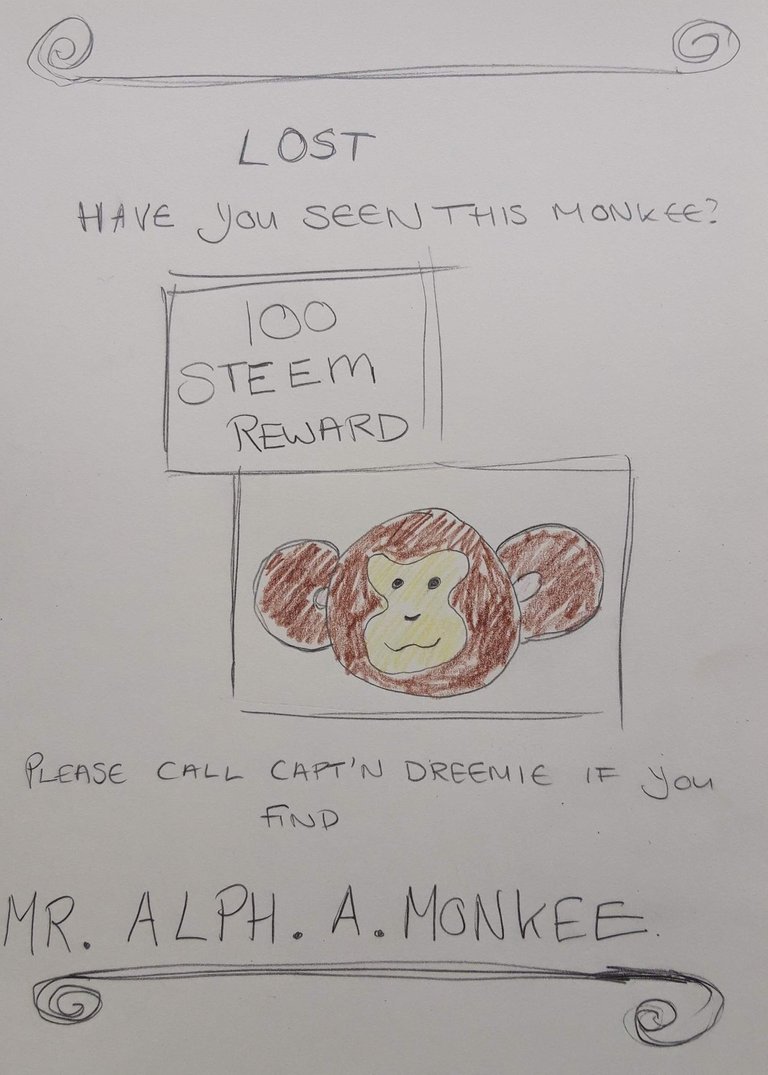 ---
Thee Eend
Posted using Partiko Android